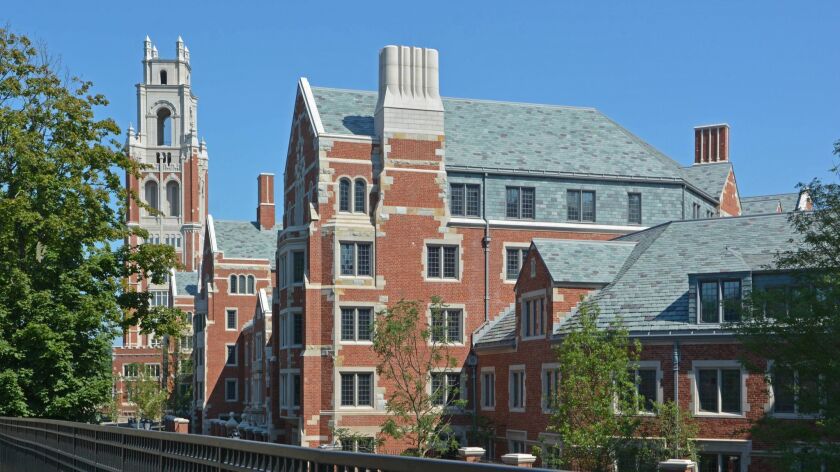 Yale University has rescinded the admission of a student in connection with the far-reaching college admissions scandal, the university confirmed Monday.
It is the first known case in which a student's involvement in the scheme has resulted in a revoked admission. Dozens of parents are accused of cheating or paying bribes to get their children into elite schools, including Yale, USC and UCLA.
University spokesman Thomas Conroy said he could not provide the exact date of the revocation of the student's admission, and he would not answer further questions about the matter.
Conroy referred a Times reporter to a March 15 statement from Yale, which said the university is aware of only one student admitted with a fraudulent athletic endorsement from former head women's soccer coach Rudy Meredith, who resigned in November. In the statement, Yale said it was investigating the allegations and that if they proved to be true, it would rescind the student's admission.
Full coverage: Dozens charged — including Hollywood actresses — in connection with college admissions scheme »
The university said it would not reveal the student's identity. One other student received an endorsement from Meredith but was rejected by the university, the statement said.
According to the federal indictment, the student's parents paid $1.2 million to William "Rick" Singer, the mastermind behind the scheme, who facilitated the creation of a fake athletic profile for the student.
In an email to former USC assistant coach Laura Janke, Singer said "[C]ould you please create a soccer profile asap for this girl who will be a midfielder attending Yale so she has to be very good. Needs to play Academy and no high school soccer … need a soccer pic probably Asian girl."
Singer also instructed Janke to add to the fake profile that the student had been on the "JR National Development Team in China," noting that "we are saying she got hurt this past spring, so was not recruited till now as she got her release late summer," according to the indictment.
The student was described in the fake profile as the co-captain of a prominent club soccer team in Southern California. Meredith designated the student as a soccer recruit despite knowing the girl didn't play the sport, and Singer paid him $400,000, according to the indictment.
The girl's parents were not named in the indictment. She was admitted to the university in January 2018.
According to Yale's March 15 statement, the university did not know about Meredith's involvement in the college scheme when his resignation was announced Nov. 15, though Meredith himself knew about the investigation.
"After 24 years at the helm of the women's soccer program, it is time to explore new possibilities and begin a different chapter in my life," he said in his resignation announcement. "It is the right time to hand the team over to the next Yale women's soccer coach who can guide the team into the future."
alejandra.reyesvelarde@latimes.com
Twitter: @r_valejandra
---