Column: Forget incompetence, USC's athletic department is simply corrupt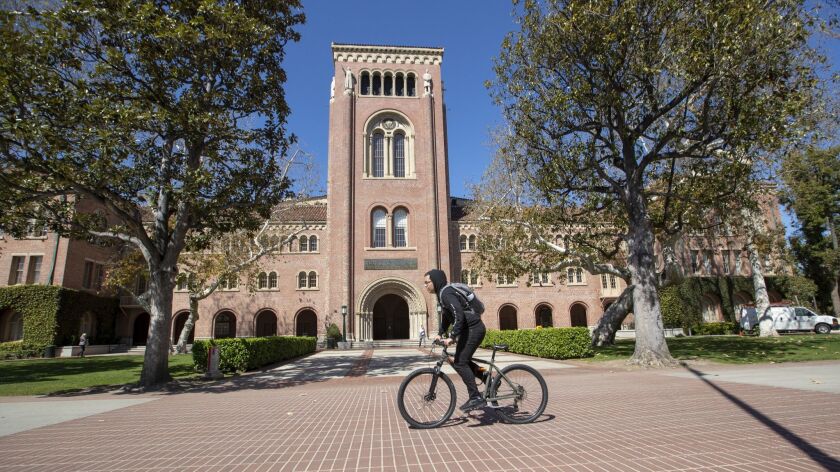 How innocent they appear in retrospect, those days when it felt as if athletic director Lynn Swann's refusal to fire football coach Clay Helton marked a new low point for USC's athletic department.
If only USC's humiliations could still be the result of simple incompetence, as was the case with the banishment of the Song Girls from home basketball games to the brief whatever-that-was with assistant football coach Kliff Kingsbury.
Trojan Nation learned Tuesday that USC's athletic department was something worse than comically inept. It was also brazenly corrupt.
Federal prosecutors allege that a high-ranking athletic department administrator and three coaches received bribes for helping students get accepted to U$C — sorry, USC — by falsely designating them as recruited athletes. In the wake of the indictments, senior associate athletic director Donna Heinel and men's and women's water polo coach Jovan Vavic were fired for allegedly receiving $1.3 million and $250,000, respectively, as part of the scheme.
Former women's soccer coach Ali Khosroshahin and his former assistant Laura Janke were also named in the indictment.
What's next? Tommy Trojan tests positive for steroids?
At least for now, the other universities who had coaches snared in the probe can each blame a single rogue coach — like say, men's soccer coach Jorge Salcedo at UCLA or the women's soccer coach "Cooperating Witness 3" at Yale.
What distinguished USC was the number of individuals involved in the scam, which made the misconduct appear systemic. So it was particularly laughable when the university released a statement that included the claim that, "USC has not been accused of any wrongdoing."
If a high-level administrator and a legendary water polo coach aren't USC, who or what is?
The Trojans have become to college athletics what the Trump campaign was to elections. In the last 18 months, five people with direct ties to USC sports programs have been arrested by the FBI. Two were former coaches, the other three were still on staff at the time. Men's basketball associate head coach Tony Bland was apprehended in September 2017 as part of a wide-ranging investigation into bribery and corruption in the sport. Bland, eventually fired by the school, pleaded guilty in January to a felony count of conspiracy to commit bribery.
All this time, USC had the audacity to pretend that its athletic department was more carefully monitoring its programs in the aftermath of the Reggie Bush scandal. In a statement to the USC community Tuesday, Wanda M. Austin, the university's interim president, described the school as "a victim."
Yes, of its own hubris and neglect.
In reality, the school didn't make meaningful changes since infractions involving football and men's basketball resulted in severe NCAA penalties. The athletic director at the time of those violations was a former Trojans football star, Mike Garrett. The athletic director who replaced Garrett was another former Trojans football star, Pat Haden. And the current athletic director is yet another former Trojans football star, Swann.
Full coverage: Dozens charged in connection with college admissions scheme »
Haden and Swann had no previous background in athletic administration, which is why it was of little surprise when they proved to be incapable of overseeing the school's signature football program. And if they couldn't do that — for a sport they played at very high levels, mind you — what chance did they have of detecting criminal conduct taking place in their buildings?
What this admissions scandal illustrates is that incompetent leadership fosters an environment where corruption can thrive.
At minimum, the university will have to hire an administrator or team of administrators to do a thorough accounting of everything taking place in the athletic department. The school should also reconsider the priority it places on sports.
Sports are part of a school's branding strategy, but in this case that has backfired spectacularly, as it now threatens the very essence of what USC is supposed to be: an institution of higher learning.
What was revealed Tuesday is considerably more serious than the gifts made by agents to Bush and former basketball standout O.J. Mayo. A reasonable argument could be made that Bush, Mayo and every other revenue-generating college athlete like them deserve compensation. But there is no excuse for the kind of selective lowering of admission standards that was aided by Heinel, Vavic, Khosroshahin and Janke. The great irony is that at least one of the fake athletes who gained admission to USC, social media influencer Olivia Jade Giannulli, appears to be profiting from her likeness. The NCAA prohibits real college athletes from doing that.
The university has to reconsider the priority it places on athletics. That's what created the loophole in the first place. If sports weren't important, athletes wouldn't have different sets of admission standards and actress Lori Loughlin wouldn't have been able to pay to have them applied to her presumably underqualified daughter.
USC should carefully consider what it wants to be and take every measure to ensure its employees live up to that ideal.
Follow Dylan Hernandez on Twitter @dylanohernandez
---
Get our high school sports newsletter
Prep Rally is devoted to the SoCal high school sports experience, bringing you scores, stories and a behind-the-scenes look at what makes prep sports so popular.
You may occasionally receive promotional content from the Los Angeles Times.