Fallout from college admissions scandal worsening for accused parents, schools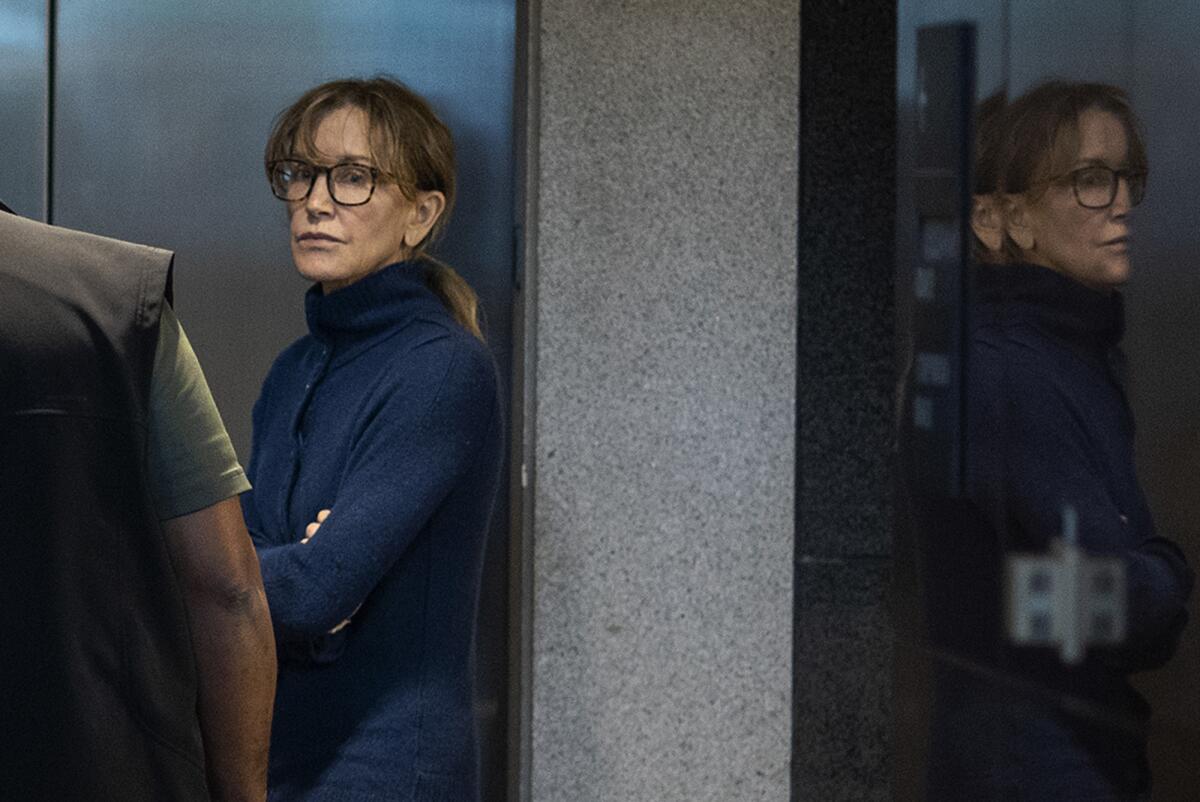 The college admissions cheating scandal that was revealed this week is shaping up to have long-term ramifications for both the parents accused in the scheme and the large world of getting into college.
• Some of the parents who are accused of cheating to get their children into elite schools are facing civil lawsuits in addition to federal criminal charges.
FULL COVERAGE: Dozens charged — including Hollywood actresses — in connection with college admissions scheme »
• Meanwhile, there is talk in Congress of new laws aimed at cracking down, and the Department of Education is also reviewing the case.
• Some of the defendants are already feeling the effects of the scandal. Actress Lori Loughlin and her daughter have lost work. Two members of the board of a top Newport Beach prep school stepped down, as has a top investment banker.
• Several of the colleges involved have launched their own probes.
The sweeping criminal investigation, which came to light earlier this week, alleges that wealthy parents from different parts of the country sought out Newport Beach businessman William "Rick" Singer with one overriding goal: to get their children into the best colleges. Singer, who owns an admissions assistance company, told parents he had built a "side door" into USC and other highly sought-after universities and could help their children walk through.
Lawsuits
The dozens charged in the scheme already face criminal charges. But several civil lawsuits have also been filed.
An Oakland woman filed a $500-billion class-action lawsuit this week against two Hollywood actresses and dozens of other wealthy parents accused of paying hefty sums to bribe college coaches or doctor exam scores to secure their children's admission to elite universities.
Jennifer Kay Toy, who previously taught in the Oakland Unified School District, alleges in the lawsuit filed in San Francisco County Superior Court that the actions of those implicated in the scheme prevented her son, Joshua Toy, from being admitted to several colleges ensnared in the scandal.
She wrote in the filing that her son worked hard and graduated from high school with a 4.2 GPA but was still rejected from some of the colleges.
Actresses Felicity Huffman and Lori Loughlin and Loughlin's husband, fashion designer Mossimo Giannulli, along with dozens of other people charged in the criminal case, are named in the lawsuit. The court filing does not specify the colleges where her son applied or when he submitted his applications.
Two Stanford University students on Wednesday filed a federal class-action lawsuit against Stanford, USC, UCLA, the University of San Diego, the University of Texas at Austin, Wake Forest University, Yale University and Georgetown University.
The students allege the rigged system denied them a fair chance to matriculate at the elite institutions and could tarnish their degrees from Stanford.
Legislation
One of the aspects of the case that has inspired particular outrage is that the parents who took part in the alleged bribes got tax writeoffs for the money they spent.
Sen. Ron Wyden (D-Ore.) said this week he would introduce legislation to eliminate that tax advantage. He said donations to schools should be taxable if the donor has children attending or trying to attend the college.
"The federal government shouldn't be perpetuating this system by awarding tax breaks to these contributions, contributions that return to the donor a benefit of inestimable value," he said in a statement.
READ MORE: Lynn Swann says USC was 'blindsided' by alleged actions of administrator in college admissions scandal »
The National Assn. of College and University Business Officers expressed concern about the idea. While the organization understands "the public outrage, we cannot support knee-jerk reactions that inappropriately presume a lack of integrity in advancement, admissions, and compliance at our nation's institutions of higher education and threaten to curb charitable giving."
Education Secretary Betsy DeVos said this week her department is "looking closely" into whether any federal education regulations were violated.
"Every student deserves to be considered on their individual merits when applying to college and it's disgraceful to see anyone breaking the law to give their children an advantage over others," she said in a statement.
Investigations
Several of the colleges involved have launched internal investigations.
USC said it has "initiated a case-by-case review of current students and graduates who may be connected to the alleged scheme. We will make informed decisions about those cases as the reviews are completed."
Yale said it was bringing in outside advisors to investigate. "As part of this review, we will specifically examine the practices of commercial admissions consultants, whose work is conducted out of the view of admissions officers," the university said.
Harvard-Westlake School in L.A. said it was conducting an internal review to "fully understand the scope of any relationship that Singer may have had with our families." Sources say it was one of several prep schools that were served federal subpoenas related to the case.
Sign up for Essential California for news, features and recommendations from the L.A. Times and beyond in your inbox six days a week.
You may occasionally receive promotional content from the Los Angeles Times.