Crime rates down in California, up in L.A. County, during period of criminal justice reform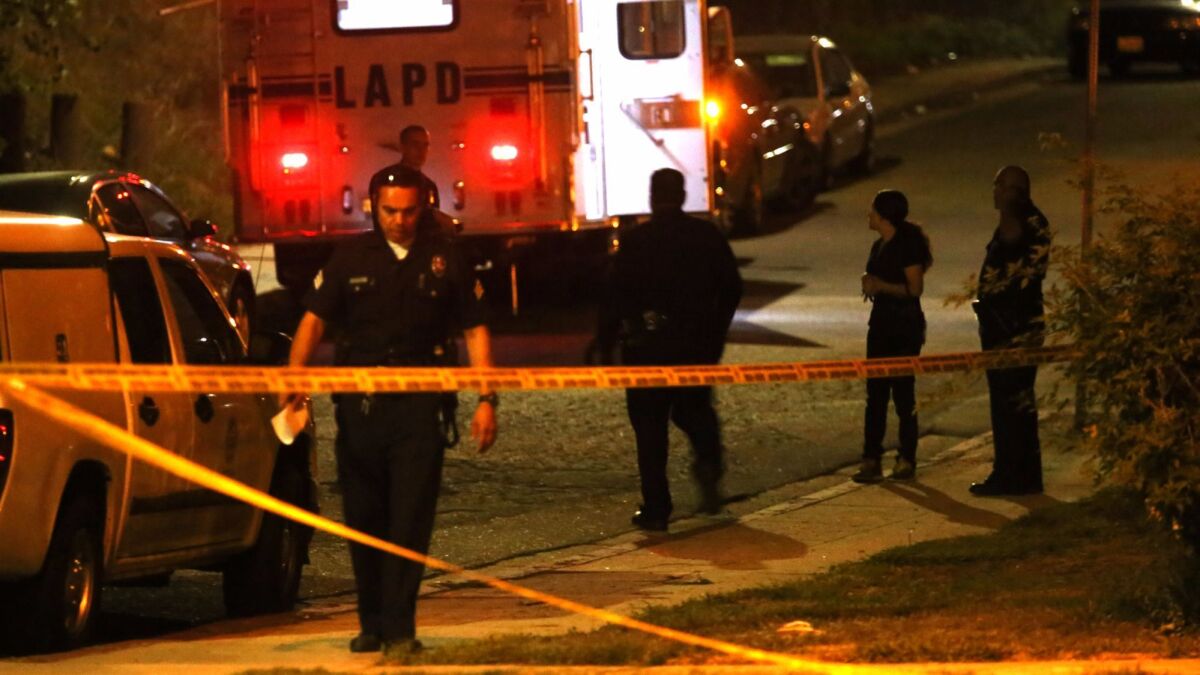 Between 2010 and 2016, crime in Los Angeles County — including property and violent crime — rose by 5% even as overall crime in the rest of the state fell by the same rate, according to a report released Tuesday.
The study by the nonprofit Center on Juvenile and Criminal Justice analyzed city crime trends throughout California during a period referred to as the "justice reform era," where legislation, voter-approved initiatives and court mandates brought major changes to California's justice system.
Those initiatives include Proposition 47, the controversial 2014 ballot measure that downgraded multiple drug and theft crimes to misdemeanors and allowed defendants to renegotiate their punishments, the Public Safety Realignment law and Proposition 57, to shrink the state's prison population and focus on rehabilitation, and Proposition 64 to legalize marijuana.
Both advocates of reform and law enforcement have used the sweeping statewide policies and anecdotes to argue that crime has increased or decreased, according to the study's author, Mike Males.
But the report, which analyzed offenses reported by law enforcement agencies, found — especially in Los Angeles County — wide disparities in local crime trends.
"We decided to look at the issue comprehensively," Males said. "The reforms are probably not the reason crime has changed for better or worse for individual cities."
In L.A. County, crime rates rose by 5%, with a 4% increase in property crimes and an 8% increase in violent crimes during the period. Across the rest of California, property crime fell by 6% and violent crime fell by 2%.
Males said L.A. County's divergence from the statewide trend is mainly because of its size as well as a sharp increase (60%) in assaults in the city of L.A. Males speculated that because assaults are connected to domestic violence, the rise could be related to an initiative to increase reporting of that crime.
Neither the Los Angeles County Sheriff's Department nor the Los Angeles Police Department provided comment on the study Tuesday.
Overall, violent crime in the city of L.A. increased 27%, even though there was a decrease in burglary and homicide, according to the report.
About half of L.A. County's 89 jurisdictions showed an increase in crime and the other half showed a decrease. For instance, in Artesia, the total crime rate rose 112%, while in Avalon there was a 52% decline in total crime.
Males says the variation in crime patterns resulted from local policies and practices rather than statewide justice reform.
Cities that showed increases in crime rates include Burbank (6.1%), Lancaster (5.7%), Long Beach (14.5%) and Torrance (9.2%).
"The key to safe neighborhoods is a partnership between police and community," said Lt. Jason Clawson, public information officer with the Pasadena Police Department. In Pasadena, the overall crime rate fell 18.2%, according to the study.
Clawson said that a number of outreach initiatives, including a community policing program, citizen police academies and other steps such as increasing lighting in an area or redesigning a bathroom, are ways Pasadena police have worked to reduce crime.
Other cities showing crime decreases include Downey (15.5%), Glendale (12.3%), Inglewood (10.8%), Monrovia (25.4%), Palmdale (20.8%) and Santa Clarita (9.4%).
Charis Kubrin, a professor of criminology, law and society at UC Irvine, studied the impact of California's Public Safety Realignment bill, signed into law in 2011 by Gov. Jerry Brown and designed to address state prison overcrowding by diverting low-level offenders to county jails or probation. She and other researchers found that releasing such offenders back onto the streets had a very small effect on crime in California.
"These criminal justice reform policies didn't seem to have much of an impact," Kubrin said. "The action, if you will, is at the local level."
---
UPDATES:
5:40 p.m.: This article was updated to reflect that the Los Angeles County Sheriff's Department and the Los Angeles Police Department did not provide comment.
This article was originally published at 6 a.m.
The stories shaping California
Get up to speed with our Essential California newsletter, sent six days a week.
You may occasionally receive promotional content from the Los Angeles Times.