'Day without immigrants': Some say they can't afford to walk out, but thousands do
Nickel Diner owners, Kristen Trattner and Monica May, closed their restaurant in downtown Los Angeles for the day in solidarity with a national "Day Without Immigrants." (Mark Boster / Los Angeles Times )
On Thursday, thousands of immigrants skipped work and school to participate in "a day without immigrants," a protest highlighting the contributions immigrants make to restaurants, businesses and the nation's overall economy.
In Los Angeles, where immigrants are part of everyday life, the message resonated, but participation was lukewarm compared with places like Detroit, Washington, D.C., and some Texas cities. Many immigrant organizations said they had not been informed about the protest and were busy handling the needs of families threatened by President Trump's immigration crackdown plans. Many immigrants said they simply couldn't afford to miss a day of work.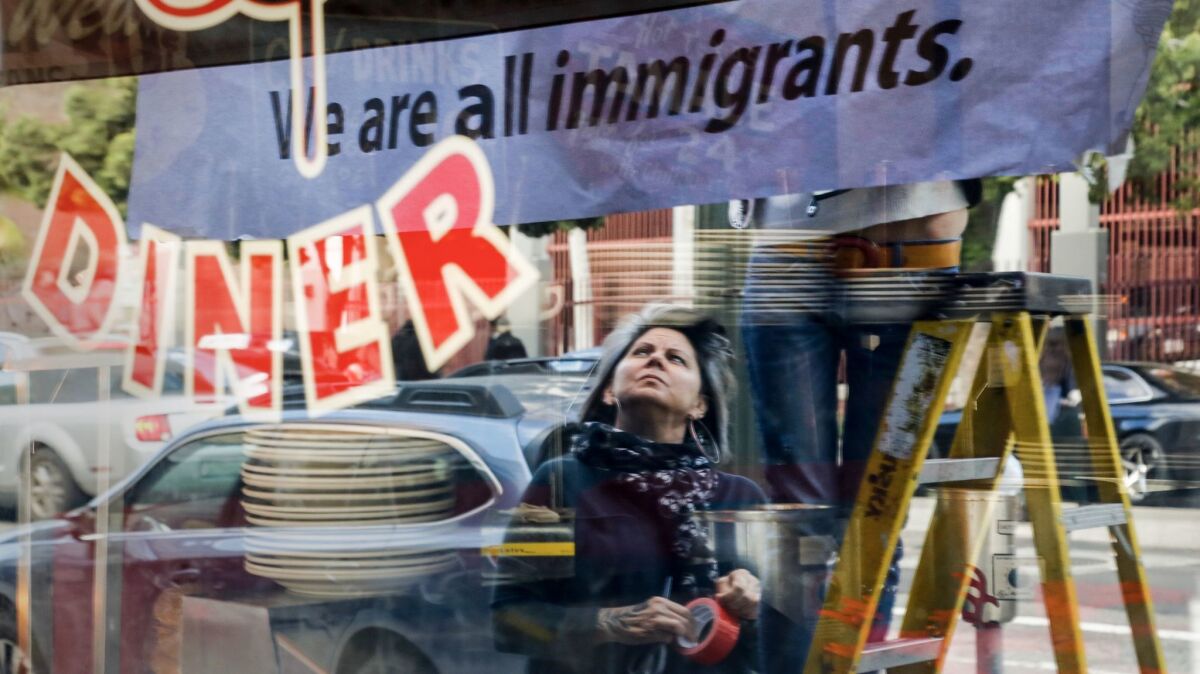 Patricia Ortiz from the Esperanza Immigrant Rights Project said her organization kept its doors open because its services were essential to the community.
"The people who come today are coming because they have pressing needs and might be deported," she said. "I'm sure they would love to participate and they agree with the ideology, but it's hard to do when you're worried about basic needs and issues."
The Coalition for Humane Immigrant Rights of Los Angeles (CHIRLA) said it decided to keep its doors open for business Thursday because it felt people needed its services now more than ever because of the instability and confusion spawned by recent ICE sweeps.
"We decided we would be open for them," communications director Jorge-Mario Cabrera said. "We have 29 people today waiting to become citizens. And we have about 35 other folks who are seeking legal counseling."
The protest was directed at President Trump and his plans to build a border wall, strip so-called sanctuary cities of federal funding and potentially deport million of immigrants in the county without documentation.
In the heavily immigrant communities of Maywood, Cudahy, Bell and Lynwood, business was as usual. Flower shops, beauty salons and taquerias were open, as were coin laundries and car washes.
Placing her mannequins outside her tiny store in Maywood, Ana Maria Aguilar, owner of Ruby's Alterations, said she had forgotten about the boycott, and then started closing her shop back down.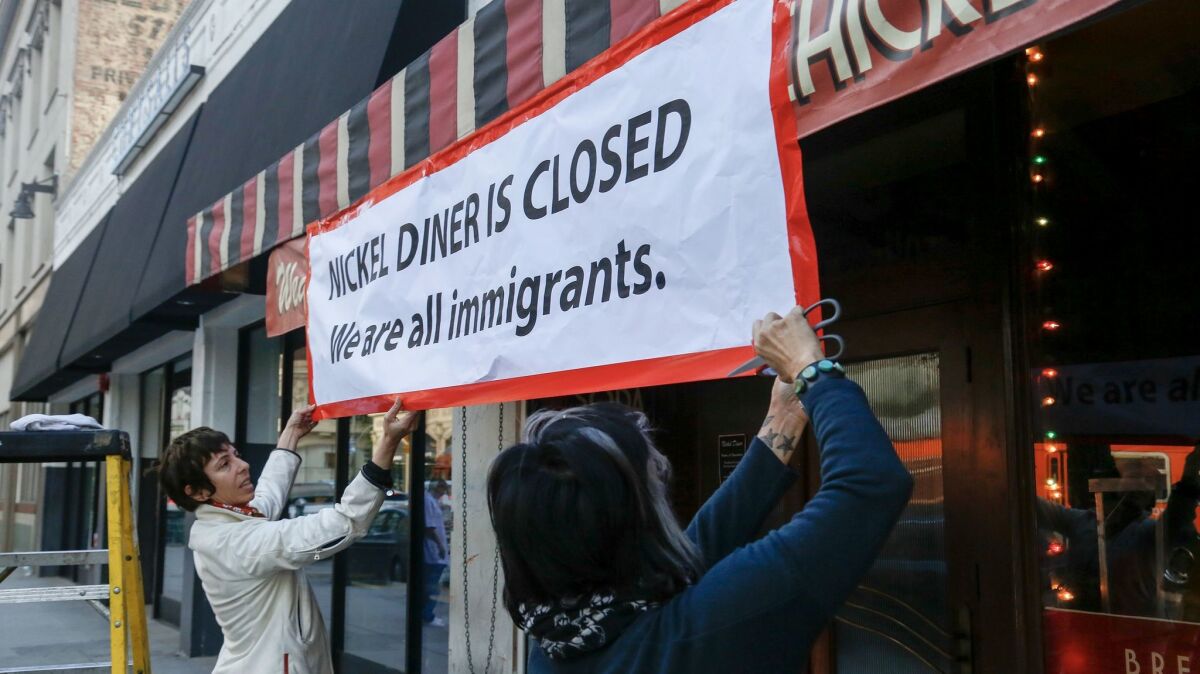 "I just came back from Mexico and totally forgot," she said. "We need to support this movement. We need to stay united."
She then began lifting the mannequins and placing them back inside the store.
"If we don't sell anything because we're closed today, it's OK," she said. "I want to send the president a message that he needs to have more self-awareness about what he says about immigrants."
Not far away, Maria Rios, 39, was standing in the driveway of her Maywood home talking to a neighbor. She said she and her husband already had the day off but planned to support the boycott by not purchasing anything all day.
"We're going to go the bank to make a deposit and that's it," she said. "This is something we have to support all the way."
In Bell, Richard Choi, 62, sat quietly reading a document behind the cash register of his pet store. He said he felt bad but he couldn't participate in the boycott because he couldn't afford not to open.
"I'm going out of business," Choi said in a soft voice. "I've been opening my store seven days a week. I'm exhausted."
"I can't close," he added.
Choi, who has owned his pet store for 17 years, said he supported the immigrant boycott, even if it hurt his business. He said he didn't like how the president wanted to aggressively go after Latinos in the country illegally.
Farther down, Rosie Garcia, 40, dragged two heavy trash bins. Her oversized blue gloves went past her wrists.
"I'm the kind of person that doesn't miss work," she said. "I show up because I want my boss to know I'm reliable."
She said missing a day of work was not an option for her. She could support the boycott, but she can't.
"I work out of necessity," she said. "I have three children. … [If] I don't work we won't have enough for rent and food."
A Mexican immigrant, Garcia, said she also made her kids go to school Thursday.
"I didn't agree with the notion that they shouldn't go to school," she said. "I mean, how does that benefit children? They're going to be sitting at home watching TV, doing nothing. It's like setting them back."
Garcia said she works seven days a week and has been a janitor at the business plaza in Bell for three years.
She and her husband came to the U.S. in the 1990s for a better life, she said.
"We struggled, yes, but we worked hard so that we never found ourselves in a position where we couldn't provide food or a roof for ourselves and our children," she said. "I'm poor, but we work. That's why I'm working today."
---
Life is stressful. Our weekly mental wellness newsletter can help.
You may occasionally receive promotional content from the Los Angeles Times.