ICE agents under investigation after fleeing couple die in car crash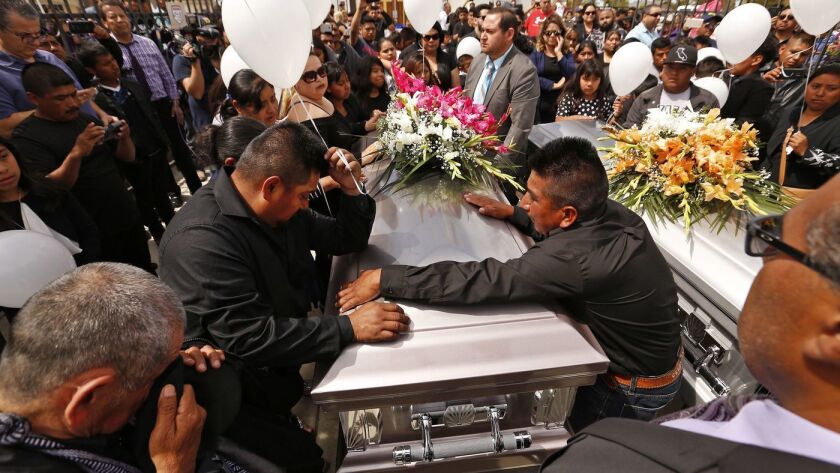 The deaths of two Central Valley farmworkers in a car accident near Delano has become a flash point in the immigration battle between California and federal officials cracking down on people in the country illegally.
The parents of six were killed in a car crash while they were fleeing Immigration and Customs Enforcement agents. ICE says the two were not the targets ICE was looking to arrest, but there are discrepancies about whether agents chased them.
Delano police have submitted a case to the Kern County district attorney's office, which will decide whether to file criminal charges against ICE officers for what police say were discrepancies in the officers' accounts of the incident.
After a series of ICE enforcement actions in the Central Valley, this case has immigrants in the region even more on edge.
Here is what we know:
Q: How did the crash happen?
Santos Hilario Garcia and Marcelina Garcia Profecto were killed while fleeing from ICE agents on March 13. The couple had initially stopped, but then fled before crashing into a utility pole at high speed.
ICE deportation officer Ramiro Sanchez told police that on the morning of the crash, he and colleagues were conducting surveillance on an apartment in order to detain Celestino Hilario-Garcia, who was targeted for removal from the country, according to a report by the Delano Police Department.
Sanchez stated that a colleague witnessed Santos Hilario Garcia, whom they mistook for Celestino Hilario-Garcia, enter a vehicle in front of the apartment, along with a woman and a girl, the report said.
Sanchez and another deportation officer, Dimas Benitez, followed the car in black, unmarked Jeeps as the couple dropped their daughter off at school. Shortly afterward, Sanchez activated his emergency lights to signal the car to pull over.
Santos Hilario Garcia complied, but as Sanchez got out of his car, the couple's vehicle sped away, the report said.
Agents later came across the vehicle, which had struck a utility pole and overturned, and called local authorities. Garcia, 35, and, Profecto, 33, who were in the country illegally, both died at the scene.
Garcia, who was convicted in 2014 of driving under the influence, was voluntarily returned to Mexico three times between 2008 and 2017, said ICE spokeswoman Lori Haley. Profecto had no prior encounters with ICE.
Q: What are the discrepancies in the narrative?
Shortly after the March 13 crash, a deportation officer told police officers that his car followed in the same direction of a vehicle he was attempting to stop, but that he was not in "pursuit with emergency lights/sirens," according to a statement provided in the Delano Police Department traffic collision report.
But surveillance video obtained by the Police Department showed the immigration agents' vehicles traveling in the same direction as the couple's vehicle with their emergency lights activated. A time stamp showed the couple's car at 06:48:42 traveling at a faster rate of speed than other traffic. At 06:48:52, two cars that matched the deportation officers' vehicles followed with the lights activated, according to the report.
"Based on the discrepancy the report was forwarded to the Kern County District Attorney's Office for review since they have jurisdiction," Delano's interim police chief, Raul Alvizo, said in a statement. "The charges requested are according to California Vehicle Code Section 31, 'No person shall give, either orally or in writing, information to a peace officer while in the performance of his duties under the provision of this code when such person knows that the information is false.' "
The complaint, received Wednesday morning, is pending review, according to the district attorney's office.
What is ICE saying?
"Per routine protocol, at the time of the incident, the facts surrounding the encounter were referred for review and that review is ongoing," ICE spokesman Richard Rocha said in a statement Monday. "While this was an isolated and extremely unfortunate incident, ICE wants to encourage all individuals we encounter to fully cooperate with our law enforcement officers."
The statement cited sanctuary policies that "have pushed ICE out of jails" and "force our officers to conduct more enforcement in the community — which poses increased risks for law enforcement and the public.
"It also increases the likelihood that ICE will encounter other illegal aliens who previously weren't on our radar," Rocha said.
Citing the ongoing review, ICE did not provide further details.
Q: What has been the reaction in Delano?
The case has sparked fear and anger in the farmworker community, which was on display last week at a memorial service for the couple.
"Marcelina and Santos were hard workers who only wanted to provide for their family. Like many other immigrants, they were farmworkers — people who lifted up this country," said Arturo Rodriguez, president of the United Farm Workers of America. "We want to ensure that the deaths of Marcelina and Santos are not in vain. This tragedy has shown this country that the inhumane politics of this administration destroy families."
Although some of the hundreds who attended did not know the couple, many said they could relate to their story.
"It could happen to anyone of us," said Delano resident Susana Ortiz. "People are scared, because they're leaving their kids and they don't know if they're going to come back."
Former and current farmworkers, as well as classmates, turned out to show their support for the couple's children.
Victoria Lennon, 17, attends school with one of the couple's daughters and is on the track team with her.
"This was definitely a situation in which I wanted to make sure that I was there for her and that she knew there were people who cared and she wouldn't be alone," Victoria said. "The people here are very caring, very giving, very family oriented. People stick together when things go down."
---
The stories shaping California
Get up to speed with our Essential California newsletter, sent six days a week.
You may occasionally receive promotional content from the Los Angeles Times.