Beutner closes in on L.A.'s top schools job as another candidate drops off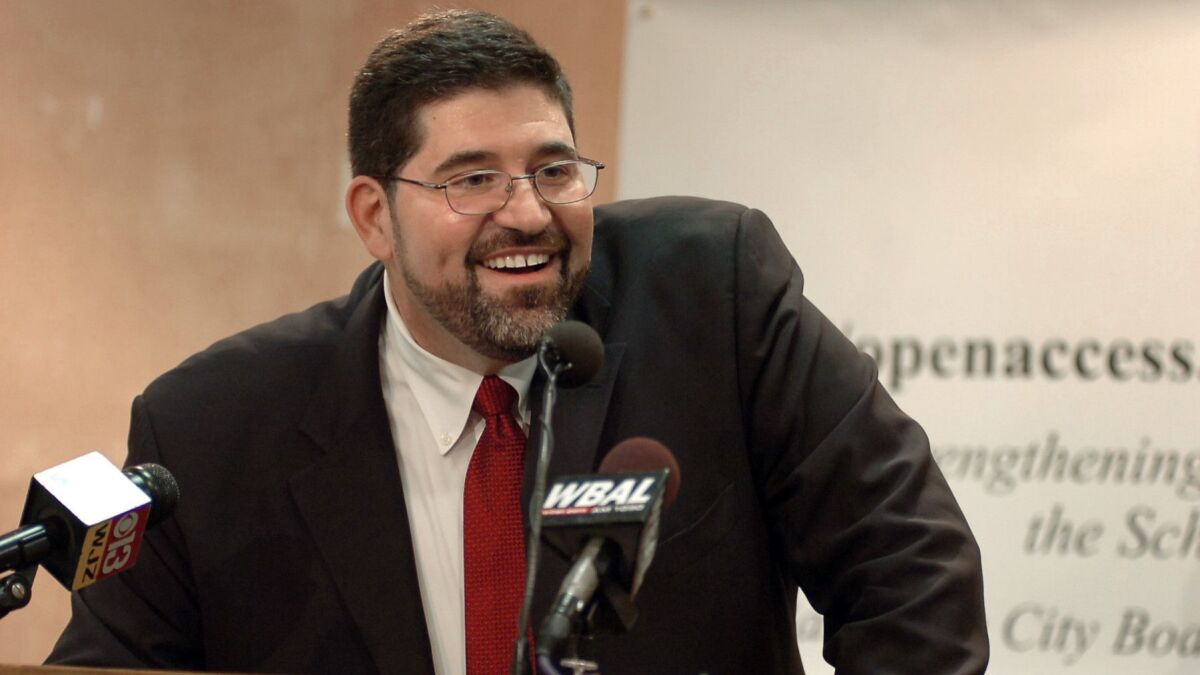 Andrés Alonso, who was one of four finalists to lead the Los Angeles school system, has become the second to withdraw from consideration. The remaining candidates in the confidential search are interim Supt. Vivian Ekchian and former investment banker Austin Beutner, who is by most accounts the clear front-runner.
Alonso, 60, announced his decision on Twitter on Thursday night, saying he had notified the L.A. Unified School District on Monday.
The exit of the former Baltimore schools chief seems further to solidify Beutner's prospects.
The school board, which did not meet this week, is scheduled to resume its deliberations on the candidates Tuesday.
Indianapolis Supt. Lewis Ferebee last week became the first finalist to bow out.
When names in a confidential superintendent search emerge in public, it is common for some candidates to drop out — out of concern for their current jobs or to better frame the story line if they think they'll be passed over.
By the time Ferebee dropped out, he appeared extremely unlikely to get the L.A. job. By early this week, it could have become clear to Alonso that he lacked a clear path to the post, at least on terms he was willing to accept.
Many potential leaders would hesitate to come to a volatile, struggling school system with a Board of Education split closely along political lines, as is the case in Los Angeles.
On Twitter, Alonso said it was a matter of pursuing an opportunity closer to his heart.
"To those sending best wishes on the LAUSD superintendent job, I withdrew from the process on Monday, when a possibility emerged — no guarantee — in relation to the school system I first loved," Alonso tweeted Thursday night. "I am grateful to the LAUSD board for its consideration and wish the city the best."
In a follow-up tweet, Alonso, whose Twitter handle is @andantalon, said the district in question is not Baltimore:
"...Love Bmore but not 1st! Baltimore crazy but not that crazy!!!"
In an email to The Times on Friday, Alonso, who teaches at the Harvard Graduate School of Education, said it was premature for him to name the district.
"I can't release that information," he said. But "it's a public search, so the information will be released by the district soon."
He added: "If you don't read my name it's because that possibility closed real fast! People who know me will know exactly what district I was not naming."
Before heading the Baltimore system, Alonso worked as chief of staff for teaching and learning and as deputy chancellor for teaching and learning at the New York City Department of Education. From 1987 to 1998, he taught emotionally disturbed disabled adolescents and English-language learners in Newark, N.J.
The Newark district is seeking a superintendent, and the same firm — Hazard, Young, Attea and Associates — is conducting the search in Newark and L.A.
Beutner's supporters, meanwhile, have been trying to assemble five votes for him. They also seem prepared to live with a shakier 4-to-3 victory.
"He should take it," said Mickey Kantor, an attorney and former U.S. Secretary of Commerce in the Clinton administration. "Once he was there, the whole board would learn this is someone they needed and they would enjoy working for him."
Kantor and Beutner are close and they co-chair Beutner's nonprofit, Vision to Learn, which provides glasses to low-income students.
L.A. Unified recently accused the nonprofit of falling short in its promise to provide vision screening and glasses to district students. Vision to Learn faults the district for the delays.
Beutner formerly served as an L.A. deputy mayor and as publisher of the Los Angeles Times, each for about a year.
His core of support on the board has been from a four-member majority elected with major financial support from charter school advocates, with a fifth vote anticipated from board member Richard Vladovic.
But Kelly Gonez, a member of the charter-backed majority, is said to have wanted an educator — and Alonso appeared to fit the bill. Now that Alonso has pulled out, pressure for Gonez to conform could intensify.
Although it seems unlikely, a majority of board members could turn to Ekchian, who has spent her career in the school district and has managed it on an interim basis since September. The board also could reconsider other candidates or accept new applications.
A 4-to-3 majority could pose problems for any candidate if one of the votes belongs to Ref Rodriguez, who faces criminal charges on suspicion of political money laundering. Rodriguez, who denies wrongdoing, could be forced to resign if convicted.
On Monday, his attorneys are expected to argue that his preliminary hearing should be postponed from May 9 to a later date. The preliminary hearing will be the first opportunity for prosecutors to bring witnesses to the stand and submit evidence before the court in public.
---
UPDATES:
6:10 p.m.: This article has been updated throughout with additional details about the superintendent selection process and the candidates.
10:10 a.m.: This article has been updated with emailed comments from Alonso.
This article was originally published at 8:15 a.m.
The stories shaping California
Get up to speed with our Essential California newsletter, sent six days a week.
You may occasionally receive promotional content from the Los Angeles Times.