Officials restore money to L.A. schools soon after making controversial funding cuts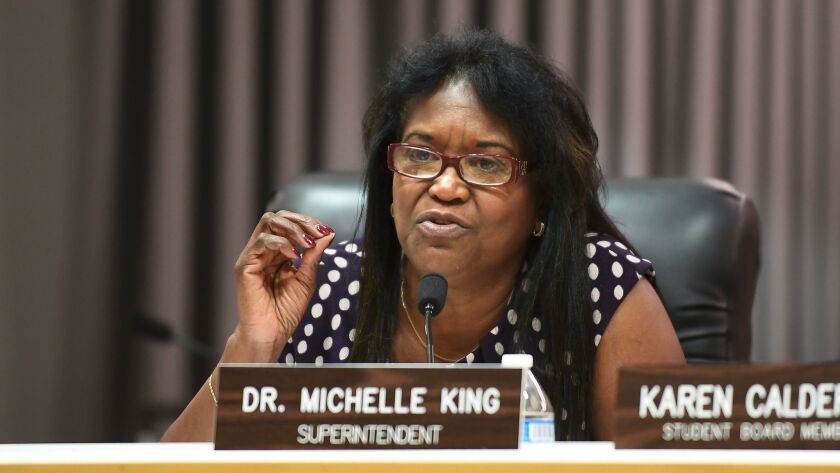 Barely a week after the Los Angeles Board of Education approved a budget based on reduced federal anti-poverty aid, schools officials have restored nearly all of the funding.
The added dollars will help L.A. Unified avoid some cutbacks and may make some planned layoffs unnecessary.
While the news was welcome, it was less clear why the belt-tightening went forward in the first place: Federal officials had told the district about the improved funding projection in a May 24 letter, and the school board did not approve the budget until June 20.
"I am relieved that schools will not after all be enduring a disproportionate cut in budget and services," said board President Steve Zimmer, whose term ended Friday. "I am troubled by the stress that they went through over a cut that, in the end, was not nearly as dramatic as people feared."
The planned $40-million reduction would have affected more than 700 campuses, about 70% of district schools. The cut in the anti-poverty funds was about 16.5% at each affected campus, about $113 per student at most schools. Now, all but 2% of the cut will be restored, officials said Friday, and the remainder could be added later as well.
At the June 20 meeting, the school board approved 121 layoffs — including 30 library aides. Although no school had been required to go without library staff, many chose to do so in light of other needs they regarded as more pressing. The result was the planned closure of more than two dozen campus libraries.
The restored funds won't countermand the layoffs, but individual schools will have the option to reinstate employees. Layoffs that were related to shrinking the central administrative staff are unlikely to be reversed.
The nation's second-largest school system is facing long-term budget problems, partly rooted in declining enrollment. The central-office cuts are among the measures Supt. Michelle King is taking to move more resources to the schools.
But the cuts that provoked worries in June proved to be a false alarm.
King and her senior staff elected not to tell the school board about the incoming funds ahead of the budget vote, because a revised budget calculation could not be completed in time — even though nearly a month had elapsed since the federal notification, deputy budget director Kathy Norris said Friday.
"We always budget conservatively," Norris said. "The worst thing in the world is to allocate resources to schools that you then have to take back. It is a nightmare."
ALSO
Nick Melvoin has a lot of ideas for L.A.'s schools
L.A. Unified's new budget, a scholarship from Beyoncé, San Francisco State lawsuit: What's new in education
Trump's new civil rights guidelines, saving social learning, the graduates you should know: What's new in education
---
For reporting and exclusive analysis from bureau chief John Myers, get our California Politics newsletter.
You may occasionally receive promotional content from the Los Angeles Times.