Leaders of L.A. school district and teachers union head to church as scheduled strike approaches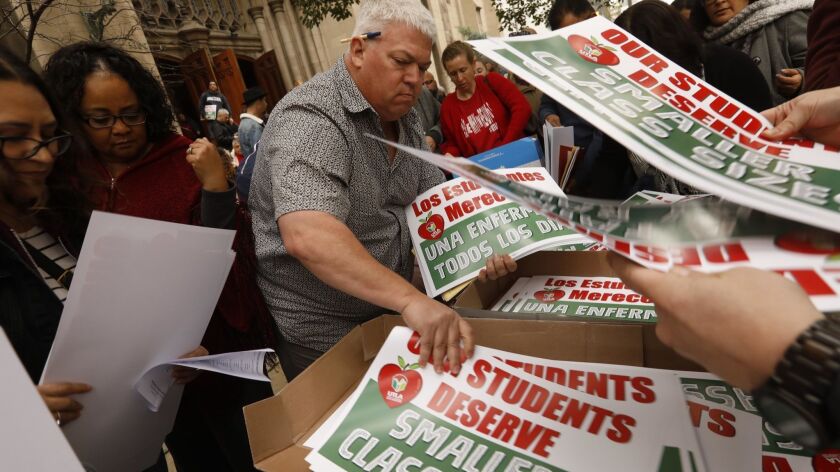 Leaders of the Los Angeles school district and its teachers union both went to church this weekend, but their sermons and audiences had little in common as a Thursday strike date approaches.
Alex Caputo-Pearl, president of United Teachers Los Angeles, gave a pep talk to his members Saturday at Immanuel Presbyterian Church, across the street from his union's headquarters in Koreatown.
Among the faithful filling the pews was Emily Reyes, the union chapter chair for Crescent Heights Boulevard Elementary School in Mid-City.
"It was so fitting that it was in church," Reyes said. "Walking into that big Gothic church and just taking in the energy, it was very exciting. People seemed very energized. We're ready. We're ready to strike."
Austin Beutner scheduled three church visits Sunday and described in an interview his first stop, at Resurrection Church in Carson, where he spoke for several minutes.
"I said that we have to do the right thing for our students, and I believe the right thing is not to have a strike," Beutner said. He said he also discussed the importance of adults modeling the civil conduct "that we'd all like to teach to our students every day."
Representatives of the teachers union and the Los Angeles Unified School District are tentatively scheduled to meet for a last-ditch negotiation session Monday morning. The school district accepted an offer from L.A. Mayor Eric Garcetti to hold the meeting at City Hall. Beutner said the fresh setting might help.
But union leaders decided over the weekend against that location. A union spokeswoman said Sunday that the union had agreed to meet instead at school district headquarters, just west of downtown.
Garcetti has offered to play the role of mediator, but the move away from City Hall suggests that he is unlikely to be called in at this stage.
The back-and-forth over the venue was indicative of how the two parties perceive the meeting and how they want the meeting to be perceived.
L.A. Unified officials want to send the message — to the public as much as to UTLA — that they will do whatever they can to stop a strike.
"On our agenda, we plan to bring counter proposals to UTLA's Last, Best and Final offer," Robert Samples, the district's interim labor relations director, wrote in an in email to the union.
Samples said the district would "augment" its team by having Beutner and other senior officials attend the session and invited the union to follow suit with its leaders, assuring UTLA that participants would be cleared to leave their work sites.
"Look forward to seeing you and your team tomorrow," he wrote.
The union, on the other hand, has fired up its members for a walkout — on the grounds that it would be good for the future of traditional public education.
By declining a City Hall setting for talks, the union appears to be dampening any expectation of a last-minute settlement.
"UTLA will engage in whatever talks are possible to avoid a strike, but the district must be willing to spend a substantial portion of its record-breaking $1.9-billion reserve to serve our students and must engage our full package of proposals rather than dismiss them," Caputo-Pearl said in a statement Sunday.
The district has offered teachers a 6% raise spread over the first two years of a three-year contract. The union wants a 6.5% raise that would take effect all at once and a year sooner.
But the issues that the union is pressing for go well beyond wages. UTLA also is demanding a significant reduction in class sizes and the hiring of enough nurses, librarians and counselors to "fully staff" campuses across the nation's second-largest school system. Union leaders have framed their activism as a fight for the future of public education.
Beutner has said that some of the union's proposals are worthy but that, if accepted, they would immediately push the school district into insolvency.
The superintendent wants as narrow a focus as possible in contract talks. Unlike the teachers, he doesn't want to deliberate over whether there is too much standardized testing or too little control over privately run charter schools that operate on district-owned campuses.
Twitter: @howardblume
---
The stories shaping California
Get up to speed with our Essential California newsletter, sent six days a week.
You may occasionally receive promotional content from the Los Angeles Times.