Berkeley balconies now must have inspections, tougher building codes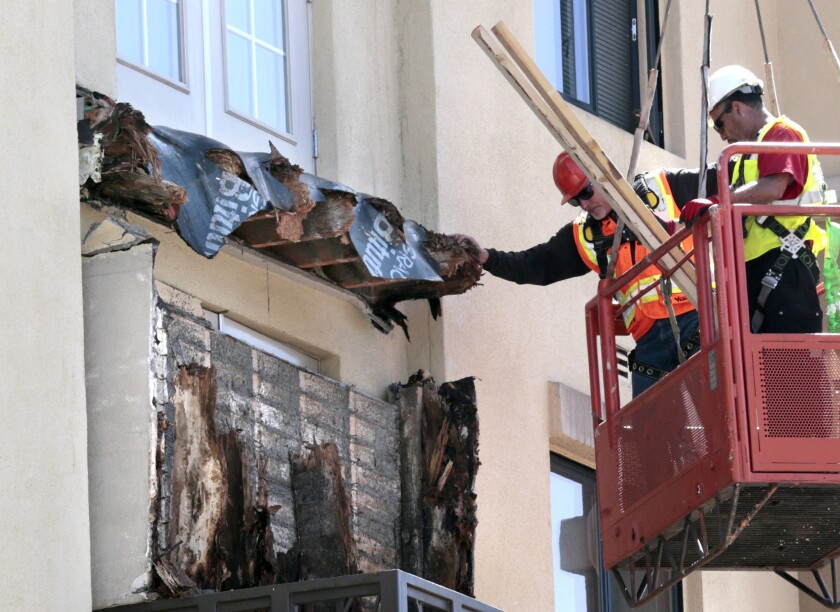 Reporting from Sacramento —
Balconies in Berkeley must now pass a safety inspection every three years, and new ones must be built of rot-proof wood or steel, under measures passed Tuesday as the campus community addresses the deaths last month of six young people and grave injury of seven more.
California building code officials said they know of no other community that has taken the steps now required by Berkeley. National building codes for more than a decade have allowed balconies to be built of untreated wood that is susceptible to water damage as long as it is covered by a waterproof membrane. Such was the case of the engineered wood beams used on the cantilevered balcony that collapsed in Berkeley, built eight years ago.
The manufacturer of the beams warns against the product's use where it might become wet, and the Federal Emergency Management Agency is considering barring such material on the lower stories of homes in hurricane flood zones.
Berkeley city staff originally called for property owners to be required to provide proof that they have inspected balconies once every five years. With pressure from one council member and the lawyer for one of those killed in the June 16 tragedy, the City Council agreed to shorten the time between mandatory inspections to three years.
An attorney for the family of Ashley Donohoe, one of the victims, sought annual inspections, citing private advice from engineers who said wood decay, once established, progresses quickly. "There may be other buildings with the same design and the same issue and problems... we know the same contractors have had similar issues with other buildings that were built at other locations," attorney Eustice de Saint Phalle said.
Donohoe, 22, was among a group of young people who were celebrating a 21st birthday party when the fifth-floor balcony of a modern downtown Berkeley apartment complex gave way. Most of the victims were from Ireland, spending their summer abroad, including Donohoe's cousin, Oliva Burke, who also died.
Berkeley's new ordinances also require balcony decks that are encased to contain ventilation openings to allow water to escape if it should penetrate the structure. City Councilman Jesse Arreguin also called for stricter code enforcement, while representatives of the construction industry sought a delay in action until investigations into the collapse are finished.
A Los Angeles Times story on Tuesday reported that Berkeley's three code enforcement inspectors have difficulty enforcing the city's existing ordinance requiring property owners to conduct annual inspections of all 28,000 rentals in the city. Public records provided to the newspaper showed city inspectors checked 525 apartments in the past year, including 200 inspections that were required by the state in response to tenant complaints.
Berkeley's changes to the building code must still be approved by the California Building Standards Commission. Amendments that address local conditions are usually approved.
---
The stories shaping California
Get up to speed with our Essential California newsletter, sent six days a week.
You may occasionally receive promotional content from the Los Angeles Times.