Another day of reckoning: Return of powerful winds make Thomas fire dangerous again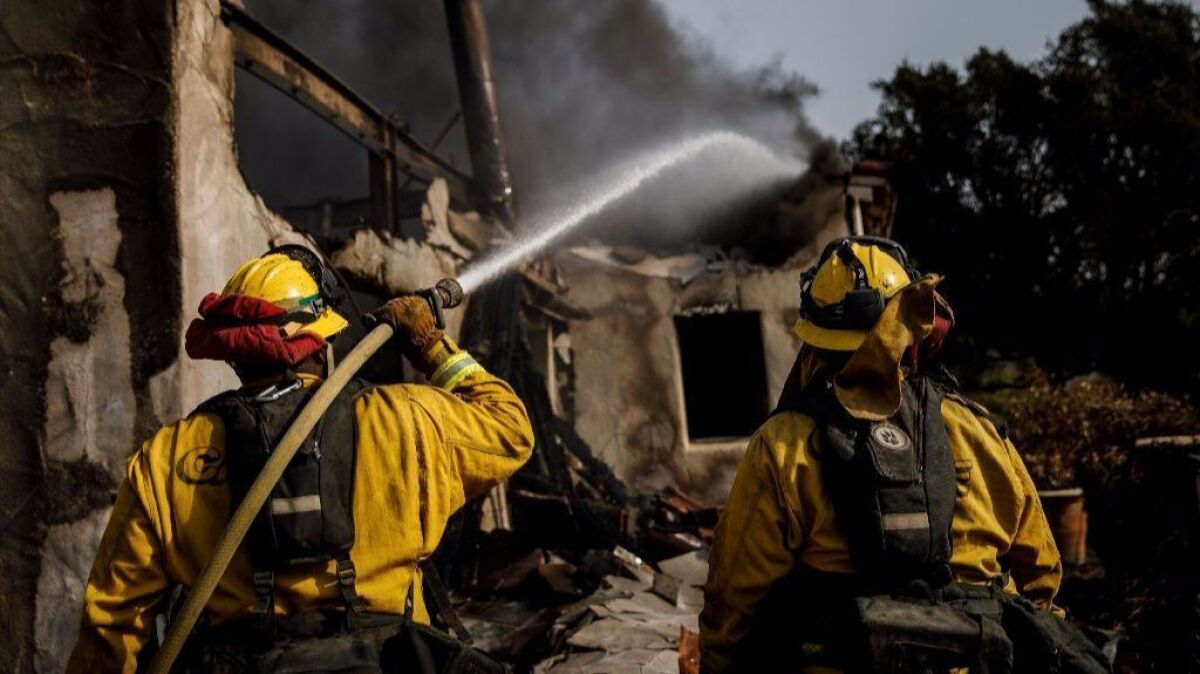 For three days, firefighters have purposely set hillsides on fire to reduce available fuel. They've quenched smoldering heaps of chaparral and cut down burned trees so they don't fall onto people passing by.
Many have worked for 14 hours straight, milking the lull in winds. Some sang songs to pass the time.
Now, their day of reckoning has arrived.
Powerful winds that have driven the ferocious Thomas fire for more than two weeks are expected to return Wednesday afternoon.
Forecasters predict a new blast of Santa Barbara's notorious sundowner winds, which blow down the canyons to the coast, late Wednesday afternoon into Thursday morning. Northerly gusts will probably exceed 40 mph, while isolated gusts of up to 60 mph are possible, according to the National Weather Service.
They'll whip through the Santa Barbara County side of the fire first, creating crucial fire conditions for the western face of the blaze, before the Santa Anas pick up in Ventura County on Thursday morning.
"Firefighters have been working hard for the last 3½ days to prep for tomorrow," said Capt. Steve Concialdi of the Orange County Fire Authority. "We are confident."
It's part of the vicious cycle that has kept the Thomas fire raging since it took root in the foothills above Thomas Aquinas College on Dec. 4. By Tuesday, it had charred 272,000 acres of land across Ventura and Santa Barbara counties, making it the second-largest wildfire in modern California history.
Despite hard-fought gains that allowed firefighters to increase containment to 55% late Tuesday, the wildfire that has destroyed 765 single-family homes is expected to keep growing. Fuel in the area remains critically dry, posing an especially acute danger when the winds pick up.
But fire departments from agencies across California are starting to travel home.
"It's drastically ramping down right now," said Rudy Evenson, a spokesman for the multi-agency firefighting effort. "It's nowhere near the scale that it's been the past two weeks."
With more containment lines in place, thousands of displaced residents near burn zones in Carpinteria, Montecito and the Santa Barbara foothills got some good news Tuesday: Finally, they could go home.
"What a relief," said Bob Boghosian, who evacuated his Toro Canyon area home a week ago, along with his wife, Beth.
They moved to their home from Anaheim Hills two years ago, after falling in love with the seclusion and ocean views. The couple knew they faced fire danger, but "up until now all this discussion about fire risk was theoretical," Boghosian, 72, said.
"I guess it comes with the territory," he said. "We didn't think it was quite like this."
Boghosian's home was unscathed, but he is a bit worried for the future, and his East Coast friends are urging the couple to move.
"Everything smells like you had a fire in the fireplace," he said.
Along Coast Village Road in Montecito, businesspeople were working to reopen shops and restaurants that had been closed for several days due to a mandatory evacuation order. The order was lifted at 6 a.m. Tuesday.
Some merchants worried that closures during the peak holiday season could seriously hurt their profits for the year.
"It's awful," said Jason Herrick, co-owner of the Liquor and Wine Grotto. The prolonged fires have resulted in his worst month for sales since December 2009, he said.
"You didn't even see blue skies for 10 days," he said.
Herrick has owned the wine shop for nearly nine years and has been through wildfires before, but never one that lasted this long.
"I don't think everyone can sustain," Herrick said of other business owners.
At Lucky's, a steakhouse on the same street, employees wearing masks were working to clear ash from the patio. Larry Nobles, the restaurant's wine director, said he could see the fire from the restaurant's host stand a few days ago.
"It looked like Armageddon coming at you," he said. "Everybody had something packed."
Nobles was cautious about reopening the restaurant only to potentially have to close it again because of the expected return of the winds Wednesday.
"Sounds like they've got it contained," he said. "But you never know."
alene.tchekmedyian@latimes.com
Tchekmedyian reported from Los Angeles, Santa Cruz from Santa Barbara. Times staff writers Melissa Etehad and Hailey Branson-Potts contributed to this report.
The stories shaping California
Get up to speed with our Essential California newsletter, sent six days a week.
You may occasionally receive promotional content from the Los Angeles Times.