Video shows woman fleeing hit-and-run crash that left a dad dead on Father's Day
Scenes from a hit and run.
The video is horrifying: A speeding driver blows through a red light and plows into an SUV, lifting the vehicle up and sending it flipping into a parked truck before it slams into a tree and lands on its roof in the frontyard of a home in North Hills.
The crash left a father of two dead and four others injured in the early morning hours of Father's Day.
Police have released video showing the fatal collision, in which the driver of a white Lexus strolls away from the wreckage, walking on a sidewalk past a large white cross in the parking lot of a church and occasionally looking back at the crash site.
Authorities say Maritza Joana Lara, 27, ran the red light at Parthenia Street and Haskell Avenue, rammed into the driver's side of the Nissan Murano driven by 48-year-old Francisco Hernandez Rivas, and then fled the scene on foot.
Rivas' vehicle was launched into the air on impact and flipped upside down. A traffic light was also knocked down in the smoky collision.
Rivas was pronounced dead at the scene, and four passengers in the Lexus were taken to a hospital, where they remain in critical condition.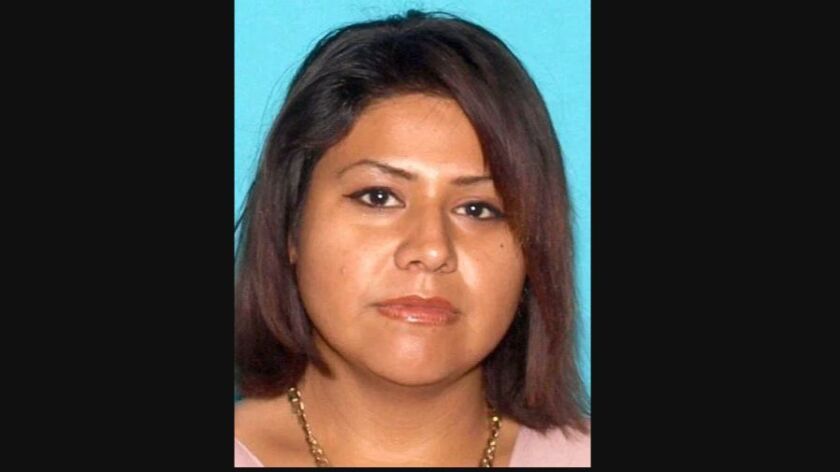 Empty beer cans were found inside the vehicle authorities say Lara was driving. The investigation into the crash is still underway, but intoxication is being considered as a factor. According to LAPD Det. Lisette Fuentes, Lara has a prior DUI conviction.
Police are seeking the public's help in finding Lara while urging her to turn herself in.
"We want to hear what you have to say," Fuentes told KTLA-TV. "There was someone that was killed that day. You walked away."
Fuentes said she thought Rivas was on his way to church at the time of the crash.
---
The stories shaping California
Get up to speed with our Essential California newsletter, sent six days a week.
You may occasionally receive promotional content from the Los Angeles Times.