Amid backlash, Coastal Commission asks state to 'explore all potential options' to open Hollister Ranch to the public
Facing mounting criticism for allowing Hollister Ranch landowners to keep 8.5 miles of Santa Barbara coastline largely closed to the beachgoing public, state officials indicated Thursday some regret about the controversial deal they quietly agreed to earlier this year.
In an announcement met with applause at a public meeting in Redondo Beach, California Coastal Commission Chairwoman Dayna Bochco said the agency plans to ask the State Lands Commission to "explore all potential options" to obtain genuine public access by land to one of the state's least tarnished stretches of coastline.
The State Lands Commission has the authority to acquire private property for public use through eminent domain — a costly, complicated process that comes with its own set of legal challenges. Doing so would be bold: State Lands has never used this authority before. Other options could include land exchanges or negotiating new boundary lines.
The request itself does not guarantee that the State Lands Commission will intervene — staff will likely conduct their own legal analysis and weigh their options. But it illustrates a newfound desire by coastal officials to fight for public access months after they ceded their claim to any public route by land into Hollister Ranch.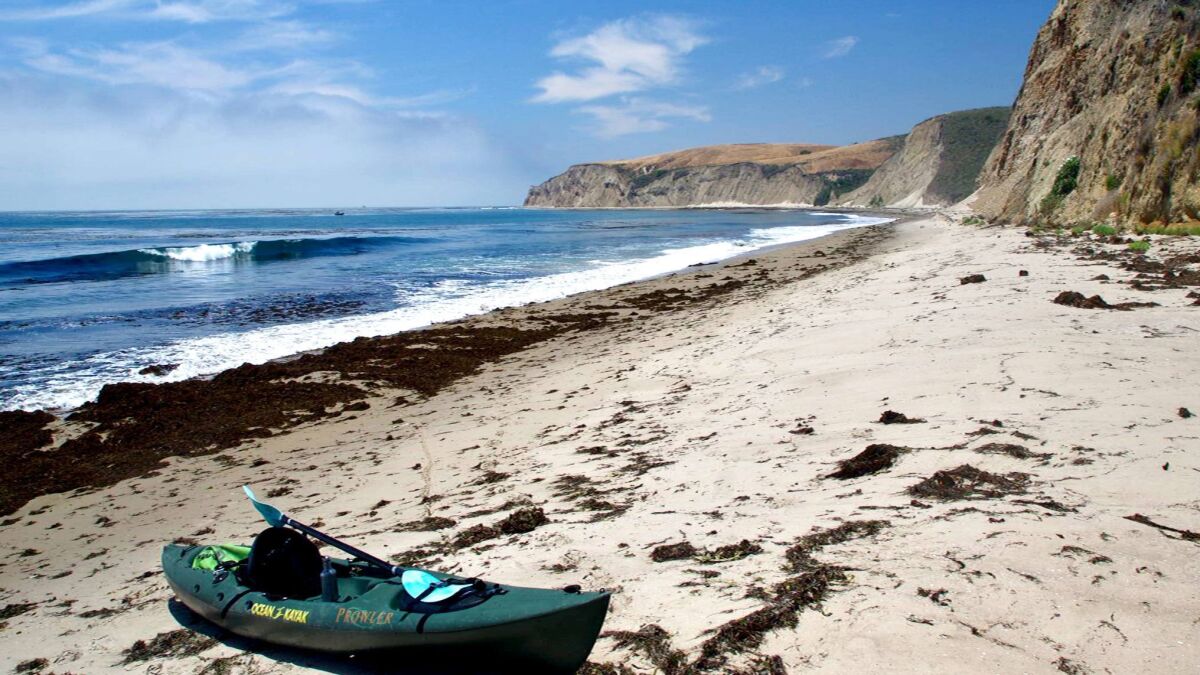 Coastal Commissioner Mark Vargas said that when he and his colleagues had agreed during closed session to the settlement agreement, not all the details were clearly presented. During the commission meeting this week, he expressed interest in the possibility of withdrawing from the settlement.
"Just fundamentally, we should never give up the fight for more public access, particularly for this piece of the coastline where so much is off-limits to the public," Vargas said.
He said the agreement the commission approved means they have "unfortunately tied their hands." The move now is to make sure they exhaust all other options, he said.
"We have a duty," he said, "to be as vocal as possible to ensure the public that we've got their backs when it comes to maximizing access."
Read more about the Hollister Ranch settlement »
The agreement — which prompted a public intervention from advocacy groups that said they felt the need to step in where state officials fell short — grants beach access only to select organized tours and afterschool groups or those who can boat or paddle in.
The commission and state Coastal Conservancy in return agreed to stop citing a legal technicality they had argued promised the state rights to one rugged road into Hollister Ranch. The settlement appeared to cap a bruising legal battle with powerful landowners, who for decades have kept this coastline almost entirely to themselves thanks to the ranch's complicated legislative history, which essentially exempted owners from typical beach access rules.
With such limited options, coastal officials had reasoned that the deal at least provided the first opening of any public access at Hollister Ranch. Officials are looking into boat rides to the beach and other ways to expand public access by ocean.
The deal received preliminary approval in May, but a Santa Barbara Superior Court judge said she was concerned that the public was not provided sufficient knowledge of the settlement and invited Californians to formally intervene as a third party to the case.
As news trickled out, more than 1,500 people emailed the Coastal Commission lambasting the deal. Attempts of reaching the beach by kayak have proved treacherous even for the most able-bodied and experienced.
The public seemed intentionally left out of the negotiations, advocates had said. They pointed to a court brief by the state attorney general's office arguing that offering the public an opportunity to intervene was unnecessary and "would undermine the power of public agencies to settle cases and unnecessarily delay litigation."
The change in tune this week is encouraging, they said. Many praised the commission's public commitment to push harder, saying that with renewed public scrutiny, there's finally a shot of correcting a wrong that should never have been allowed.
"The silver lining of this litigation and this very unfortunate settlement is that it has made us peel back so many of the layers," said Susan Jordan of the California Coastal Protection Network, one of the groups seeking a public intervention with the court. "I'm encouraged that the commissioners now seem to really understand the scope of this entire problem."
Interested in coastal issues? Follow @RosannaXia on Twitter.
---
The stories shaping California
Get up to speed with our Essential California newsletter, sent six days a week.
You may occasionally receive promotional content from the Los Angeles Times.