At a free Christmas dinner in Hollywood, holiday stresses are eased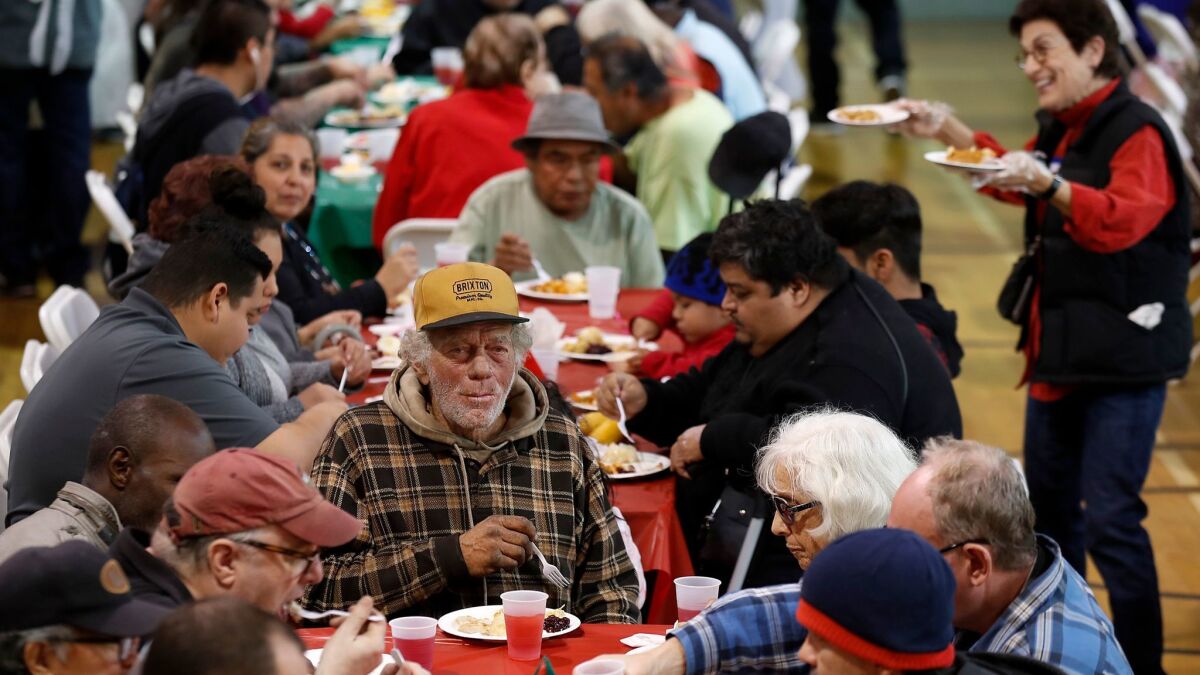 Since losing his job as an oil rig driver six years ago, Wayne Mingo has struggled to put food on the table.
The holidays have been more stressful than joyous for him, as he worries about how to afford toys for his two children.
On Christmas Day, he sat down to a free turkey dinner at Hollywood United Methodist Church with Jeremiah, 8, and Kaliyah, 12.
After they finished eating, Jeremiah and Kaliyah would get to pose for photos with Santa Claus and pick out toys from a room stacked with action figures, stuffed animals, dolls and books.
Joining them were hundreds of other needy Angelenos: retirees, homeless people, working families with young children. The line started near the church's main entrance on Franklin Avenue and snaked up Highland Avenue, not far from the Hollywood Bowl and the Dolby Theater, where the Oscars are held.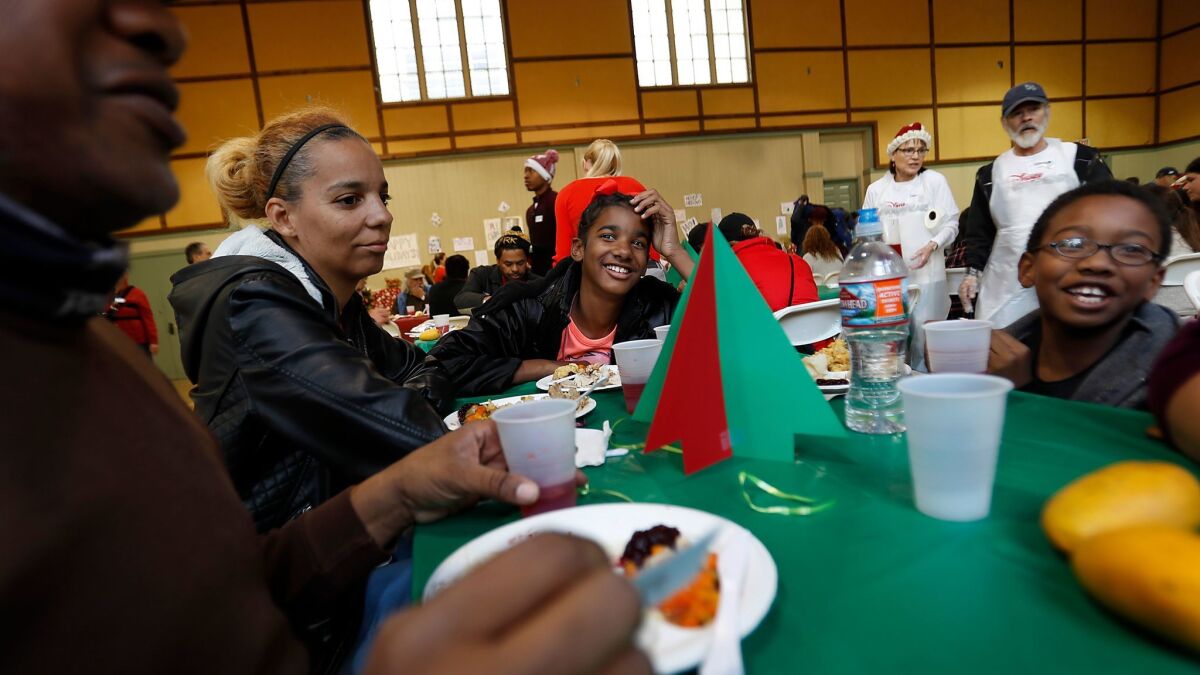 Things are looking up for Mingo, 52, who recently started driving for Uber and Lyft.
"It doesn't feel good when I can't support my family fully, especially at this time of the year," he said.
The free meal has been a Christmas tradition in Hollywood for more than 30 years. Temple Israel of Hollywood, which started the event, is a joint organizer with the Hollywood United Methodist Church.
This year, the interfaith theme broadened as ILM Foundation, which has roots in Islam, joined the organizing team.
Nearly 300 volunteers roasted 100 turkeys and served them with stuffing, mashed potatoes, vegetables, cranberry sauce, pumpkin pie, apple pie and ice cream.
Donors provided free clothing, blankets and toys. Audrey Gardner, a volunteer who runs the toy room, said she uses the $400 holiday bonus she receives from her job to buy toys for the event.
Attendance has been down lately, despite the rising number of homeless people and the increasing cost of living in Los Angeles. About 700 people came to the church last year, compared with as many as 1,200 in previous years, said Ilyse Pallenberg, a board member at Temple Israel and one of the event's co-chairs.
This year, organizers used the hopeful hashtag #feed1000.
"The joy, to see the kids having this carefree day, is pretty incredible," Pallenberg said. "We all pass homeless people every day. I keep a stash of $1 bills in the car — I don't know if that's the right thing to do."
As her four-year-old daughter enjoyed a bowl of vanilla ice cream, Francesca Reyes, 24, described the difficulties of surviving on minimum wage.
She makes about $10.75 an hour as a cashier at a wholesale market. Her mother, Emma, brings in about $175 a week as a babysitter. The family shares an apartment in Koreatown for $900 a month. "Sometimes I don't even know," Reyes said when asked how she pays the bills. "Rent's going up. Food's going up."
The Christmas charity extended to animals. Isabelle, a four-year-old Chihuahua mix, sat on her owner Jim Foley's lap, eyeing Foley's plate but not daring to steal a bite.
Then a volunteer stopped by with two thick slices of turkey for Isabelle. She quickly wolfed them down.
Tonya Bennett, Foley's roommate, said she has not had a Christmas tree for over a decade. Nor do the roommates exchange holiday gifts. Money is too tight.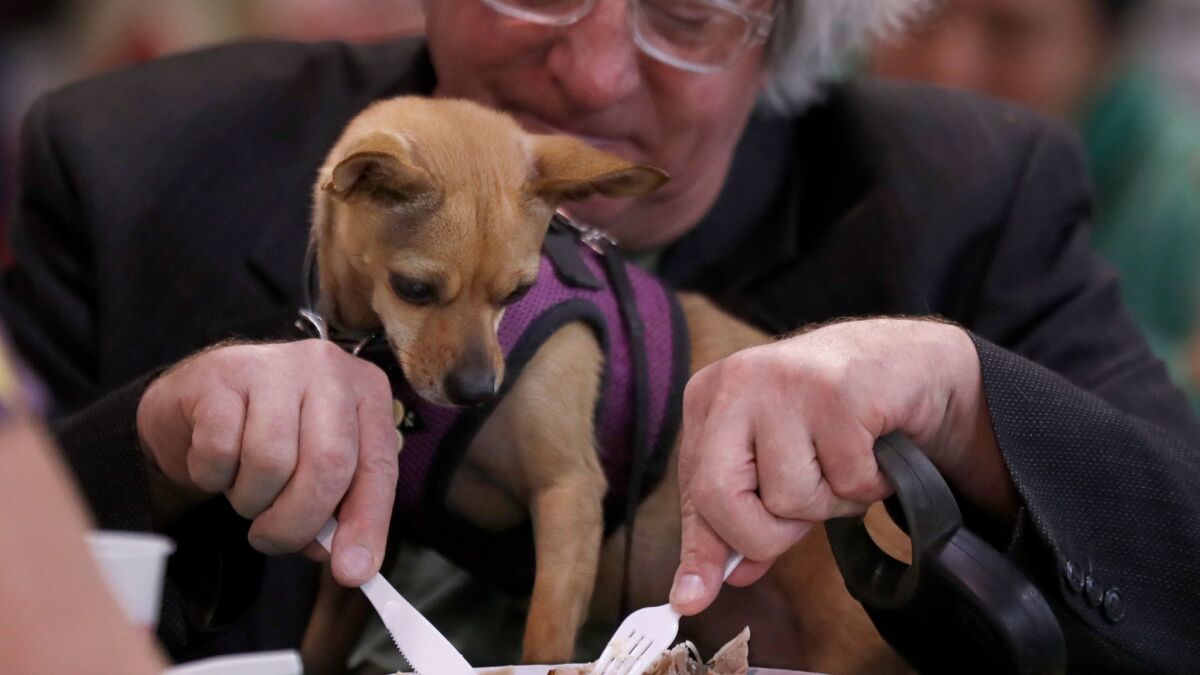 Bennett, 51, pays the $987 rent on their studio apartment, as well as their other household expenses, with her $1,380 disability check. Foley, 62, has not been able to find work, despite applying for dishwashing, construction, security and retail jobs.
This year, in search of the holiday meal they could not afford to cook for themselves, Bennett and Foley googled "Christmas dinner" and came across the Hollywood event.
"We've been struggling a real long time," said Foley
For more news on the Los Angeles Police Department, follow me on Twitter: @cindychangLA
---
The stories shaping California
Get up to speed with our Essential California newsletter, sent six days a week.
You may occasionally receive promotional content from the Los Angeles Times.