Amid mounting pressure, O.C. struggles to craft homeless shelter plan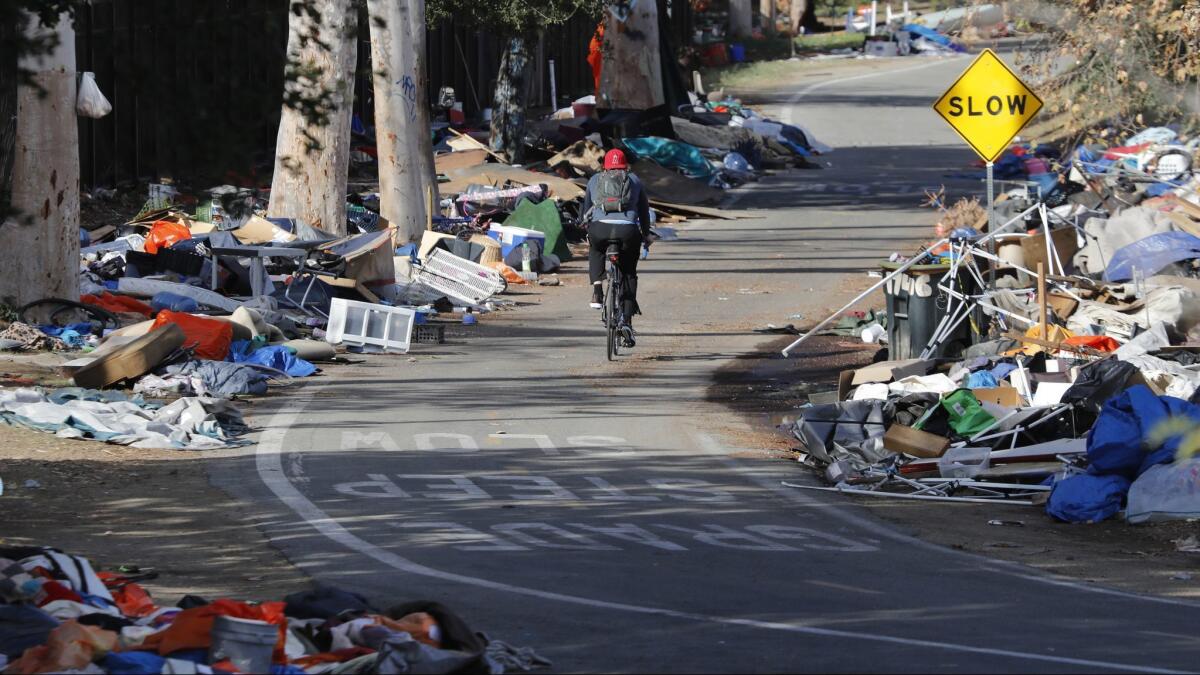 Two Orange County supervisors Monday urged cities to come forward with possible locations for temporary homeless shelters as pressure mounts to house people removed from Santa Ana River encampments.
The Board of Supervisors last week moved away from its plan to have county staff study moving hundreds of homeless people to temporary shelters in Huntington Beach, Laguna Niguel and Irvine after receiving pushback from those communities.
The board instead opted to come up with a new plan under the watchful eye of a federal judge overseeing a civil rights lawsuit by seven homeless people and their advocates over the county's recent clearing of encampments along the river.
So far, no new plan has materialized. Many of the homeless who were moved from the camps are temporarily staying in motels, but the last of the motel vouchers handed out as part of an emergency aid package the supervisors approved in February have expired. It isn't clear where some former camp residents will go next.
"We are not wedded to any particular locations or any particular sites," board Chairman Andrew Do said Monday. "We just want solutions. We need more options in order to house and provide emergency shelters for the homeless."
Do called for a special meeting Monday to have supervisors discuss and provide direction to staff about housing alternatives and transitional options for the county's homeless population. Do and Vice Chairman Shawn Nelson were the only board members who attended; Supervisors Michelle Steel, Todd Spitzer and Lisa Bartlett were absent.
California's open-meetings law prohibits government panels from taking action without a majority of members present, so no vote was taken.
"It's not easy to have these conversations," Nelson said. "No one wants to be a participant."
Bartlett had a scheduled meeting with the city of San Juan Capistrano about another issue, so she could not attend Monday's discussion, her chief of staff, Victor Cao, said.
"We considered rescheduling the existing meeting; however, we can't cancel on the basis of a special board meeting that has no substantive recommended actions on the agenda staff report," Cao wrote in an email. "Supervisor Bartlett is willing to engage in a discussion about homelessness at a regularly scheduled board meeting and stresses the need for adhering to a public process."
Steel's office said she also had a previous commitment. Spitzer's office did not immediately respond to a request for comment.
The discussion came a day before U.S. District Judge David O. Carter is scheduled to hold a hearing in which some expect him to ask city officials to outline their resources for addressing homeless housing.
Nelson said Carter also could issue an injunction barring cities from enforcing their anti-camping laws in public spaces.
"I think you'd have utter panic if that happens," Nelson said.
Do and Nelson criticized some officials for "fear-mongering" in their communities to rally people against temporary shelters.
"We are not here to ram anything down people's throats, but we have a problem," Do said.
Nelson has suggested that the 114-acre, state-owned Fairview Developmental Center in Costa Mesa be used as an emergency homeless shelter. However, the Costa Mesa City Council last week voiced unanimous disapproval of the idea, supporting residents who said they were concerned that developing a shelter there would jeopardize public safety, reduce property values and unduly burden the city.
Fry writes for Times Community News.
Sign up for Essential California for news, features and recommendations from the L.A. Times and beyond in your inbox six days a week.
You may occasionally receive promotional content from the Los Angeles Times.