'Caravan Against Fear' makes a stop in downtown Los Angeles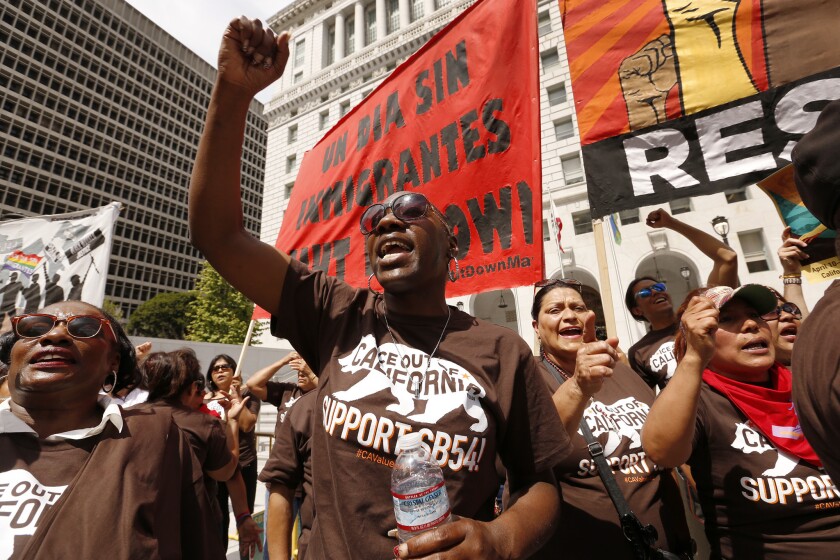 Immigration advocates held a demonstration Monday in downtown Los Angeles to call on lawmakers to pass sanctuary policies, and to urge L.A. County Sheriff Jim McDonnell to stop cooperating with immigration officials.
The rally is part of the "Caravan Against Fear." Monday's stop was one of the last two that a coalition of community leaders, immigration advocates, labor groups and workers are making in California before traveling to Arizona, New Mexico and Texas for similar rallies.
At the Hall of Justice, where McDonnell's office is located, demonstrators clapped, chanted and banged on drums. Some wore brown shirts with the image of a bear and the words "ICE out of California. Support SB 54!" while others held large banners. At least three men wore werewolf masks and dressed as deputies, holding a sign that said,"Hunting immigrants."
Organizers said they chose to make at stop at the Hall of Justice because McDonnell has been cooperating with immigration officials and opposes a proposed state bill that would increase protection for immigrants living in the country illegally.
"He was elected to serve all of the communities and was elected to ensure that there is trust within the community to report crime, to report sexual assault, to report domestic violence," said Sandra Diaz, vice president of the SEUI's United Service Workers West, which represents security officers and airport workers.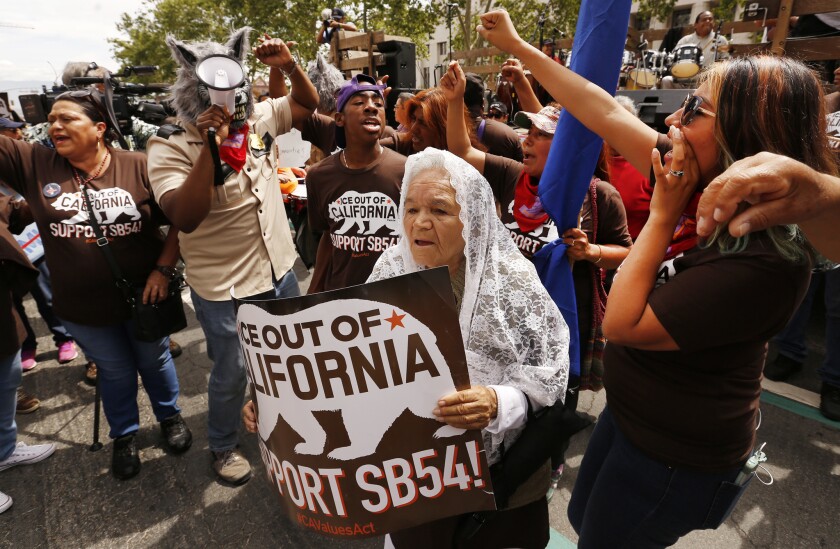 McDonnell, whose parents moved to Boston from Ireland a year before he was born, has expressed sympathy for immigrants trying to make a better life in America. But he does not support a "sanctuary state" bill that protects immigrants without legal status. The bill, SB 54, is being pushed by Democratic leaders in response to policies enacted by President Trump.
McDonnell believes that if cooperation with immigration officers ends, those federal agents will instead shift their operations to the streets, instilling fear and causing immigrants not to cooperate with law enforcement in criminal cases.
"For me, this is not about politics, but rather, it is about protecting people," McDonnell said in a statement late Monday. "I feel an obligation to stand up for what I believe will protect individuals in all of our communities.
"We need to use all tools available, including our law enforcement partners ... to ensure the protection of individuals and their families from serious and violent offenders," he said. "If ICE is not given access to the jails where the most serious and violent offenders are housed, then, very predictably, ICE agents will have no other alternative but to seek out their targets and make their arrests in our communities."
Other sheriffs, including Orange County Sheriff Sandra Hutchens, have voiced similar objections to the bill. The California State Sheriff's Assn. opposes it.
But those demonstrating outside of the Hall of Justice say they're already seeing immigration officers in their communities, where they have nabbed and deported people who were not the intended targets. Those actions are already instilling the very fear McDonnell says he is trying to prevent.
"If they were focusing just on illegal immigrants who are criminals I would understand," said Carlos Hernandez, a janitor in Los Angeles. "But they're not doing that. They're going after everyone."
"We already see the collaboration with ICE," said Graciela Lopez, 30, a union member. "They're showing up at courthouses."
Some demonstrators disagreed about who should be protected. Lopez and a few others said all immigrants, regardless of what crimes they may have committed, deserve protection. But Hernandez and others say they don't mind if law enforcement officials target people who have committed serious felonies.
Most said it's not up to law enforcement to enforce immigration laws.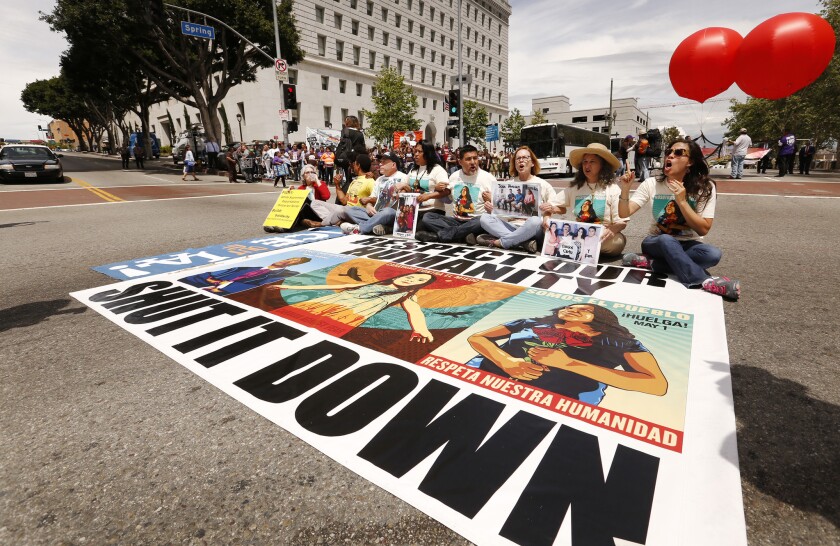 Two years ago, months after L.A. County officials voted to limit their interaction with immigration officials and find other ways to cooperate with them, McDonnell authorized such agents to operate inside jails and look for immigrants in the country illegally who have committed serious or violent crimes.
McDonnell's policy was established months after the July 2015 shooting of Kathryn Steinle in San Francisco. Steinle, 32, was shot in the back by Juan Francisco Lopez-Sanchez, a immigrant living in the country illegally and who had previously been deported five times. The shooting sparked debate over San Francisco's status as a sanctuary city.
The names and fingerprints of people booked into L.A. County jails are sent to U.S. Immigration and Customs Enforcement officials, who then select the inmates they want to pick up. The Sheriff's Department also forwards lists of inmates who are scheduled to be released soon.
Last year, L.A. County jail officials handed over about 1,000 inmates of the 300,000 who were released. But those policies would change if SB 54, also referred to as the "sanctuary bill," passes.
The bill was introduced by Senate President Pro Tem Kevin De León (D-Los Angeles) and would limit the information ICE receives about inmates in county jails. The bill would also prohibit law enforcement from sharing databases with ICE or provide an inmate's release date.
Hold requests, which are typically used by ICE to request an inmate and allow the inmate to be held for an extra 48 hours, would be barred under the bill. Requests to notify ICE of an inmate's release date or help with an inmate's transfer would also be barred by the bill.
Law enforcement would still be able to let federal agents know about inmates who have been convicted of certain violent felonies, but the list of crimes is narrower than currently allowed by state law. And the notification would be made to the FBI, not ICE.
At the corner of Temple and Spring streets, immigration advocates gave speeches while federal court employees watched from the windows of Hall of Justice. Two large red balloons held a banner that read "Jim McDonnell, whose side are you on?" and a picture of the state and Trump were between the word "or."
Watching with amusement was John Hernandez of Pico Rivera, who was in the downtown L.A. area and came across the demonstration.
"It's cool that they're doing this," he said. "You need to start somewhere."
Hernandez believes immigrants who haven't committed violent crimes shouldn't face the threat of deportation.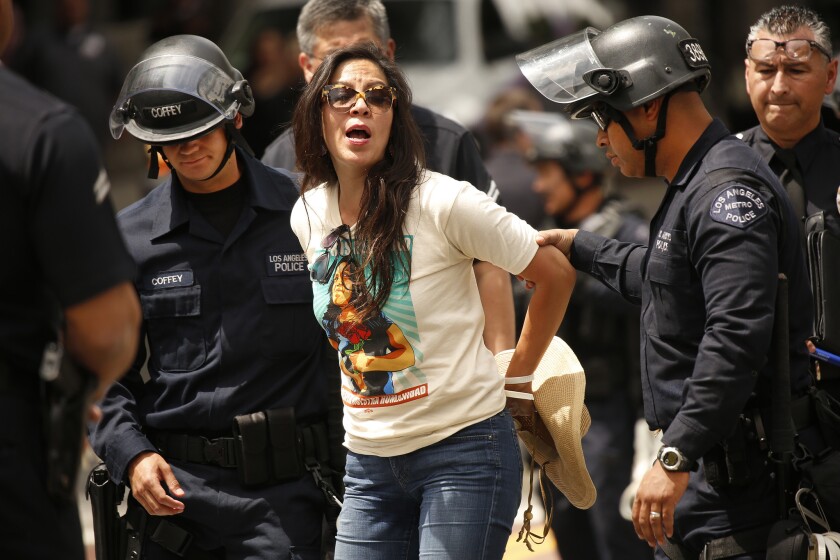 Shortly after noon, when the demonstration was expected to end, police declared the protest an unlawful assembly and ordered people to disperse. Some followed orders while others sat down in the middle of the street and kept chanting. Eight were arrested.
Among them was Alejandra Valles with SEIU, whose parents were in the country illegally when she was younger. She said she knows what it's like to be the child of immigrant parents without legal status and how they constantly feared being separated by immigration officials.
"I'm doing this for all the kids who are wondering what's going on, when they're hearing all this anti-immigrant rhetoric and hate, wondering if there's something wrong with our community. There's nothing wrong with you," Valles said.
"What's wrong is these policies, what's wrong is sheriffs like Sheriff Jim McDonnell who are not doing their job that we elected them to do, which is protect our communities and instead are deciding to side with the Trump administration and are trying to do the jobs of ICE agents, which is not what we elected them to do."
For more Southern California news, follow @latvives on Twitter.
---
The stories shaping California
Get up to speed with our Essential California newsletter, sent six days a week.
You may occasionally receive promotional content from the Los Angeles Times.