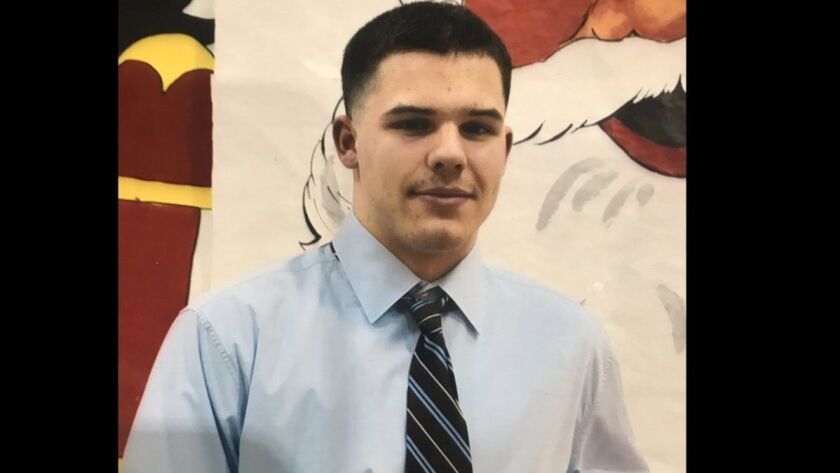 A teenage murder suspect who had escaped from a juvenile hall in Orange County was recaptured by sheriff's deputies late Friday, officials said.
Ike Souzer, 15, was arrested without incident by members of the Orange County Sheriff's Department inside a McDonald's near Euclid Street and Glenoaks Avenue in Anaheim about 9 p.m., according to Carrie Braun, a Sheriff's Department spokeswoman.
Souzer had changed into street clothes, but it was not immediately clear where he had been since escaping from a detention center in Orange shortly after midnight Friday.
In making his escape, Souzer , got out of his locked room and climbed a perimeter fence. Officials noticed he was missing when they conducted a room check, which typically happens at the facility about every 15 minutes, Chief Probation Officer Steve Sentman said earlier Friday.
Probation officers saw the teenager on the detention center's roof, and a facility-wide alarm was activated. He left the facility on the side closest to UC Irvine medical center and headed north, Sentman said.
Video showed Souzer crouching behind bushes just after his escape.
At one point, he could be seen hiding behind a bush on a grassy area and lifting his pants to check his leg. Braun said Souzer injured himself climbing over barbed wire and received treatment for those injuries after his arrest.
There is no evidence that Souzer had access to any tools that could have aided in his escape or help from anyone on the detention center staff, Braun said.
About 60 investigators with the Sheriff's and Probation departments, the district attorney's office, the U.S. Marshal's Service and the FBI were involved in the manhunt, according to Braun.
The juvenile hall is a 434-bed institution that houses boys and girls — typically age 12 to 18 — who are being detained pending juvenile court hearings.
Souzer had been in custody since May 2017 when authorities say he fatally stabbed his mother, Barbara Scheuer-Souzer, 48, in Garden Grove. The boy, who was 13 at the time, repeatedly stabbed the woman, then left her on the ground in front of their home in the 11000 block of Gilbert Street, Garden Grove police Lt. Carl Whitney said.
Whitney said that when police found her, Scheuer-Souzer had stab wounds in her abdomen but was alive and identified her son as her attacker. She died hours later at a hospital.
Detectives arrested the boy in a parking lot about a half-mile away, and he showed officers where he buried the knife used in the killing, Whitney said.
Authorities were familiar with the teen before the fatal stabbing. Police had searched for Souzer three weeks earlier when he ran away from home.
Souzer's family shared his photo on Facebook at the time in an effort to find him and suggested that he might have gone to a bike or skate park. They wrote that the boy was not violent. He was found in Pomona days later.
The teen, who Whitney said has autism but is high-functioning, was in court this week for his criminal trial. The trial was expected to wrap up in the next several days.
"That could be why this happened now," Whitney said.
Twitter: @Hannahnfry
---