LAPD officer charged in assault quietly avoids jail time under plea deal with prosecutors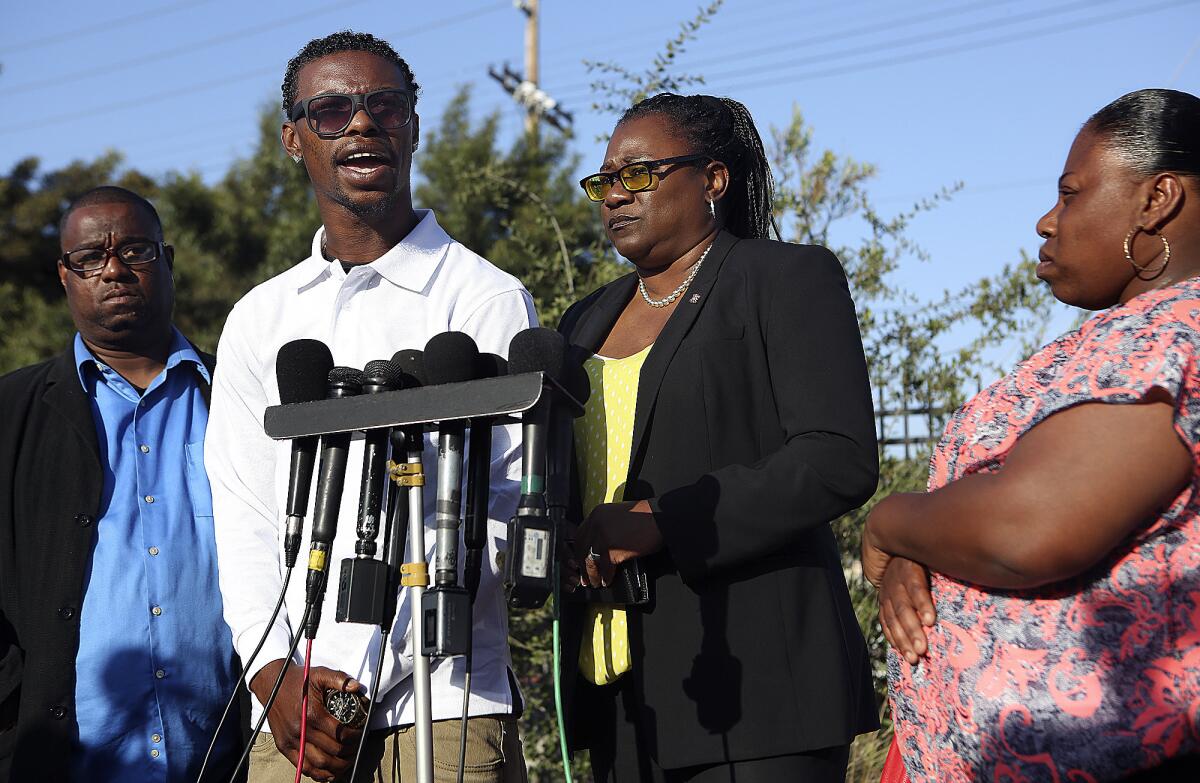 The videotaped assault was so alarming, one Los Angeles police official called it "horrific." The victim later said he was afraid he was going to die.
The LAPD and the civilian Police Commission came down hard on Officer Richard Garcia, saying he violated department policies when he kicked and punched Clinton Alford Jr. during an October 2014 arrest in South Los Angeles. The district attorney came down even harder, taking the rare step of filing a felony assault charge against an on-duty officer.
Garcia faced up to three years in jail if convicted.
Then the case quietly came to an end.
Under a plea agreement reached with prosecutors this spring, Garcia pleaded no contest to the felony charge as part of a deal with prosecutors that will see him avoid jail time if he completes community service and donates $500 to a charity by late May 2017. Under the agreement, Garcia would then be allowed to enter a new plea to a misdemeanor charge that would replace the felony and would be placed on two years of probation, a spokeswoman for the district attorney's office said.
Dist. Atty. Jackie Lacey, whose office never publicly announced the plea, defended her office's decision to settle the case without any jail time, saying she felt the agreement was appropriate.
She declined to detail the reasons for the plea, but said prosecutors generally look at a range of information including the seriousness of the victim's injuries, whether the defendant has a prior record and the credibility of the witnesses. Video, she cautioned, "doesn't tell the whole story sometimes."
Lacey declined to say whether pending criminal charges filed against Alford influenced the decision. Court records showed Alford, 24, faces charges including pimping, rape and assault with a deadly weapon. He has pleaded not guilty and remains in custody.
"I understand how in looking at the final result, someone may think that it wasn't a just sentence," she said. "But they simply don't have all the information that we did when we made the final decision."
Lacey said that she believed filing the felony charge against Garcia signaled to both police officers and residents that "people will be held accountable."
"I do think it sends a strong message to any law enforcement officer who is thinking about violating the law," she said. "If you talk to any officer about a felony on their record gotten in the course of their job, I don't think anyone would see this as light at all."
But others disagreed. Mac Shorty, the chair of the Watts Neighborhood Council, said the outcome was too lenient and another example of Lacey not holding police officers accountable during a time of increased scrutiny of how officers use force, particularly against African Americans.
"That's not justice," he said. "If I do something wrong, I face prison time. It's not fair to the community that anybody coming into the community mistreats someone and gets a slap on the wrist."
Caree Harper, an attorney representing Alford in a federal lawsuit he filed against the city, said that for nearly two years, her client and his family "have believed that Mr. Garcia would receive nothing more than a slap on the wrist and be back on the beat in no time."
Garcia, who has been with the LAPD for about a decade, is awaiting what is known as a Board of Rights hearing, where a three-person panel decides disciplinary cases for officers who usually face termination or lengthy suspensions.
The officer's lawyer defended his client's actions, saying the LAPD and Lacey both overreacted to what he described as a reasonable level of force. Attorney Robert Rico said Garcia was "ready and willing to go to trial" but accepted a deal that he believed was in his best interest.
"This case was overcharged from the start. It never should have been filed," Rico said. "The only reason it was filed was because of the ongoing, negative berating that law enforcement gets…. The D.A. and the chief politicized it."
Alford's arrest mirrored similar encounters with police across the country that have prompted criticism and concern: A black man, assaulted by a police officer, caught on tape. The video of the encounter — captured by a nearby security camera — was enough to raise alarm among police officials, but has not been made public.
In an earlier interview with The Times, Alford said he was riding his bicycle along Avalon Boulevard when a car pulled up and a man yelled at him to stop. Someone grabbed the back of his bike, he said, so he jumped off and ran.
Authorities later said police were investigating a robbery and that Alford matched the description of their suspect.
After a short chase, two police officers caught up to Alford. The video showed him getting on the ground and putting his hands behind his back, according to several police officials who saw the footage.
Seconds later, the sources said, a patrol car pulled up and a uniformed officer bailed out of the car, rushing toward Alford.
Garcia kicked, elbowed, punched and slapped Alford, according to a report from Los Angeles police Chief Charlie Beck made public last fall. The officer's actions, the chief said in the report, were not reasonable "given Alford's limited and unapparent resistance."
"I was just praying to God that they wouldn't kill me," Alford told reporters. "I felt that I was going to die."
Six months after the arrest, Lacey's office announced that Garcia had been charged with felony assault under the color of authority. At the time, he was the third LAPD officer facing such a charge in connection with an on-duty incident caught on camera.
Jonathan Lai was charged in 2014 after prosecutors said he repeatedly struck a man — who was on his knees and had his hands on his head — with a police baton outside a restaurant near Staples Center. A jury acquitted him of two felony charges last year.
Mary O'Callaghan was convicted last year in connection with a deadly 2012 incident involving a woman arrested in South L.A. Patrol car footage showed the veteran officer kicking Alesia Thomas in the stomach and groin while the woman was in handcuffs and leg restraints. Thomas, a 35-year-old mother, lost consciousness in a police car and died later at a hospital.
But Lacey has faced criticism over her handling of other cases involving law enforcement officers, including her decision not to charge a California Highway Patrol officer who punched a woman along the 10 Freeway — another encounter caught on video.
Activists have also questioned why prosecutors have not yet said whether they will charge the LAPD officers who fatally shot Ezell Ford, a mentally ill black man, as he walked near his South L.A. home. Thursday marks the two-year anniversary of Ford's death.
"She has hurt the community more than she's helped us by not holding these people accountable," Shorty, the Watts resident, said.
A judge approved the plea agreement with Garcia at a court hearing on May 26. News of the deal emerged this week, first reported by Jasmyne Cannick, a political consultant and commentator who also blogs about the LAPD.
Under the agreement, a D.A.'s spokeswoman said, Garcia must complete 300 hours of community service, stay away from Alford and follow all laws before his next hearing in May. If he violates those terms, the felony will stand and he will be placed on three years' probation. If he doesn't show up to court for the hearing, he could be sentenced to jail.
"I am confident you will be here," Judge William N. Sterling told Garcia when the deal was finalized. "But if you do fail to appear … the court can then sentence you to the maximum."
"Do you understand and agree?" the judge asked.
"Yes," Garcia replied.
Follow me on Twitter: @katemather
ALSO
Suspect shot dead by police in Boyle Heights was 14-year-old boy, coroner says
Earthquake: 3.7 quake strikes near Rancho Tehama Reserve
She's fighting for the California coast from a tiny office in her kitchen nook
Sign up for Essential California for news, features and recommendations from the L.A. Times and beyond in your inbox six days a week.
You may occasionally receive promotional content from the Los Angeles Times.