Diver dies while searching for abalone off Mendocino County coast
A diver died over the weekend during an abalone excursion with friends off the coast of Mendocino County, authorities said.
Steve Nguyen, a 58-year-old Oakland resident, was searching for abalone for about 30 minutes Saturday morning at Bowling Ball Beach near Point Arena, said Capt. Gregory Van Patten, a spokesman for the Mendocino County Sheriff's Office. According to the captain, ocean currents were normal at the time.
Authorities received a distress call about 8:40 a.m., officials said. Nguyen had disappeared underwater for several minutes, and was unconscious when he was pulled from the ocean.
Emergency responders performed lifesaving measures on Nguyen, but he was pronounced dead.
Nguyen's cause of death has not been determined, Van Patten said.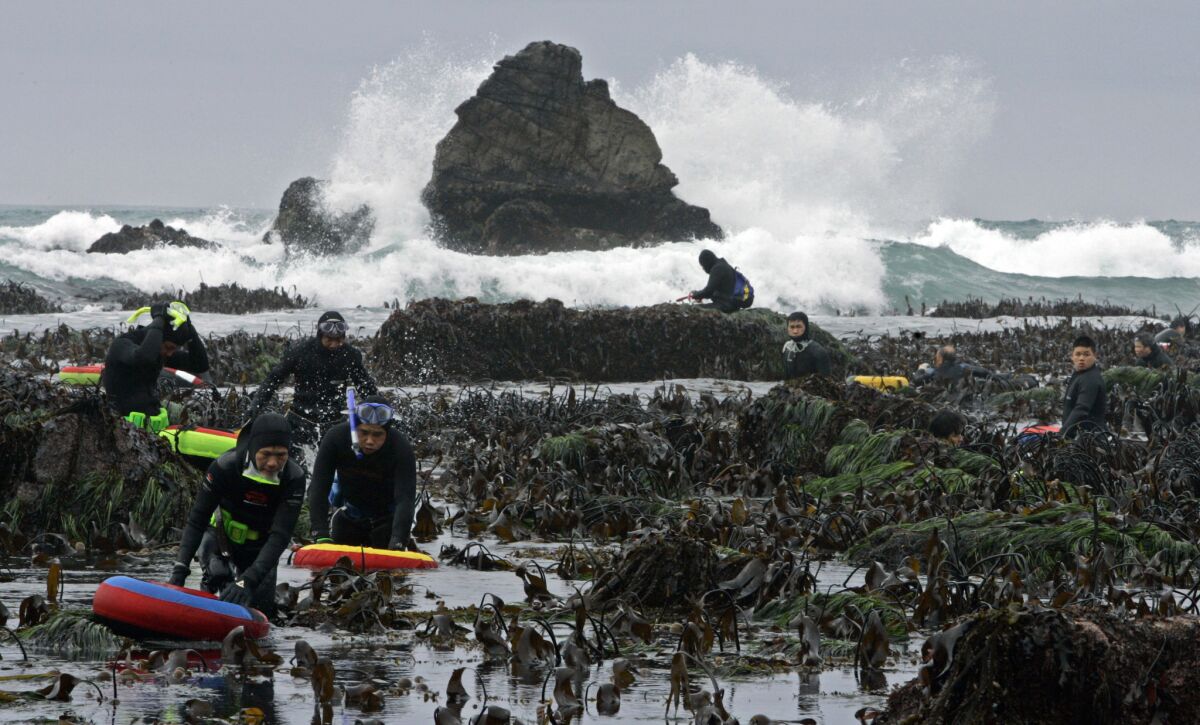 Nguyen, who was an experienced diver, is the first person to die while diving for abalone in Mendocino County this year.
In 2016, at least four divers died while searching for the delicacy.
Three divers — David Tan Le, 57, of Oakland, Kevin Francis Frewen, 57, of Carmichael and Robert Hagedorn, 69, of Manteca — died while searching for abalone along the Mendocino County coast.
In Sonoma County, Dean Seki, a 66-year-old Redwood City resident, died in August while also diving for abalone, the Press Democrat reported.
At least nine divers died in Northern California in 2015 while searching for the sea snails, the Associated Press reported.
Abalone season, which usually runs from April 1 to Nov. 30, draws thousands of divers to Northern California. The coastline is home to the only ongoing abalone fishery in the state.
This year, the California Department of Fish and Wildlife shortened the season due to concerns about the declining abalone population. The fishery opened May 1 and will close on Oct. 31.
State officials also reduced the annual catch from 18 abalone to 12.
Abalone cling to rocks, where they feed on kelp and other algae, according to the Department of Fish and Wildlife. It takes years for long-lived abalone to grow to a legal size for harvest. The minimum size limit is 7 inches along the longest shell diameter — anything smaller must be returned to the rock surface from which it was removed.
Red abalone has come under stress in the last three years due to warm water conditions, according to the Department of Fish and Wildlife. The warm ocean temperatures have reduced kelp production, resulting in leaner abalone.
ALSO
Dying for abalone: Thrills and perils of diving for the slimy delicacy
Tijuana motorcycle club stole 150 Jeeps in San Diego as part of high-tech ring, prosecutors allege
An assault by an LAPD officer led to a criminal conviction — and now, a $500,000 settlement
The stories shaping California
Get up to speed with our Essential California newsletter, sent six days a week.
You may occasionally receive promotional content from the Los Angeles Times.