Federal agents search Adelanto mayor's home, City Hall amid corruption probe
Adelanto Mayor Rich Kerr had a plan to cure the long-struggling city's deep financial woes. He would make the desert town, with its vast stretches of cheap land, into the Silicon Valley of marijuana.
Since 2015, under Kerr's leadership, officials have worked diligently to attract the cannabis industry. The efforts drew national attention and led to a land rush as entrepreneurs sought to take advantage of Adelanto's welcoming posture.
But the San Bernardino County city and its cannabis industry have also drawn the attention of federal investigators.
On Tuesday, FBI agents served search warrants at Kerr's home, City Hall and a local marijuana dispensary.
The raids come amid an ongoing investigation into corruption in the city, which came to light last year after charges were filed against Mayor Pro Tem Jermaine Wright, who was accused of accepting bribes to fast-track a marijuana business, among other things.
An FBI spokeswoman confirmed that agents were executing federal search warrants in the city on Tuesday but declined to comment further because the affidavits in support of the warrants are under seal.
Kerr was seen being removed from his home in handcuffs Tuesday morning, according to the Victorville Daily Press. Officials, however, told The Times that Kerr had not been arrested.
In a written statement, city spokesman Michael Stevens said the city was unaware of the nature of the FBI investigation but was "prepared to cooperate with any investigation being conducted."
Because of the search warrants, City Hall was closed Tuesday but should reopen Wednesday, Stevens said.
"The City Council wants to assure the public that the city will continue to focus its efforts on providing the services that residents and businesses expect," Stevens said.
The agencies involved in Tuesday's searches included the FBI, the Internal Revenue Service's criminal investigation division and the San Bernardino County district attorney's office, according to Thom Mrozek, a spokesman for the U.S. attorney's office in Los Angeles.
In addition to City Hall and Kerr's home, investigators served search warrants on the Jet Room, a marijuana dispensary in Adelanto whose website boasts that at least half of its employees would be Adelanto residents.
"No expense has been spared in order to provide the best experience for their patients, all while staying compliant," the website quotes owner Lisa Marie Guerra as saying.
The business has been controversial in the city. Last year, the Daily Press reported that Councilman John "Bug" Woodard had acted as a broker when the property for the business was purchased. It was later re-zoned to allow for the dispensary.
Investigators on Tuesday also served search warrants at 1300 N. Mountain View Ave. in San Bernardino, officials said. That address is listed in state filings as a corporate address for Jet Room Inc.
Kerr and representatives of the Jet Room did not return calls requesting comment.
Tristan Pelayes, a Riverside attorney and former mayor of Adelanto, said corruption has been an ongoing problem in the city. Pelayes now represents Adelanto City Manager Gabriel Elliott, who was put on paid leave late last year following sexual harassment allegations.
Pelayes said Elliott was placed on leave as retaliation after he went to the district attorney's office to complain about possible corruption related to marijuana businesses in the city.
Adelanto's long history of corruption is well documented.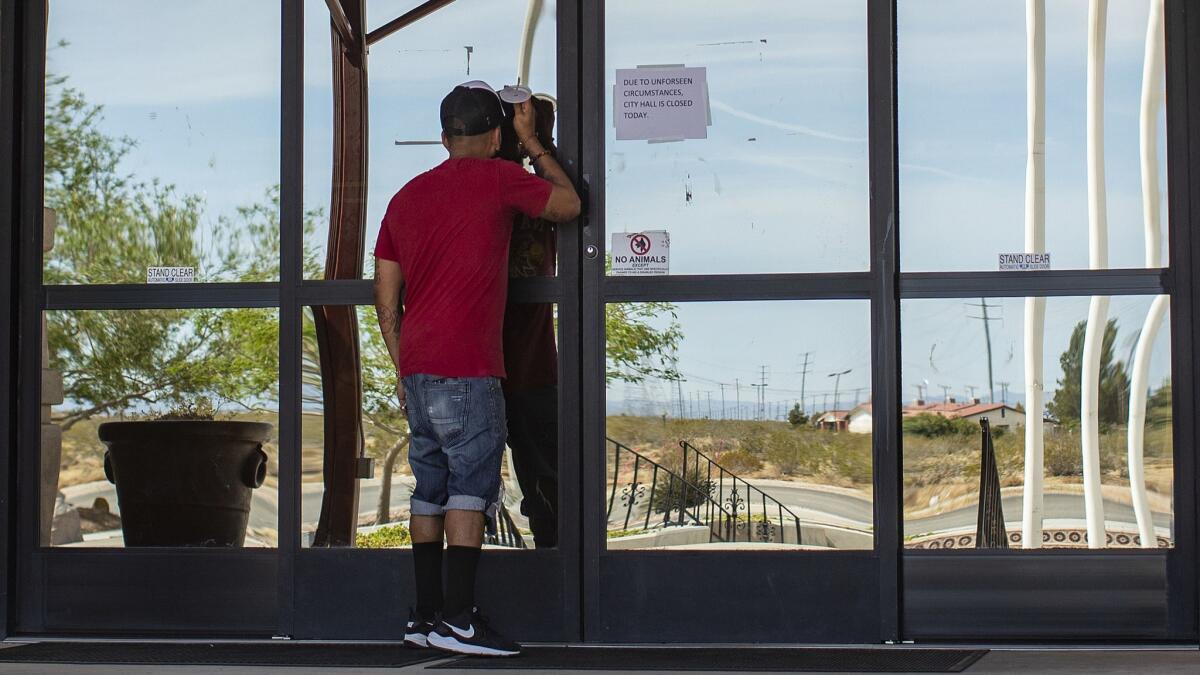 In 2008, former Mayor James Nehmens and his wife were sentenced to six months in jail after pleading guilty to embezzling thousands of dollars from the city's Little League.
In 1997, former Adelanto Police Chief Philip Genaway was sentenced to four years in prison for embezzling nearly $10,000 from the canine unit. The police department was later disbanded.
Mrozek declined to comment about the nature of the investigation because the warrants are sealed.
The existence of the current probe into Adelanto corruption allegations became public in November, when Wright, the mayor pro tem, was accused of accepting bribes and of asking an undercover FBI agent to burn down his restaurant so he could collect insurance payouts.
Wright, 41, allegedly met with an undercover FBI agent posing as a marijuana cultivator last year and agreed to vote, in exchange for $20,000, in favor of a measure expanding the parts of Adelanto where marijuana could be grown, according to a criminal complaint.
Money did not change hands, but Wright did agree to accept the bribe, according to the complaint.
After the council vote, Wright also agreed to accept a $15,000 bribe in exchange for helping "fast-track" the undercover agent's proposal for a marijuana business, prosecutors said.
Wright also confessed last year to a separate plot to hire another man, also an undercover FBI agent, to burn down a restaurant he owns called Fat Boyz Grill, prosecutors said. Wright stood to gain $300,000 in insurance payouts, prosecutors said.
When confronted by FBI agents during a search of the restaurant in October 2017, Wright admitted to the arson plot and agreed to cooperate with the FBI's continuing investigation into Adelanto corruption, prosecutors said.
Kerr was accused of sexual harassment late last year, but an independent investigator cleared the mayor of wrongdoing in February. Citing confidentiality laws, the city did not release or discuss the investigator's findings.
Follow @JamesQueallyLAT for crime and police news in California. Follow @palomaesquivel for news out of the Inland Empire.
---
UPDATES:
9:00 p.m.: This article was updated with changes throughout.
11:35 a.m.: This article was updated with a statement from the city.
11 a.m.: This article was updated with information about additional search warrants.
10:15 a.m.: This article was updated with additional background information and comments from the U.S. attorney's office.
This article was originally published at 9:25 a.m.
Sign up for Essential California for news, features and recommendations from the L.A. Times and beyond in your inbox six days a week.
You may occasionally receive promotional content from the Los Angeles Times.