Latest tweak to proposed L.A. rules on Airbnb-type rentals alarms tenant activists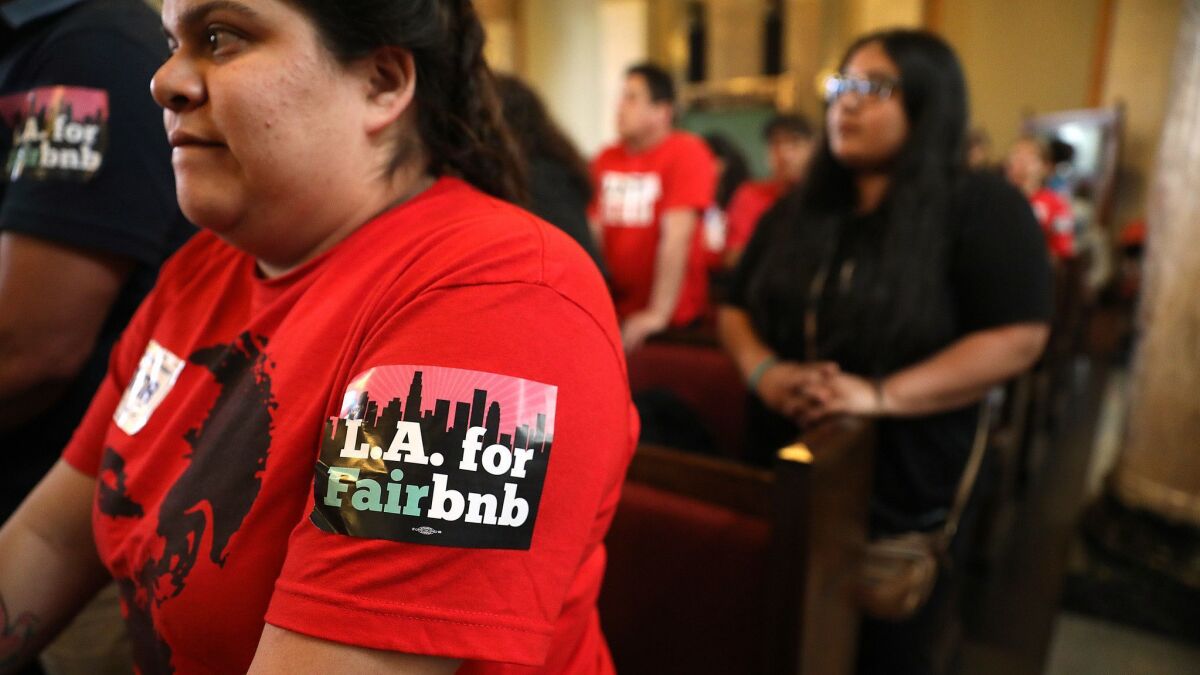 To stop apartment buildings from being turned into "rogue hotels," Los Angeles City Councilman Mike Bonin put forward a plan.
Under his proposal, Angelenos would be allowed to rent out only their "primary residence" for short stays on websites like Airbnb. Tenant activists and the hotel industry backed the idea, saying it would prevent corporate entities from buying up housing and renting it out constantly to a revolving door of travelers.
More than three years later, Los Angeles is finally on the brink of passing new rules to regulate the popular practice of renting out rooms or whole homes for short stays. And just as Bonin proposed, those regulations would limit Angelenos to hosting such rentals in their own homes.
But a week before the expected vote, a council committee made a crucial change to its plans: The new rules could not go into effect before Los Angeles had another set of regulations that would allow people to host short-term rentals in other properties besides their primary residence.
Around City Hall, the practice of hosting guests for short stays in a property other than a primary residence, such as a second home or investment property, has been informally dubbed "vacation rentals."
It is a hotly contested part of the short-term rental market. Critics such as Bonin argued that permitting vacation rentals could undermine the effectiveness of the proposed ordinance.
"It's a Christmas gift to the short-term rental industry — and the people who have the pay the bill are the people who will lose rental housing," Bonin said.
The move, proposed to the committee by Councilman Mitchell Englander, heartened online platforms such as Airbnb and HomeAway, which have argued that totally banning vacation rentals will eliminate lodging options for families and other travelers who want the comforts of home.
"We are ecstatic that they've opened the door to creating a policy for our industry," said Philip Minardi, director of policy communications for HomeAway. "If you pass a law that only addresses one part of the industry, it doesn't work … Traditional vacation rentals have been in L.A. for generations."
Airbnb, in turn, has cautioned the city it would not enter into a "pass through" registration system that could forward host information to the city unless L.A. included vacation rentals, according to a report from the planning department.
Connie Llanos, a deputy policy manager for the company, said Airbnb is not pushing for the city to allow vacation rentals without restriction, but that L.A. needs to have a "comprehensive policy" that recognizes and regulates part of the industry that predates platforms like Airbnb.
Doing so "will make it easier for the city to protect neighborhoods and preserve critical housing stock while preserving the economic benefits that the vacation rental industry brings to the region," Llanos said in a written statement.
Englander and other members of the committee did not spell out what restrictions, if any, they wanted the city to impose on vacation rentals. The councilman said his motion "appropriately recognizes the difference between primary residences engaging in home-sharing activities and secondary properties which a family may use intermittently and then wish to rent when not in use."
"Any effective legislation should recognize this distinction," Englander said in an email.
Other groups are alarmed by the move, fearing that it will delay the long-awaited ordinance and could ultimately undermine its effectiveness. Any possible regulations on vacation rentals "have not even begun to be vetted," said Judith Goldman, one of the cofounders of Keep Neighborhoods First, a group concerned about "commercialized" short-term rentals.
City officials said their goal would be to pass the ordinance on vacation rentals by July — the same date that the regulations on renting out primary residences were initially intended to take effect. Many were skeptical that would happen, pointing out that it had taken more than three and a half years of debate to hammer out the proposed rules on short-term rentals.
"It is a blatant delay tactic that only helps the illegal operators," Goldman said, arguing that the lag time would allow more housing to be taken off the market.
Cynthia Strathmann, executive director of the tenant advocacy group Strategic Actions for a Just Economy, said she was worried that allowing vacation rentals would "create a way for people to do exactly what they're doing now — having residences in Los Angeles that they don't live in, that they're renting out like hotel rooms, so they can't be used as part of the housing stock."
If the city is going to delay the rollout of the new rules indefinitely, Strathmann said, it should step up enforcement of its existing laws. As it stands, renting out dwellings for less than 30 days at a time is prohibited in much of the city, according to L.A. officials, but that has been contested by rental operators, who have fought and sometimes won such cases in court.
HomeAway argues that the city could still impose other limits to prevent vacation rentals from worsening the housing crisis, such as capping the number of vacation rental permits for each host, limiting the total number in each ZIP Code or census tract, or restricting the number of such rentals in each apartment building.
Minardi said that simply banning vacation rentals would probably drive the activity underground. It could also lead to political blowback, he said, pointing to a San Diego law restricting such rentals that was repealed after tens of thousands of people signed on to a referendum.
Several members of the council, including Curren Price, Jose Huizar and Paul Krekorian, have gotten income from renting out secondary properties in Los Angeles to tenants, according to their most recently filed financial disclosure forms. That has raised questions at City Hall about whether they can vote on any matters involving vacation rentals.
When asked whether those council members would have to recuse themselves on the upcoming vote, Rob Wilcox, a spokesman for City Atty. Mike Feuer, said his office was providing advice and could not comment further. The Los Angeles City Council is expected to vote on the proposed ordinance on Tuesday.
Twitter: @AlpertReyes
The stories shaping California
Get up to speed with our Essential California newsletter, sent six days a week.
You may occasionally receive promotional content from the Los Angeles Times.