L.A. backs off on allowing Airbnb rentals in rent-controlled apartments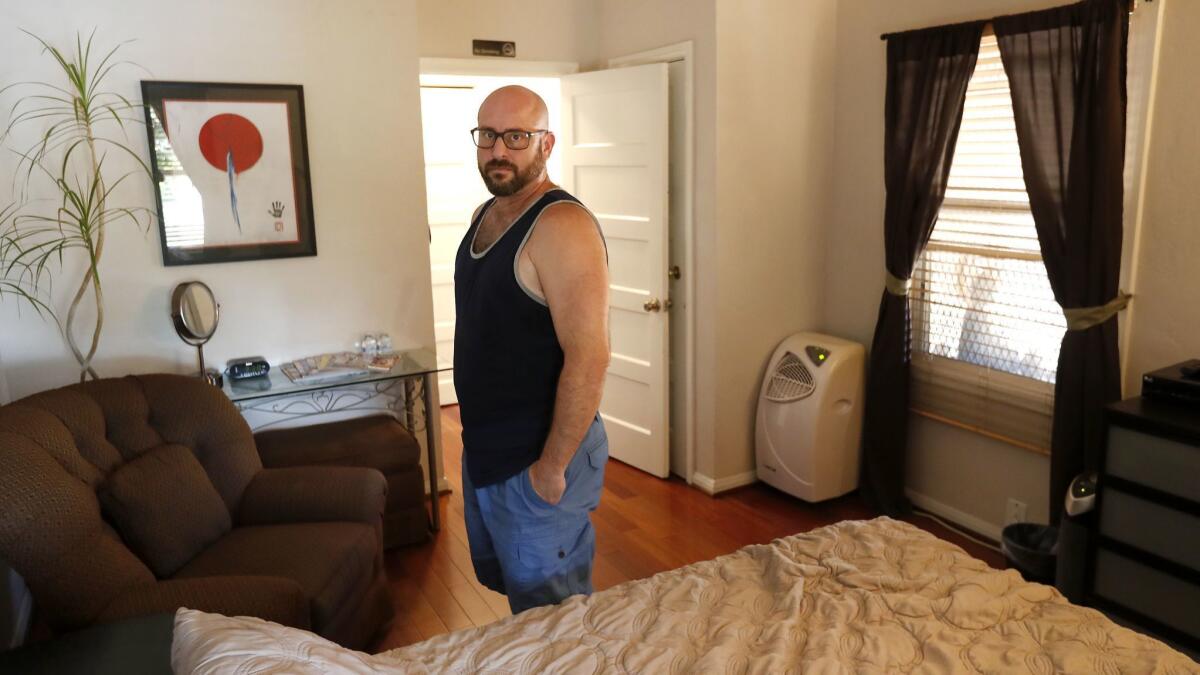 A Los Angeles City Council committee recommended Tuesday that the city prohibit rent-controlled apartments from being offered for short stays on Airbnb and similar platforms.
If such apartments can be rented out for a few days at a time, "there are so many opportunities for fraud and a loss of housing," Councilman Bob Blumenfield said.
The decision, which still must be approved by the full council, would reverse plans set forward in September by the Planning Commission, whose members are appointed by Mayor Eric Garcetti, and revert to an earlier proposal championed by City Councilman Mike Bonin.
Bonin had argued that such rentals should be banned in apartments that fall under the Rent Stabilization Ordinance, which limits annual increases in rent for tenants, to prevent desperately needed housing from being turned into "rogue hotels" for profit. Rent stabilized apartments should not be a cash cow, Bonin argued.
Garcetti and his planning commissioners, however, said it was unfair to prevent tenants in such apartments from reaping the benefits of the "sharing economy," as long as their landlords allow it. Airbnb argued that other proposed restrictions — including limiting people to renting out such rentals in their primary residence — would be adequate to prevent abuses.
At Tuesday's meeting, some hosts in rent-stabilized buildings pleaded with the city to allow them to benefit from short-term rentals. Marta Maldonado said that after becoming disabled, she had survived economically by hosting travelers in her home, which is part of a duplex that falls under the Rent Stabilization Ordinance.
"We're not using it to become rich," Maldonado said in Spanish. "All we do is use it to pay our mortgage and to have a roof over our heads."
Tenant groups, however, argued that the greater risk was to poor tenants in rent-stabilized units facing pressure from landlords seeking to eject them.
"Many landlords pressure or evict long-term tenants in favor of renting out to more lucrative short-term renters. This is why we need these protections," said Ingrid Arriaga, a supervising attorney at Inner City Law Center.
Councilman Jose Huizar, who heads the committee, said Tuesday that rent-stabilized units provide "a much-needed source of affordable housing for our most vulnerable residents."
"We certainly do not want to disturb that," Huizar concluded before proposing that the city prohibit night-to-night rentals in rent-stabilized units.
More than 600,000 units are covered by L.A.'s Rent Stabilization Ordinance, which generally covers apartment buildings constructed on or before Oct. 1, 1978. Although the law limits how much rent can be hiked for tenants, landlords can raise the rent as much as they want when the units are vacant. There is no income limit on who can move in.
The debate over how to regulate Airbnb and similar rentals has roiled City Hall for more than three years. It has pitted Airbnb and its hosts against a coalition of tenant activists, neighborhood groups and the hotel industry that is pushing for stiffer restrictions.
Airbnb alone has spent more than $1.2 million lobbying L.A. over the rules in the last four years. Critics, including the American Hotel & Lodging Assn. have spent more than $580,000 during that period, according to city reports.
Much of the debate has revolved around how such rentals affect the housing crisis: Tenant groups warn that landlords have a financial incentive to turn apartment buildings into "de facto hotels" because tourists are willing to pay more per night than tenants.
Airbnb, in turn, recently released a study asserting that in most L.A. neighborhoods, it is not profitable to do that and that the phenomenon appears to be too rare to affect housing availability across the city.
The draft rules, which would go into effect in July, still must be vetted by another council committee and the full council before they can become law.
Under the proposed regulations vetted by the committee Tuesday, Angelenos would be allowed to rent out only their own primary residence for short stays, a restriction meant to prevent landlords and corporate entities from buying up housing and operating it like hotels.
The rules would also limit short-term rentals to 120 nights annually, although residents in some apartments and houses could exceed that cap if they have a clean record with the city or if they can convince planning officials it would not harm the area.
Rental hosts would be required to register with the city, and online platforms could be fined for advertising illegal rentals or refusing to hand over their addresses.
Earlier this year, Councilman Gil Cedillo floated the idea of a second ordinance on "vacation rentals" that could allow people to host travelers for short stays in something other than their primary residence, such as a second home or investment property. But that idea, which could reopen the debate, has yet to be vetted at City Hall.
Twitter: @AlpertReyes
Sign up for Essential California for news, features and recommendations from the L.A. Times and beyond in your inbox six days a week.
You may occasionally receive promotional content from the Los Angeles Times.