Alhambra man charged with murder after body found in backyard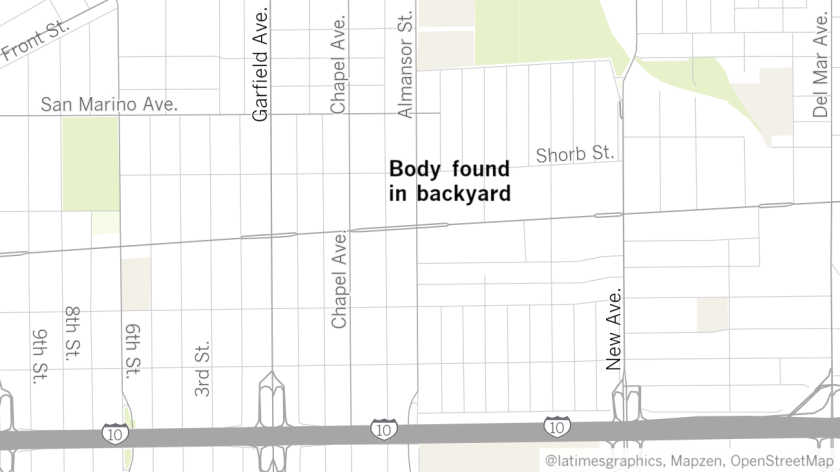 An Alhambra man who authorities say fatally beat a housemate and left his bloodied body in the backyard has been charged in the killing.
Heping Gan, 51, was charged with murder on Tuesday and is facing a special allegation that he used a pipe as a weapon during the beating, according to the Los Angeles County district attorney's office.
On Jan. 25, authorities found the body of Jinguo Jiang, 55, behind a house in the 1200 block of South Sierra Vista Avenue in Alhambra. His head was badly bloodied and covered with cardboard, and his body was crammed between a concrete step and a water heater.
Homicide detectives suspect that Gan killed Jiang because he believed Jiang was having an affair with his wife, Lt. John Corina of the Los Angeles County Sheriff's Department said Friday.
Alhambra police were called to the house at about 4:40 p.m. Thursday. Someone had called 911 reporting that a woman's body was in the backyard, authorities said.
Jiang was found face-down, and it was difficult to see his face since he was wedged in such a small space. A cardboard box had been placed over his head.
Corina said Gan tried to kill himself nearby after the crime. He survived the suicide attempt and was soon found by investigators.
Gan was taken to a hospital and was in police custody. Corina said detectives spoke with his wife.
"She's upset," he said.
When investigators entered the house last week, they found cramped living quarters. The single-family home had been divided into eight small bedrooms, with three more in the garage.
The house was being rented to people of Chinese descent, four of whom were found at the residence Thursday night, according to the Sheriff's Department. Those residents agreed to be taken to the Alhambra police station to be interviewed with the help of a translator.
Gan has been charged with three other felony counts in connection with a domestic dispute: forcible oral copulation; criminal threats; and injuring a spouse, cohabitant, fiance, boyfriend, girlfriend or child's parent, according to the district attorney's office.
If convicted as charged, Gan faces a maximum possible punishment of life in state prison.
Twitter: @haileybranson
---
The stories shaping California
Get up to speed with our Essential California newsletter, sent six days a week.
You may occasionally receive promotional content from the Los Angeles Times.