Southern California braces for summer blackouts due to Porter Ranch gas leak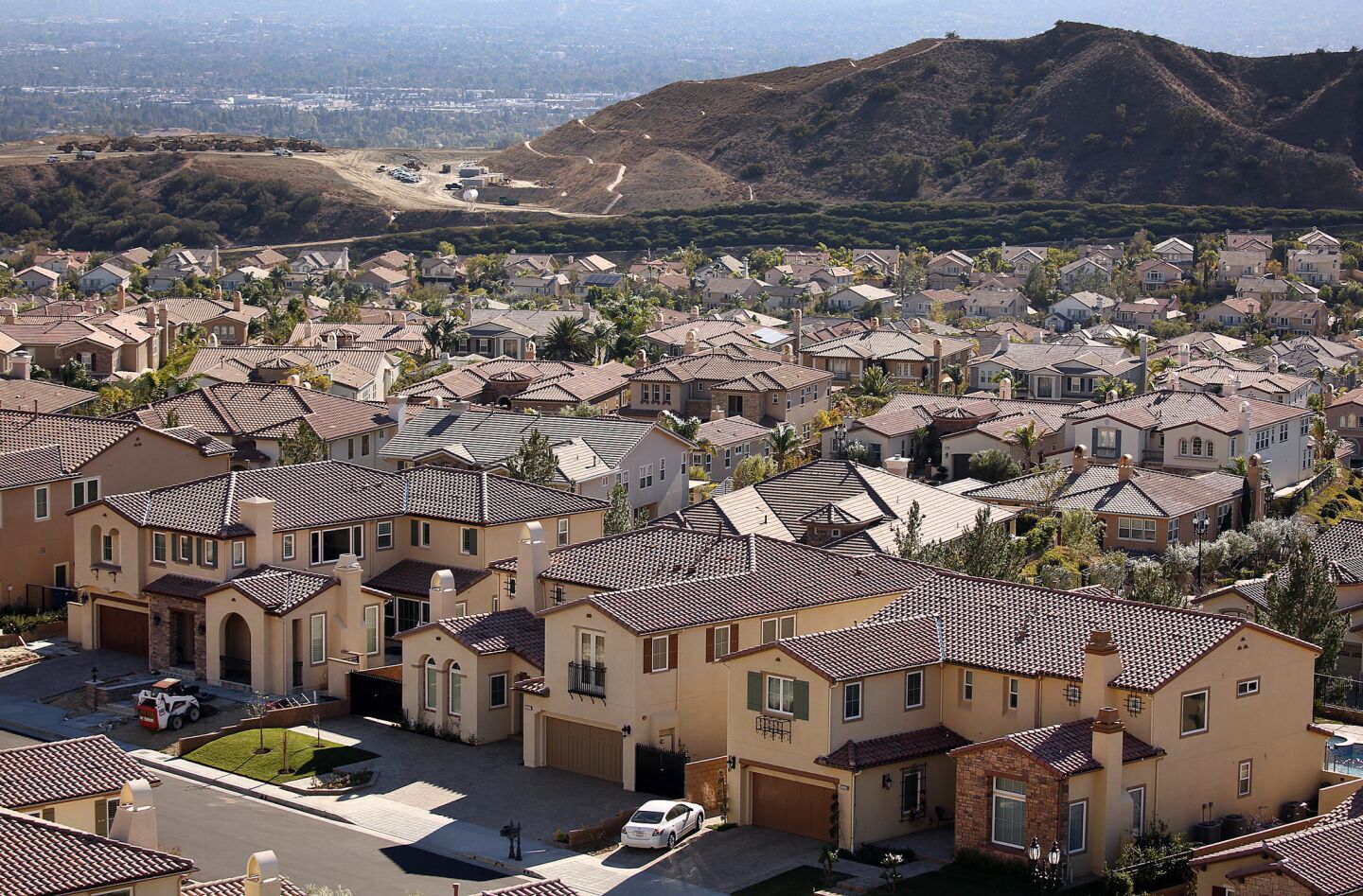 The Southern California Gas Co. leaking well forced thousands of residents in and near Porter Ranch to temporarily relocate.
(Al Seib / Los Angeles Times)
Signs and gates on the Porter Ranch hillsides indicate the boundary of Southern California Gas Co., where an ongoing gas leak has prompted hundreds of complaints.
(Al Seib / Los Angeles Times)
Porter Ranch resident Jaimee Choi prepares for her first day at work as a manager at a restaurant while her father, Francis Choi, hugs the family dog in a Burbank hotel after they were displaced by a gas leak near their Porter Ranch home.
(Marcus Yam / Los Angeles Times)
Lori Choi, right, and her daughter, Jaimee Choi, walk their dogs outside the Burbank hotel where they are staying after they were displaced by a gas leak near their Porter Ranch home. "We've come to Burbank for the clean air," Jaimee joked.
(Marcus Yam / Los Angeles Times)
Jaimee Choi prepares for her first day at a new job by studying work material in a Burbank hotel where she is staying with her family.
(Marcus Yam / Los Angeles Times)
Parents pick up their children at Porter Ranch Community School in the North San Fernando Valley just south of the Southern California Gas Co. Aliso Canyon Storage Facility. Filters are being installed in the school's ventilation system to help with the smell caused by a nearby gas leak.
(Al Seib / Los Angeles Times)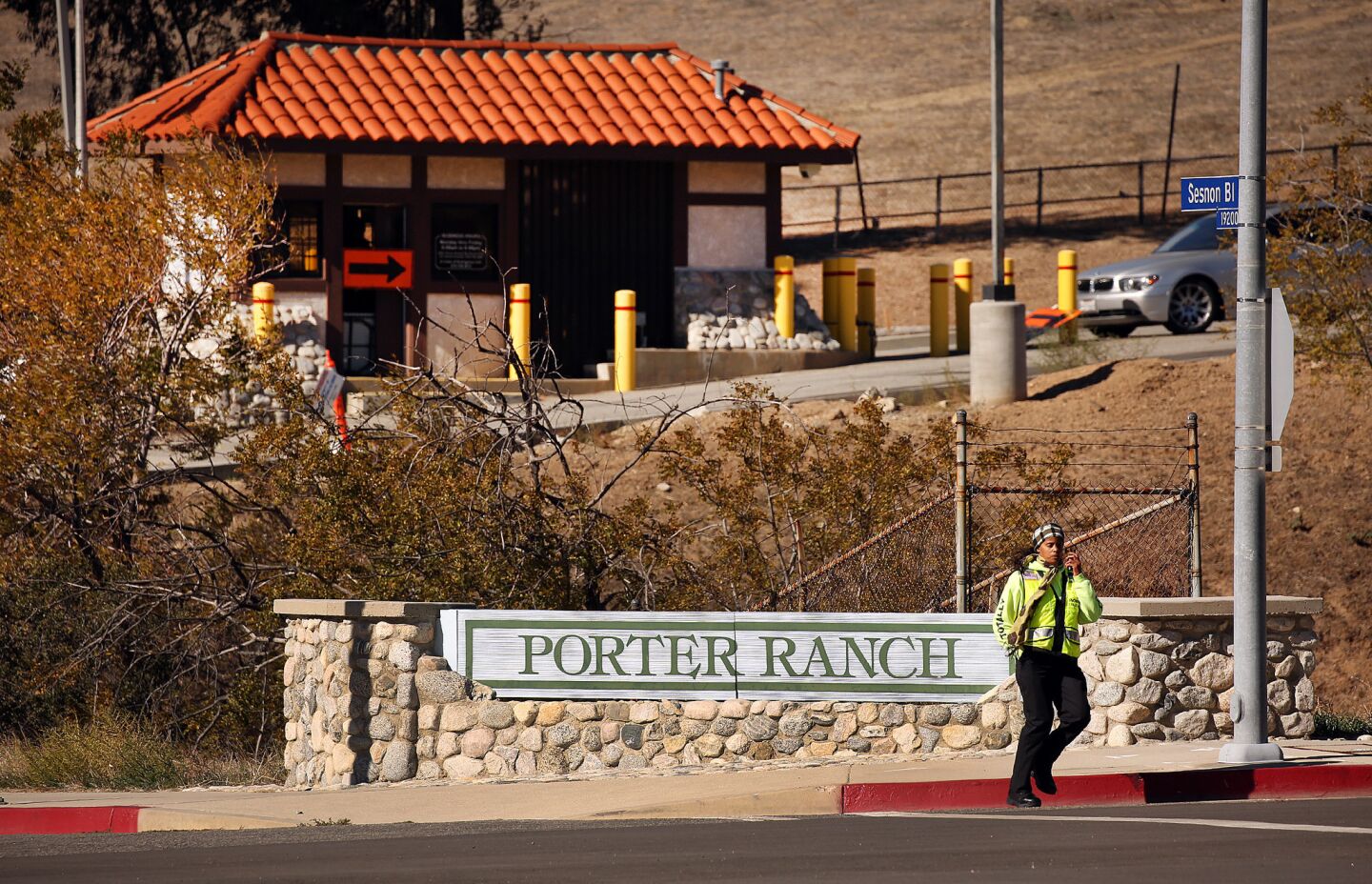 The entrance to the Southern California Gas Co. Aliso Canyon Storage Facility sits at the intersection of Tampa Avenue and Sesnon Boulevard in Porter Ranch.
(Al Seib / Los Angeles Times)
State officials warn that Southern California could face as many as 14 days of scheduled blackouts this summer because of depleted reserves of natural gas caused by the massive leak in Aliso Canyon.
The canyon in the hills above Porter Ranch is a crucial gas storage facility, supplying 17 power plants in the Los Angeles Basin. But the four-month leak that began in October left the facility at one-fifth of its capacity and new injections of gas have been prohibited until all of its wells have passed comprehensive tests.
Officials estimate the storage facility won't be back on line for months, leaving local power plants without a key source of natural gas.
NEWSLETTER: Get essential California headlines delivered daily >>
"These pipelines also cannot transport gas fast enough to meet the hour-by-hour or changing demands of power plants during the summer when electricity demand peaks," said Mark Rothleder, vice president of the California Independent System Operator, one of four agencies that warned of the blackouts in a draft report released Tuesday.
Millions of energy customers could be affected in Los Angeles, San Bernardino, Orange, Riverside and San Diego counties.
In addition to the summer blackouts, the region could face an additional eight to 18 days of outages later in the year, according to the report by Rothleder's agency and the California Energy Commission, the California Public Utilities Commission and the Los Angeles Department of Water and Power.
The blackouts would probably be similar to those that the region experienced during the energy crisis more than a decade ago. Utilities distributed the outages by turning off one block of power for a short period of time, then moving the cutoff to a different block, based on a technical analysis.
The possible service interruptions prompted the four agencies to draw up an action plan with 18 recommendations that they believe could reduce the possibility of blackouts. Regulatory approval will be needed to carry out some of the recommendations. Others will be costly fixes.
Among the less-complicated recommendations are asking customers to conserve gas and electricity by turning down water heater temperatures, taking shorter showers, using air conditioners sparingly and shutting off gas-powered barbecue grills.
"Saving electricity is really one of the best ways to save gas," DWP General Manager Marcie Edwards said. "The potential exists for us to mitigate it."
But Edwards said the difficulty is in forecasting electrical demand on any given day. "Can you tell me when Mrs. Smith is going to flip on her dishwasher?" Edwards asked.
Four of the power plants supplied by Aliso Canyon are operated by the DWP. In times of peak demand, the utility may turn to hydroelectric power, which is more expensive than electricity from gas-fueled plants.
Customers will be asked to conserve gas and energy by turning down the temperature on their
Although Southern California Gas Co. sealed the Aliso Canyon leak in February, it is prohibited from injecting gas into the reservoir until safety checks are completed on the facility's remaining 114 wells. So far, none of the wells has passed the required tests.
The utility has argued that it should be allowed to resume operations at Aliso Canyon in the interest of "energy reliability."
Chris Gilbride, a spokesman for the gas company, said the utility appreciated that the draft report conveyed an understanding "that steps need to be taken to deal with our inability to rely on Aliso in the near term."
"We look forward to working in partnership with the responsible regulatory agencies in our shared efforts to provide a continued supply of dependable gas and electric services in the region," Gilbride said.
Aliso Canyon typically provides gas to 11 million people in the region, and currently has 15 billion cubic feet of natural gas in its underground reservoir. When gas began seeping from one of its wells, many in the area suffered headaches and nosebleeds.
"No one wants blackouts — not even the folks living in Porter Ranch — but the Aliso Canyon storage facility is not fit to operate until those wells are deemed safe," said Paula Cracium, president of the Porter Ranch Neighborhood Council. "There is no way to know whether or not there is another leak just waiting to devastate the community again."
The report, however, drew sharp criticism from regulators and the utility industry for playing to consumers' fears.
Bill Powers, of Powers Engineering in San Diego, said the utility's pipeline system has not exceeded its capacity of 3.8 billion cubic feet per day during summer in the last 10 years, thus the concern of blackouts is without merit.
"It is crying wolf for state agencies to be implying blackouts from a lack of gas, especially from a lack of gas in the summer time," Powers said.
The four agencies will host a public workshop on the draft plan Friday in Woodland Hills.
The Public Utilities Commission will track the additional spending required to deal with the looming shortages, commission President Michael Picker said. Utilities will not be able to pass those costs on to customers without the PUC's approval of a rate increase.
In coming weeks, the city of Los Angeles will announce rebates and other programs to encourage commercial and residential customers to save energy, Mayor Eric Garcetti said.
"We can all help get through this tough period by conserving energy, making our buildings more efficient and taking other actions that reduce our use of electricity and natural gas," Garcetti said in a statement.
L.A. City Councilman Mitch Englander, who represents the Porter Ranch area and has been outspoken about Southern California Gas' negligence, said Tuesday's report revealed that the utility had left the region with two unacceptable options: a safety risk to local residents or power losses in a region known for extreme summer temperatures.
Times staff writer Ivan Penn contributed to this report.
Twitter: @TheCityMaven @paigestjohn @corinaknoll
ALSO
Dad leaves baby in car while getting strip club lap dance, officials say
Runyon Canyon Park users furious over plan for branded basketball court
Authorities identify Thousand Oaks student killed in homemade rocket blast
---
The stories shaping California
Get up to speed with our Essential California newsletter, sent six days a week.
You may occasionally receive promotional content from the Los Angeles Times.