Coroner: Getty heir had ulcers, methamphetamine, heart disease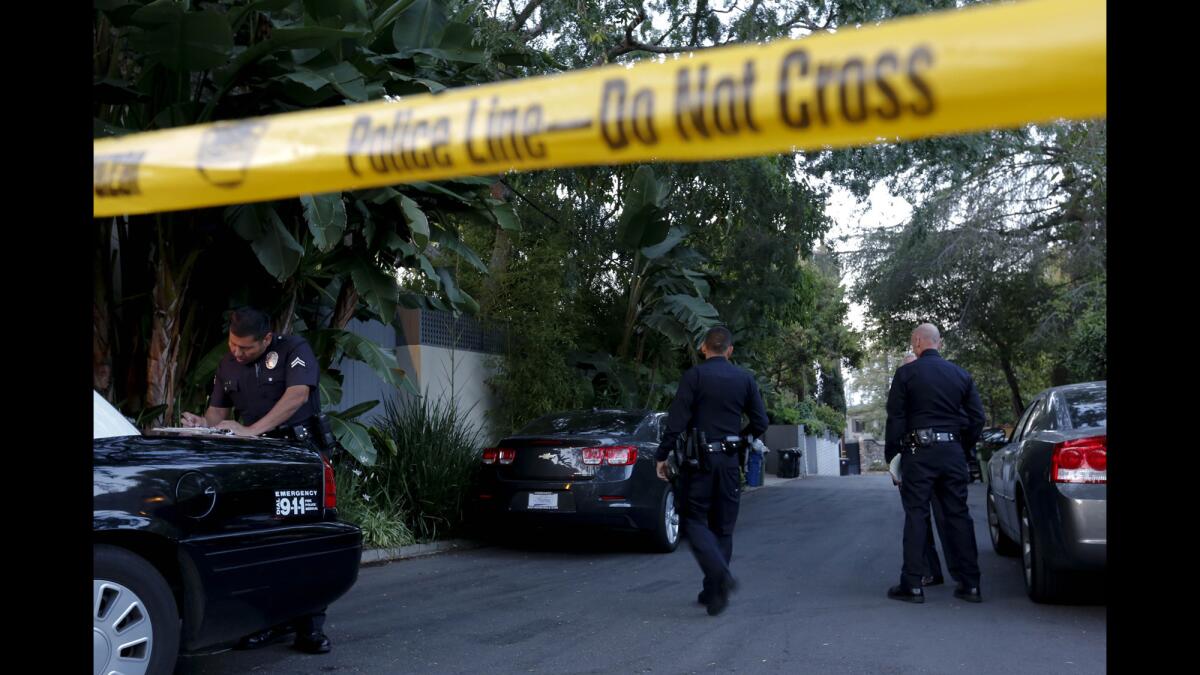 Andrew Getty, an heir to the Getty oil fortune who was found dead this spring in his Hollywood Hills home, had toxic levels of methamphetamine in his body and had been suffering from heart disease, according to a coroner's report obtained Tuesday by the Los Angeles Times.
But officials with the Los Angeles County coroner's office concluded that the 47-year-old's death was ultimately caused by intestinal hemorrhaging from ulcers. There was no evidence of foul play, officials said.
------------
FOR THE RECORD
An earlier version of this post referred to Andrew Getty's occasional girlfriend as Lanessa DeJong. She is Lanessa DeJonge.
-------------
Getty was the grandson of J. Paul Getty, the miserly oil baron, and the son of San Francisco socialites Ann and Gordon P. Getty, who confirmed his March 31 death in a statement and requested privacy.
The abrupt death renewed interest in the family, whose tragedies and eccentricities are almost as well known as the massive fortune that made them famous.
Getty's occasional girlfriend, Lanessa DeJonge, 32, told investigators that he consumed an "8 ball," or about 3.5 grams of methamphetamine, per day, according to the report.
Near his bed in the Montcalm Avenue compound were three glass pipes used to smoke narcotics and two used syringes, the report said. At the foot of his bed sat a plastic container of sushi along with a flat screen TV that had video feeds from the home's surveillance cameras, the coroner's investigator wrote.
A slew of prescription drugs were also found in his bedroom, including antibiotics, blood pressure medication, testosterone injections and Norco, a combination of acetaminophen and hydrocodone, according to the report.
Few people had seen or heard from Getty in the days leading up to his death.
DeJonge, who had a room in the home, last saw him alive March 29, two days before he was found dead. Getty's personal assistant had last seen him alive five days before. The night before Getty was found naked near his bathroom floor, his assistant knocked on his bedroom door but didn't hear a reply -- which was not out of the norm, the assistant told investigators.
About 2:20 p.m., DeJonge found Getty lying in the doorway of his bathroom and called police. Paramedics responding to the eight-bedroom mansion pronounced him dead shortly after 2:30 p.m., according to the report.
Spread across Getty's lower body were several unspent shotgun shells, officials said. Blood was smeared across his right leg, on the floor and in the toilet, and a stream of blood had flowed from where Getty's head partly sat in a sideways laundry basket, according to the report.
Given the blood, officers had taken DeJonge to a police station for questioning. The couple had frequently squabbled in recent years, and Getty had filed a restraining order against her just two weeks before his death, alleging she kicked and hit him "repeatedly," according to the court documents.
Officials from the Los Angeles Police Department and the coroner's office said there was no sign of foul play.
Getty's death added another chapter into a family history punctuated by high drama.
When J. Paul Getty's 12-year-old son died of a brain tumor in 1958, the billionaire oil baron did not attend the boy's funeral.
Another son died in 1973 after an overdose described as a suspected suicide.
That same year, 16-year-old J. Paul Getty III -- Andrew Getty's cousin -- was kidnapped and held for ransom for more than five months.
His grandfather initially refused to pay the ransom, but after the abductors mailed the boy's severed right ear to his family, they handed over $2.8 million for his release.
In 1999, Andrew Getty's father confirmed he had a second family he had kept secret for more than a decade. Gordon Getty -- a philanthropist and composer -- admitted he had three daughters after they filed court papers asking for their father's famous last name.
The second family became tabloid fodder -- especially because Gordon Getty remained married to his wife, Ann -- but had long been something of an open secret among San Francisco's elite social circles.
Andrew Rork Getty was born in San Francisco and was raised in Northern California.
He studied film at USC and later, New York University, from which he graduated in 1990. He had an affinity for "cheesy horror movies" and was known for his "vivid powers of recollection" and "captivating stories," according to an obituary published in The Times.
For breaking news in California, follow @MattHjourno.
Sign up for Essential California for news, features and recommendations from the L.A. Times and beyond in your inbox six days a week.
You may occasionally receive promotional content from the Los Angeles Times.