Getty oil heir had serious medical condition, court documents say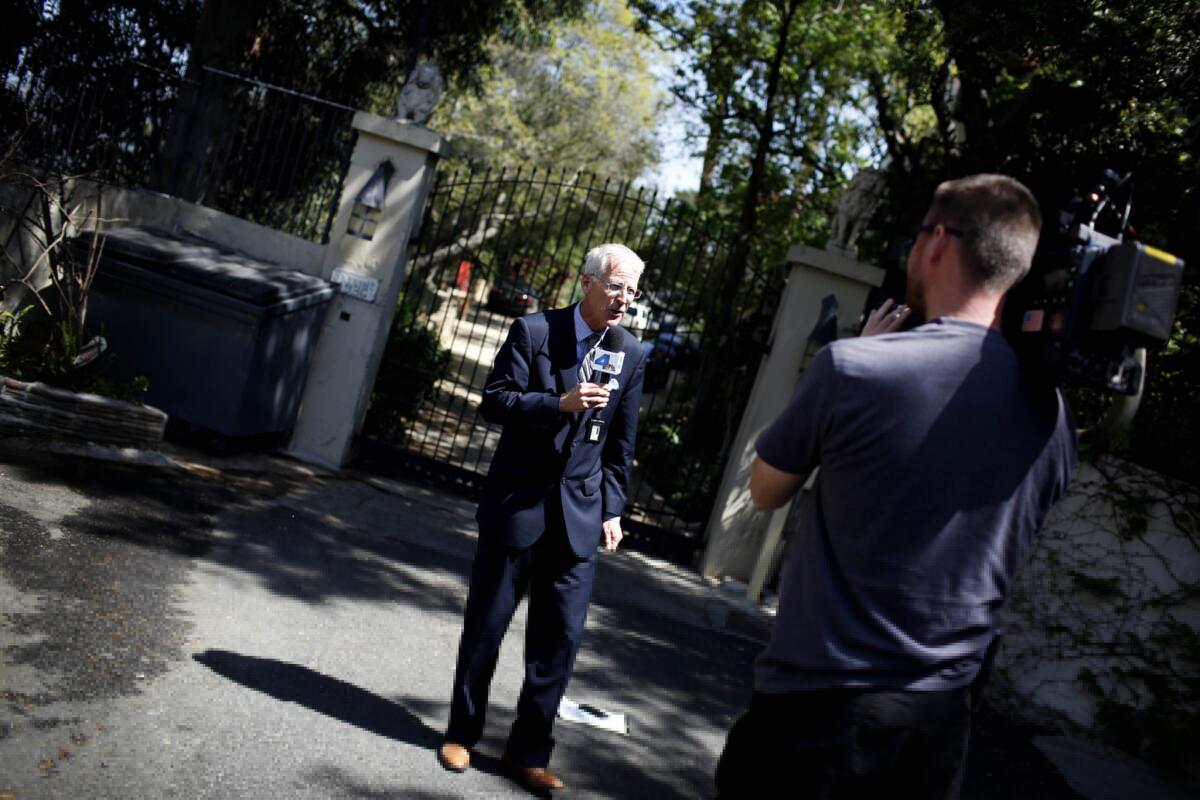 Andrew Getty, an heir to his family's billion-dollar oil dynasty who was found dead in his Hollywood Hills home Tuesday, was suffering from a serious medical condition that put him at "grave risk" of death, according to police and court records.
The 47-year-old wrote about the condition in court papers filed last month, when he sought a restraining order against an on-again, off-again girlfriend. Getty did not specify his condition, but said doctors had advised him that if his blood pressure rose, he could face "substantial and irreparable injury or death."
Getty wrote that he was diagnosed with the condition in fall 2013.
Details about Getty's health emerged Wednesday, a day after his girlfriend found his body near a bathroom in his Montcalm Avenue villa. He was naked from the waist down, surrounded by a significant amount of blood.
But police and coroner's officials quickly determined that the blood was not the result of a crime and was most likely related to some type of medical condition. A coroner's spokesman said that prescription medication was recovered from the home, and that Getty had scheduled an appointment with his personal physician for Wednesday afternoon.
"He had a whole plethora of medical issues," LAPD Capt. William Hayes said. "We believe it is a natural-caused death."
RELATED: Getty family, beset by tragedies, again in mourning
Coroner's chief Craig Harvey confirmed that the initial findings were consistent with a death caused by natural factors, but cautioned that a medical examiner would ultimately determine how Getty died. Toxicology results would "probably play a role in establishing a complete picture," he said.
Getty was a grandson of J. Paul Getty, the miserly oil magnate whose family became famous for its massive wealth, tragic misfortunes and dysfunctional relationships. Getty's parents, who confirmed his death Tuesday, are fixtures in San Francisco's high society.
Brennan Newsom, a lifelong family friend, described Getty as an outgoing man with a brilliant mind and sharp sense of humor. At the time of his death, Newsom said, Getty was working on an animated movie — a marriage of his interests in engineering and film, which he had studied at USC and New York University.
Newsom said his friend regularly donated to causes he was passionate about — such as film schools — but remained down-to-earth despite his wealth.
"He was humble," Newsom said. "His fame wasn't a big thing to him."
Luis Chiappe, curator and director of the Dinosaur Institute at the Natural History Museum of L.A. County, said Getty's financial generosity was instrumental in the fieldwork behind some of the most popular exhibits at the museum's Dinosaur Hall. Chiappe said Getty was passionate about the research, and even kept a mounted prehistoric bird inside his home.
But there was also turmoil in Getty's life. Two weeks ago, court records showed, he asked for a restraining order against his girlfriend after she allegedly "kicked and hit me repeatedly" and threw "everything" out of a car. A judge granted the request and scheduled a hearing for April 6.
Court records identified the woman as Lanessa DeJonge, 32. Hayes, the LAPD captain, confirmed that it was DeJonge who found Getty's body but said there was "no nexus between his death and her."
DeJonge could not be reached for comment Wednesday.
The court documents described two prior encounters involving Getty and DeJonge, including an August incident that prompted him to seek one of several restraining orders. Getty wrote that DeJonge "became deranged" and was "arguing with imaginary people" along with himself and another woman.
DeJonge knew about his medical condition, Getty wrote, and "exploited this information to demand money and property from me, refusing to leave my house."
"As she was aware, I have a serious medical condition and if my blood pressure rises I am at serious risk of injury or death," Getty wrote.
Coroner's officials said an autopsy on Getty could be conducted as soon as Thursday.
Times staff writers Matt Hamilton and Javier Panzar contributed to this report.
Twitter: @KateMather and @lacrimes
FROM THE ARCHIVES
The Great Getty: A review of two biographies
J. Paul Getty III dies at 54; scion of oil dynasty
Gordon Getty's second family was an open secret
Sign up for Essential California for news, features and recommendations from the L.A. Times and beyond in your inbox six days a week.
You may occasionally receive promotional content from the Los Angeles Times.