San Bernardino families ask a judge to force Apple to unlock a terrorist's iPhone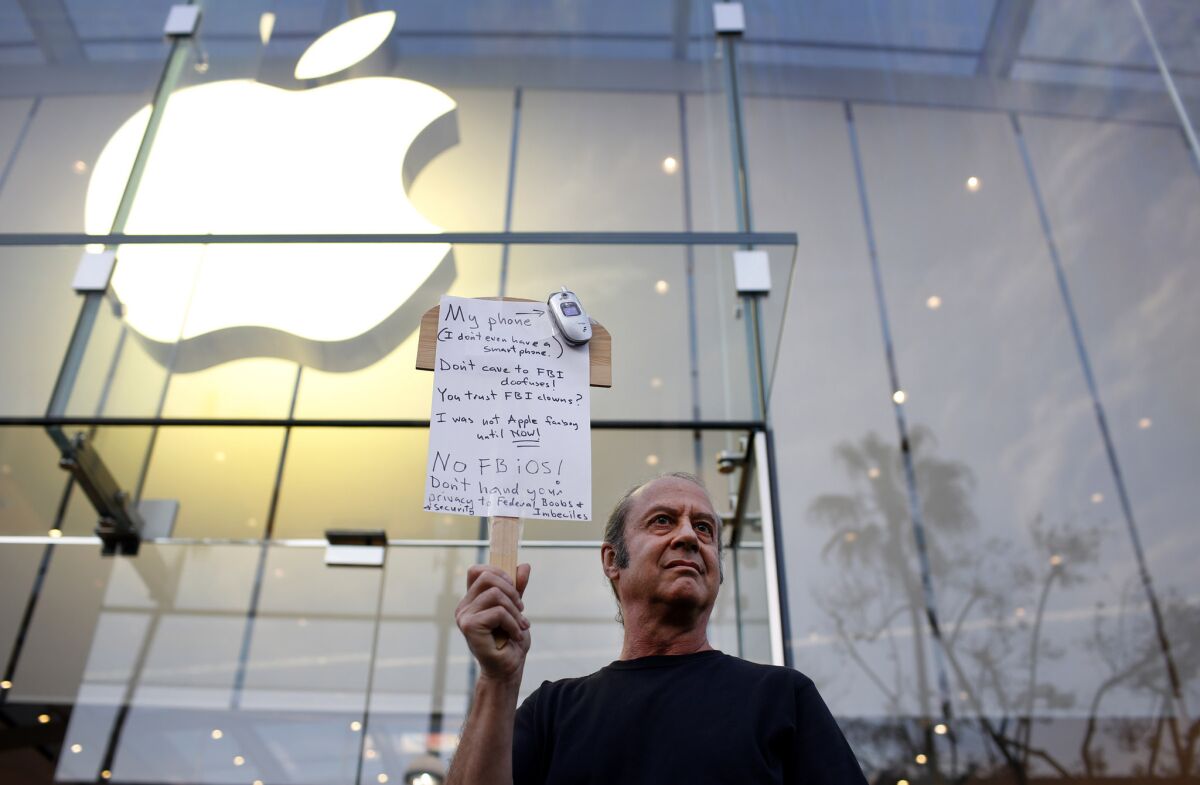 For years, the fight between Silicon Valley and law enforcement leaders over access to encrypted cellphone data has been largely philosophical, a struggle to balance privacy concerns against the ability of police to stop or investigate criminal acts and terror attacks.
But for Mark Sandefur, the debate is deeply personal.
------------
FOR THE RECORD
March 4, 7:43 p.m.: An earlier version of this story said several law enforcement unions had made a court filing in support of the government's argument. The amicus brief was filed by the California State Sheriffs' Assn., the California Police Chiefs' Assn. and the California Peace Officers' Assn., which are not unions. Also, the last name of Mark Sandefur, whose son was killed in the attacks, was misspelled as Sandfeur and Sanfeur.
------------
Sandefur's son, Larry Daniel Kaufman, was among the 14 people killed at the Inland Regional Center on Dec. 2 as a husband and wife sprayed an office holiday party with gunfire during a terror attack.
On Thursday, Sandefur weighed in on the dispute between technology companies and law enforcement. In a letter released by an attorney representing several relatives of victims, Sandefur wrote that Apple should help FBI agents trying to access encrypted data on an iPhone 5c belonging to one of the San Bernardino shooters, Syed Rizwan Farook.
"Recovery of information from the iPhone in question may not lead to anything new. But, what if there is evidence pointing to a third shooter? What if it leads to an unknown terrorist cell?" Sandefur wrote in the letter to Apple's chief executive. "What if others are attacked, and you and I did nothing to prevent it?"
The issue has also become personal for another relative of a San Bernardino victim — Salihin Kondoker, whose wife was wounded in the attack.
In a letter to a federal judge posted on Apple's website, Kondoker said he was initially frustrated that Apple was opposing the judge's court order requiring the company to help FBI agents access Farook's work phone. But he said he came to support the company's position that it was fighting for the privacy of "millions of innocent people."
"Neither I, nor my wife, want to raise our children in a world where privacy is the trade-off for security," Kondoker said in the letter.
Kondoker wrote that he believed it was unlikely Farook's phone contains valuable information. Farook and Kondoker's wife both worked for San Bernardino County and were issued work phones by the county. Kondoker wrote that it was common knowledge that the county could access communications on work phones.
The two letters were made public as dozens of groups filed papers in federal court Thursday seeking to have their arguments placed on record in the legal fight over access to Farook's phone.
Several leading tech companies, including Google, Facebook, Snapchat, Twitter and Microsoft, rallied around Apple and argued that ordering the company to write new software to help grant the FBI access to encrypted data on Farook's phone would ultimately endanger the privacy rights of customers worldwide. Several law enforcement associations and the San Bernardino County district attorney's office applied to join the government's argument, contending that Apple is wrong to turn a fight over one search warrant into a larger battle over privacy rights.
"Law enforcement is not now asking this Court to compel the 'locksmith' to give them a master key to unlock all locks built by this locksmith," read a filing on behalf of associations representing California's sheriffs, police chiefs and peace officers.
The American Civil Liberties Union disputed that standpoint in a 27-page brief.
"This case is not about a single phone — it's about the government's authority to turn the tech companies against their users," Alex Abdo, a staff attorney with the ACLU Speech, Privacy, and Technology Project, said in a statement.
Full Coverage: San Bernardino terror attack>>
In its brief, the ACLU argued that the All Writs Act, the law the government cited in its motion to compel Apple's help in unlocking the phone, does not grant the government such power.
Although FBI agents have pieced together much about Farook and his wife, they want to examine the contents of the confiscated phone in hopes that it will help answer outstanding questions, such as whether the killers had accomplices.
The phone used by Farook runs on Apple's newest operating system, which includes enhanced security measures and encryption. FBI agents worried that Farook probably enabled a security feature that destroys access to the phone's encrypted data after 10 failed attempts to enter the secret security code he selected. The government wants Apple to write new software to bypass the 10-attempt limit on the code and other security measures built into the phone so agents can use a computer program to find the right pass code.
Apple won a crucial round in the fight over the phone this week when a judge presiding over a New York case that mirrors the issues in the San Bernardino case ruled against federal prosecutors who were seeking Apple's help in unlocking a phone belonging to a drug dealer. In that ruling, U.S. Magistrate Judge James Orenstein said the All Writs Act does not grant the power that the government sought.
U.S. Magistrate Judge Sheri Pym in Riverside, who previously ordered Apple to help the FBI unlock Farook's iPhone, is not bound to follow Orenstein's ruling when she makes a decision on Apple's request to vacate her order. Orenstein's ruling rejected many of the arguments the government made in its initial filing asking Pym to compel Apple's help in the San Bernardino investigation.
Several other tech leaders — including Amazon.com, Airbnb, AT&T Mobility, EBay, Yahoo, Dropbox and Evernote — also filed applications in support of Apple. More than 60 companies and organizations along with 85 individual security researchers and professors were expected to file papers in support of Apple, a company spokesman said.
In a blog post published Thursday, Microsoft President Brad Smith also took aim at the centuries-old All Writs Act.
"We believe the issues raised by the Apple case are too important to rely on a narrow statute from a different technological era to fill the government's perceived gap in current law. Instead we should look to Congress to strike the balance needed for 21st Century technology," he wrote.
Follow @JamesQueallyLAT for crime and police news in Southern California.
Times staff writers Joel Rubin and Paresh Dave contributed to this report.
ALSO
Facebook comments about Donald Trump could mean deportation for Egyptian student
Mental competency cases are surging in L.A. County and supervisors want to know why
Rodney King's daughter remembers a human being, not a symbol
---
UPDATES:
8:58 p.m.: This article was updated with additional information.
This article was originally posted at 2:16 p.m
The stories shaping California
Get up to speed with our Essential California newsletter, sent six days a week.
You may occasionally receive promotional content from the Los Angeles Times.