Warrant confirms man detained while on way to hospital with pregnant wife is wanted for murder in Mexico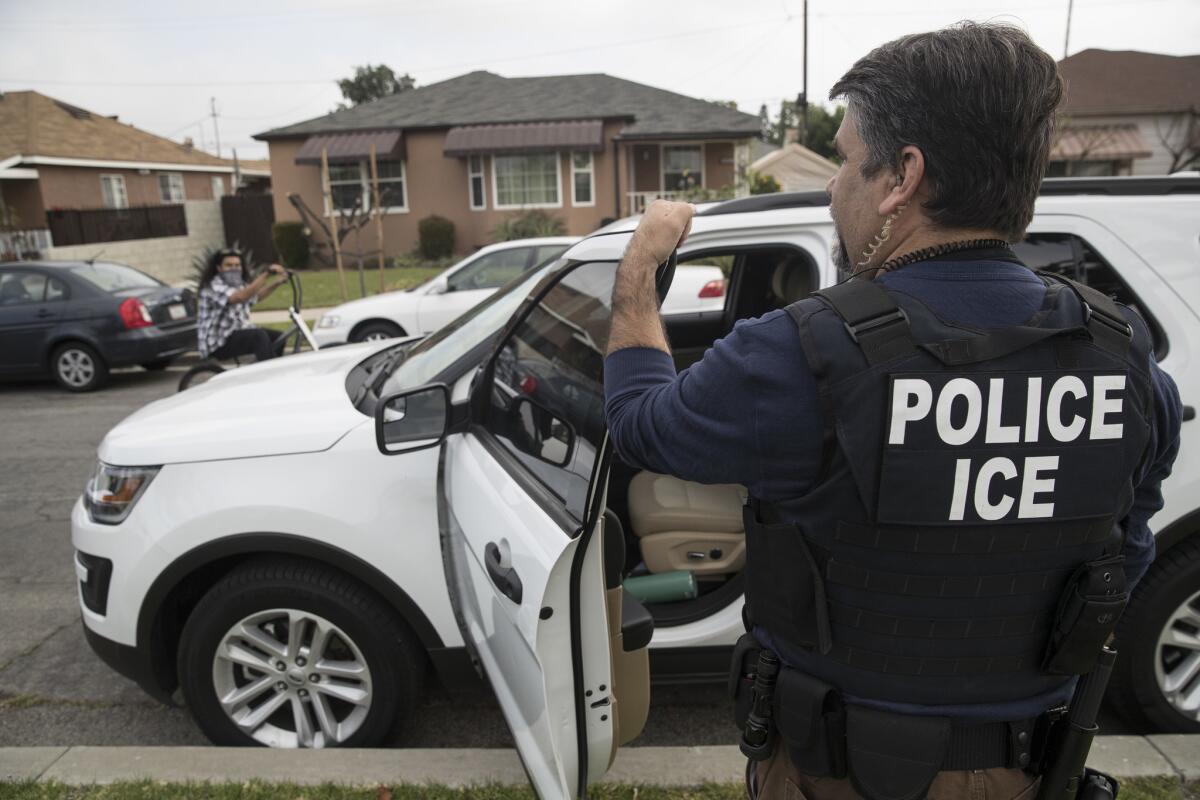 An immigrant in the U.S. illegally who was detained by federal officers in San Bernardino last week while heading to the hospital with his pregnant wife is one of three men listed in an arrest warrant for a 2006 murder in Mexico.
Joel Arrona-Lara is wanted in connection with the killing of Miguel Ángel Morales Rodríguez, alias "El Garcia," according to the arrest warrant, which was provided by a law enforcement official who is not authorized to speak publicly about the case.
The warrant includes photos of Arrona-Lara, as well as his wife's name and those of his parents. The other two men listed in the warrant are Julio Cesar Arrona-Lara, alias "El Chikis," and Roberto Arrona-Lara, alias "El Rigo."
All men share identical surnames, but their relationship is unclear.
The warrant did not detail the circumstances behind the murder, but a 2014 news release from the Guanajuato attorney general's office said an arrest warrant had been issued for Julio Cesar Arrona-Lara in connection to a 2006 homicide. It accused Julio Arrona-Lara of beating Rodríguez on March 17, 2006. The man later died from his injuries.
It is unclear what role the other two men, including Joel Arrona-Lara, might have played.
Officers with Immigrant and Customs Enforcement's Fugitive Operations team in Los Angeles received the request for collaboration and assistance in Arrona-Lara's arrest from Guanajuato's attorney general on July 24, according to the agency.
Emilio Amaya Garcia, Arrona-Lara's legal representative, said that in interviews with Arrona-Lara, he denied being involved in any problems in Mexico.
"It seems like there are members of his family who were, but he said he was never arrested or detained," Garcia said. "He doesn't know of a reason why he would have an arrest warrant in Mexico."
Joel Arrona-Lara was heading to the hospital with his wife, Maria del Carmen Venegas, on Wednesday for her scheduled caesarean section when he was apprehended by Immigration and Custom Enforcement agents.
Security video obtained by KCBS-TV shows two SUVs blocking the couple's vehicle as they tried to park at a gas station Wednesday. Venegas said ICE agents emerged from the vehicles and asked for their identification. She pulled out her ID, but her husband said he had left his at home.
Venegas told KCBS that agents asked her husband to exit the vehicle. They searched the car for weapons, and the video shows two agents alongside Arrona-Lara with his hands cuffed behind his back.
An emotional Venegas is seen talking on a cellphone inside the gas station.
She later gave birth to the couple's fifth child in the hospital without her husband.
Venegas told the San Bernardino Sun that she and her husband came to the U.S. 12 years ago from the city of Leon in the central Mexican state of Guanajuato.
ICE has received a barrage of criticism over the arrest and the fact that the agency did not disclose details about the warrant until after public outcry.
Garcia stressed that whatever the reason for the arrest, "what worries us is that ICE doesn't have a proper protocol with how to deal with cases like these."
"Our preoccupation is why did they leave the woman there," Garcia said. "They could have called an ambulance."
Agents, who had conducted surveillance on Arrona-Lara before the arrest, were not aware that the couple were headed to the hospital, according to the agency.
Arrona-Lara's wife was driving the vehicle before they stopped at the gas station, according to the agency, and ICE officers were confident that she was able to continue on her way after the arrest.
Cecilia Sanchez of The Times' Mexico City bureau and Angel Jennings contributed to this report.
Twitter: @Brittny_Mejia
Sign up for Essential California for news, features and recommendations from the L.A. Times and beyond in your inbox six days a week.
You may occasionally receive promotional content from the Los Angeles Times.