At heart of Sheriff's Department scandal was top-secret 'Operation Pandora's Box'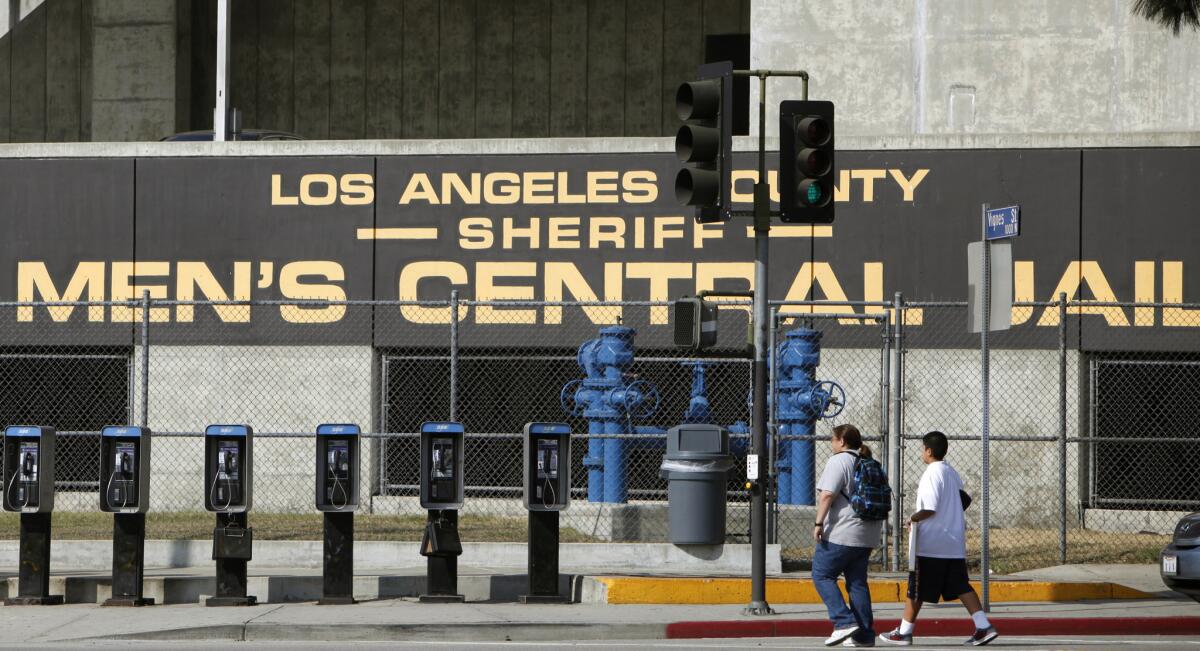 At the center of the FBI's investigation into abuses at the Los Angeles County Jail was a top-secret program known as Operation Pandora's Box.
That investigation took a dramatic turn Wednesday with news that retired Los Angeles County Sheriff Lee Baca will plead guilty to a federal charge of making a false statement.
Here is a primer from The Times archives:
What was Operation Pandora's Box?
It was launched after sheriff's officials learned in the summer of 2011 that the FBI had enlisted Anthony Brown, an inmate in the Men's Central Jail, to collect information about allegedly abusive and corrupt deputies.
In an unusual move, sheriff's officials responded by moving Brown, a convicted bank robber, to a different jail under a fake name.
They assigned at least 13 deputies to watch him around the clock, according to documents reviewed by The Times. And when the operation was over, the deputies received an internal email thanking them for helping "without asking too many questions and prying into the investigation at hand."
A Baca spokesman previously said that Brown was moved not to hide him from the FBI, but to protect him from deputies.
Prosecutors allege the goal was to prevent the FBI from talking to Brown.
What was the role of former Undersheriff Paul Tanaka, who was indicted on corruption charges last year?
An internal Sheriff's Department email, written while Brown was allegedly being hidden from the FBI, states that Tanaka or one of his subordinates had to be present before deputies could move Brown.
In the email, Deputy Gerard Smith warns his colleagues: "To keep yourself free of any controversy ... let the approved, above listed people deal with Brown's issues. ... It has been expressed to me (several times now) that this is one of the most important investigations involving the Los Angeles County Sheriff's Department in its 160 year history. No joke."
Tanaka has said he had a minimal role in the Brown matter and that he did nothing improper or illegal.
Join the conversation on Facebook >>
Who is Anthony Brown?
In a 2012 profile and interview with Brown, The Times outlined his role in the federal investigation:
He took down the names of sheriff's deputies who he alleged were dirty. He reported tales of violent abuse of inmates at the hands of jailers. He even ensnared a deputy in a phone smuggling scheme that resulted in a criminal conviction.
Brown gave FBI agents what they couldn't have gotten on their own: an insider's view of a jail system beset with allegations of excessive force and other deputy misconduct.
Brown is serving a lengthy prison sentence for bank robbery and has a long criminal history. He is a former crack cocaine addict who has a history of lying and making dubious allegations against law enforcement, according to court records and interviews.
In his interview with The Times, Brown alleged that he delivered notes about corrupt and brutal deputies during weekly visits with his FBI handler.
Brown helped with an undercover FBI operation to bribe a jailer, who smuggled him a cellphone in jail. Brown told The Times he used the phone to take photos of deputy beatings and transmit them to his FBI handler. The Times could not independently verify whether he provided photos to the FBI.
Where does the case stand now?
So far, more than a dozen former sheriff's officials have been convicted as a result of the wide-ranging investigation, which began more than five years ago.
ALSO
Ex-L.A. County Sheriff Lee Baca to plead guilty in jail scandal, his attorney says
Baby's father may have been target in fatal Compton shooting, authorities say
Supporters of Coastal Commission executive director protest his proposed firing
Sign up for Essential California for news, features and recommendations from the L.A. Times and beyond in your inbox six days a week.
You may occasionally receive promotional content from the Los Angeles Times.