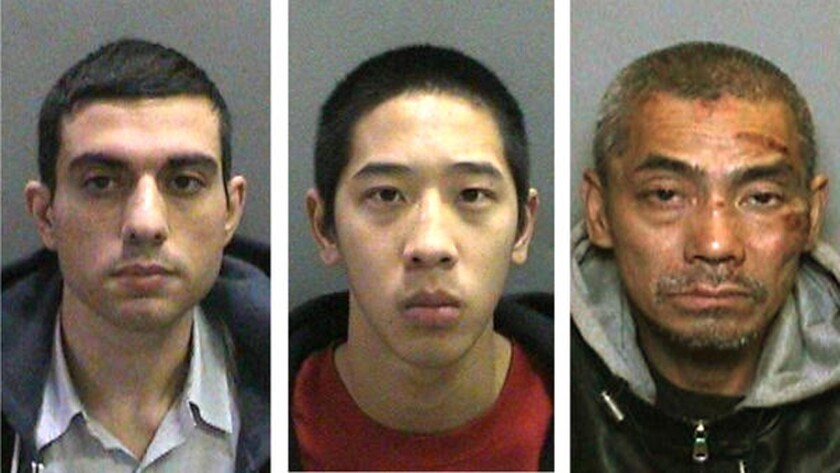 Investigators have fanned out across Southern California on Monday searching for three inmates who pulled an elaborate escape from the Central Men's Jail in downtown Santa Ana three days ago.
Jonathan Tieu, 20, Bac Duong, 43, and Hossein Nayeri, 37, were discovered to be missing about 9 p.m. after a nightly inmate count at the Orange County Sheriff's Department's maximum security facility. Deputies are still searching for the men, who have not been seen since the escape.
Lt. Jeff Hallock with the Orange County Sheriff's Department updates the investigation on the three inmates that escaped from the facility.
Sheriff's Lt. Jeff Hallock said authorities are looking throughout the region for the men, who were being held in connection with serious, violent offenses including murder, attempted murder, kidnapping and torture. A $50,000 reward has been offered for any information on the men's whereabouts.
The men slipped behind beds inside the jail, then disappeared into a hole in a wall before navigating through the jail's plumbing system and cutting through half-inch steel bars.
See more of our top stories on Facebook >>
After making it to the roof, the men rappelled down four stories using spare cloth and bedsheets and fled. The inmates, who were last seen wearing orange jumpsuits, were presumed to be armed. It is unclear whether they received help after breaking free.
The men's escape was the first getaway at the facility in nearly 30 years. Built in 1968, the concrete compound houses more than 900 inmates.
Authorities are investigating how the men planned the move and escaped undetected, but they believe a fight that occurred about 8 p.m. Friday might have been a distraction to help hide the escape.
"The three escapees, Hossein Nayeri, Jonathan Tieu, and Bac Tien Duong, are dangerous criminals," Sheriff Sandra Hutchins said in a statement.
Tieu is charged with murder that was possibly gang-related. He had been held since October 2013 on $1 million bond.
NEWSLETTER: Get the day's top headlines from Times Editor Davan Maharaj >>
Duong, who has a lengthy criminal history and multiple convictions, had been held without bail since last month in connection with attempted murder.
Duong's mother, Lu Ann Nguyen, and sister Tiffany Tieu told KABC-TV they feared for him and urged him to turn himself in to authorities.
"Please just turn yourself in," his sister pleaded. "Don't let this drag on."
Nayeri and three other men are accused of kidnapping and torturing a California marijuana dispensary owner in 2012. They drove the owner to the desert, where they believed he had hidden money, and severed his penis, authorities said.
Nayeri fled the U.S. to his native Iran and was later arrested in Prague, Czech Republic, in November 2014 while changing flights from Iran to Spain to visit family.
Authorities asked anyone with information to call the hotline at (714) 628-7085 or to call 911 with any sightings of the men.
Staff writers Tony Barboza and Frank Shyong contributed to this report.
For breaking news in California, follow VeronicaRochaLA
ALSO
Extradition of suspect in killing of 2 Arcadia teens could be complicated
Sunset Boulevard shut down after multi-vehicle crash in East Hollywood
Pedestrian is killed in O.C. hit-and-run; abandoned vehicle is found a few miles away
---