High-ranking Mexican Mafia associate gets 25 years for murder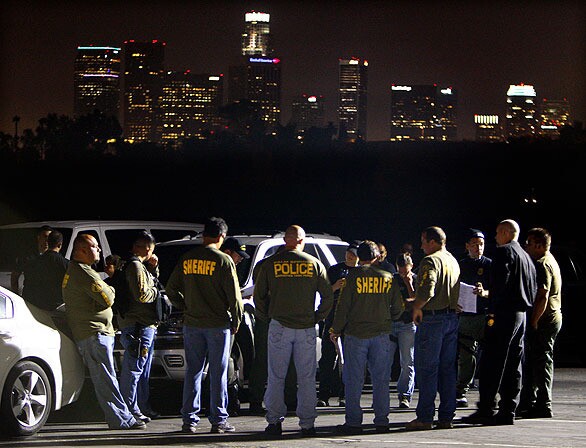 From a command post in Elysian Park, officers of the Los Angeles Police Department, the federal Drug Enforcement Administration and other agencies go over final details before launching an early morning sweep of members of the violent Avenues gang in northeast Los Angeles.
(Mark Boster / Los Angeles Times)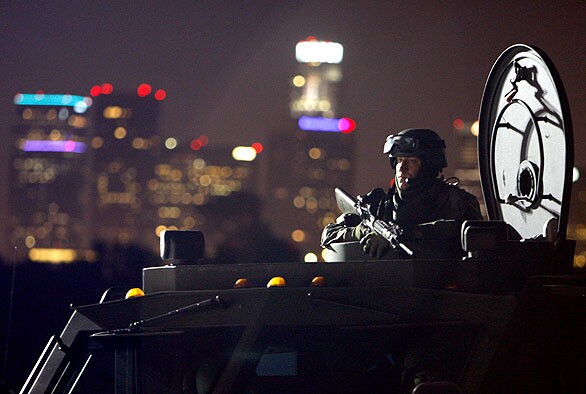 A deputy from the Riverside County Sheriff's Department waits in an armored vehicle for the signal to move out.
(Mark Boster / Los Angeles Times)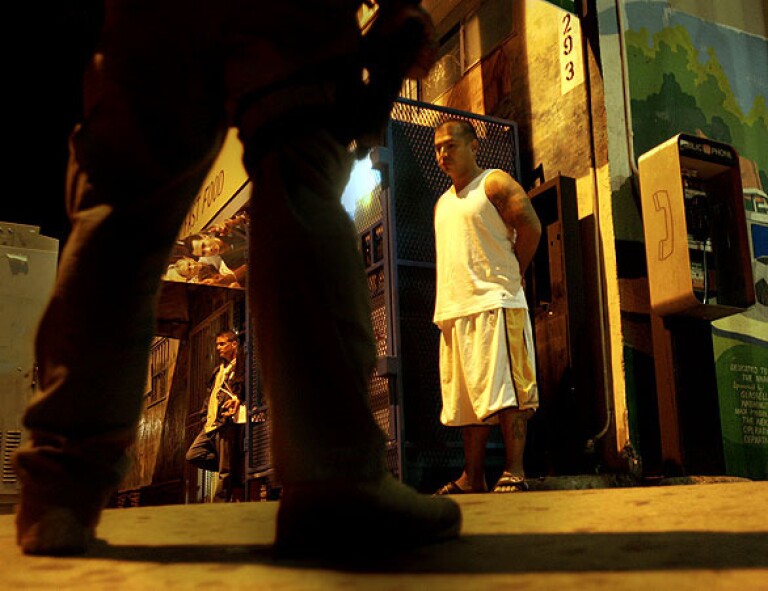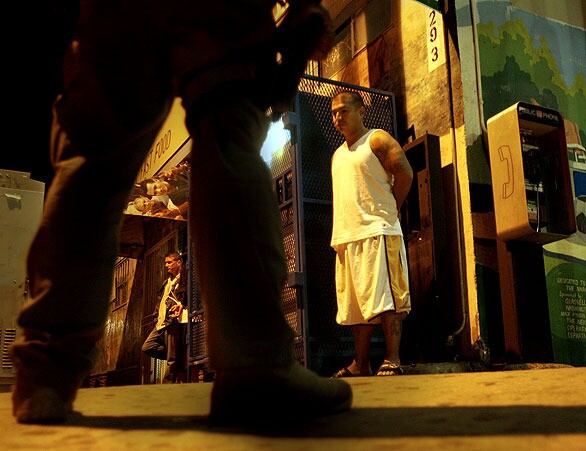 Suspect Norberto Salazar stands with his hands bound in front of his home on Estara Avenue in the Glassell Park neighborhood.
(Mark Boster / Los Angeles Times)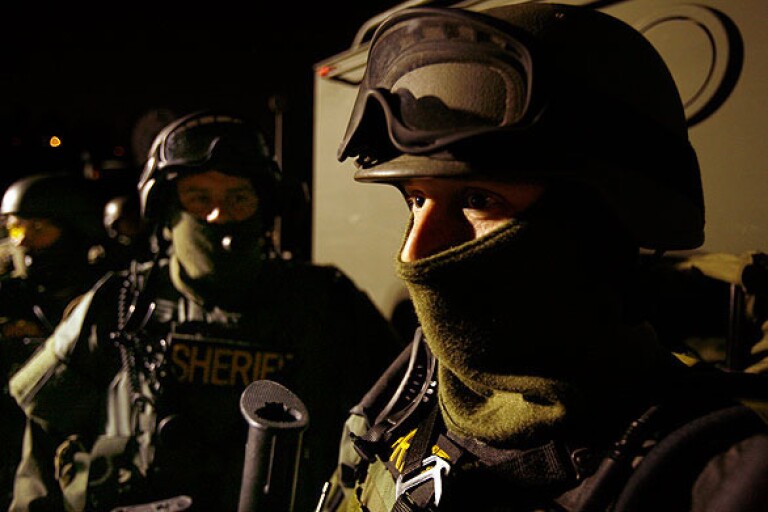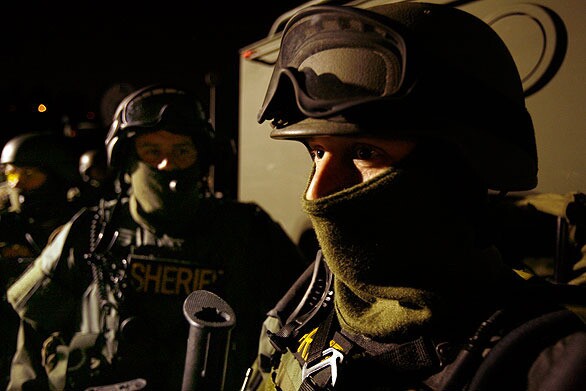 Deputies from the Riverside County Sheriff's Department muster before before launching their raid on one of the Avenues gang locations.
(Mark Boster / Los Angeles Times)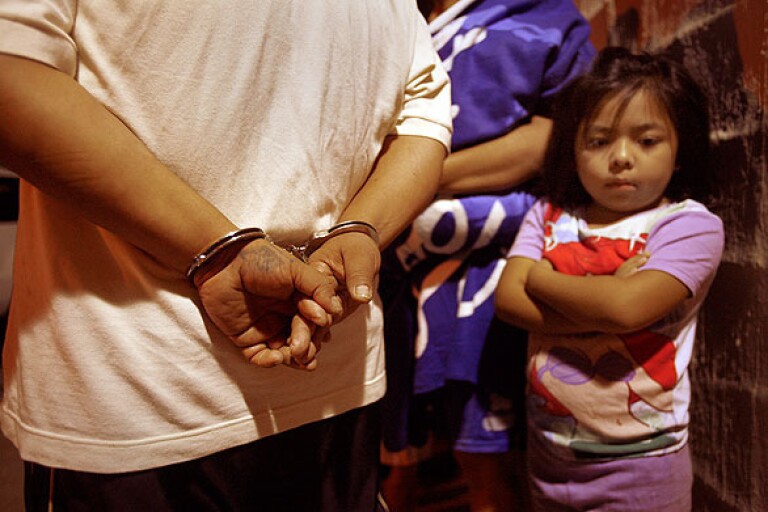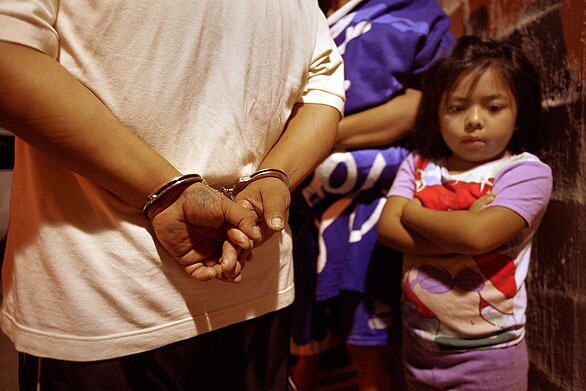 Family members wait on the sidewalk while police sort out who to arrest.
(Mark Boster / Los Angeles Times)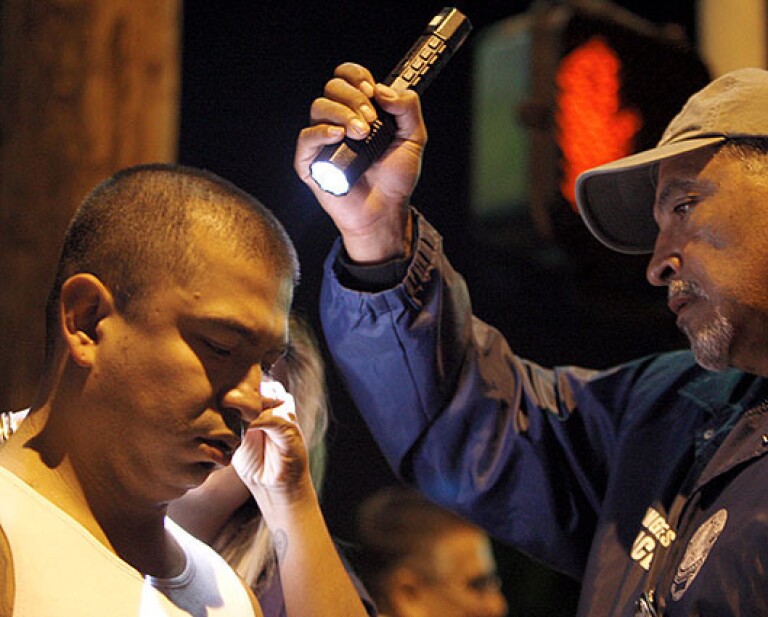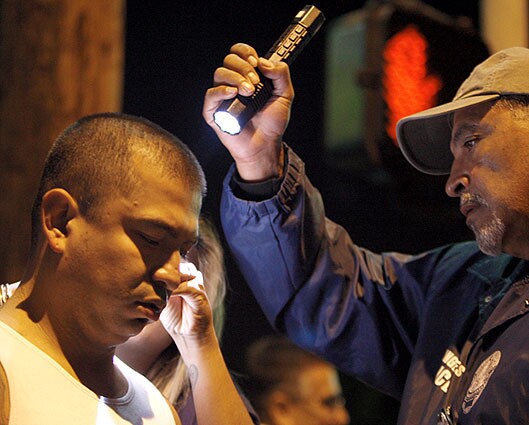 Officers remove jewelry from suspect Norberto Salazar before putting him a squad car. Salazar is accused of directing other Avenues members to commit several violent or drug-related crimes.
(Mark Boster / Los Angeles Times)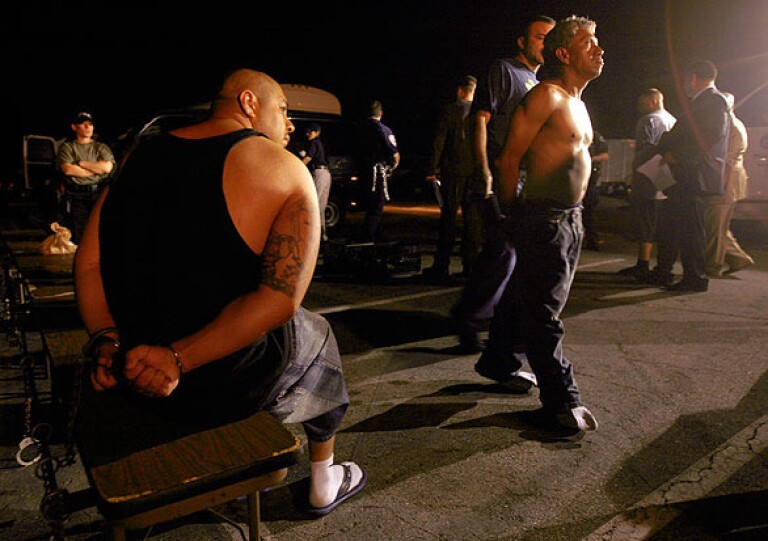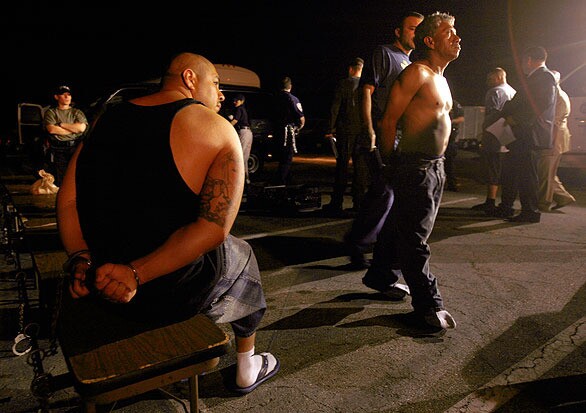 Several suspects caught in a sweep of suspected Avenues gang members wait to be processed before heading to jail.
(Mark Boster / Los Angeles Times)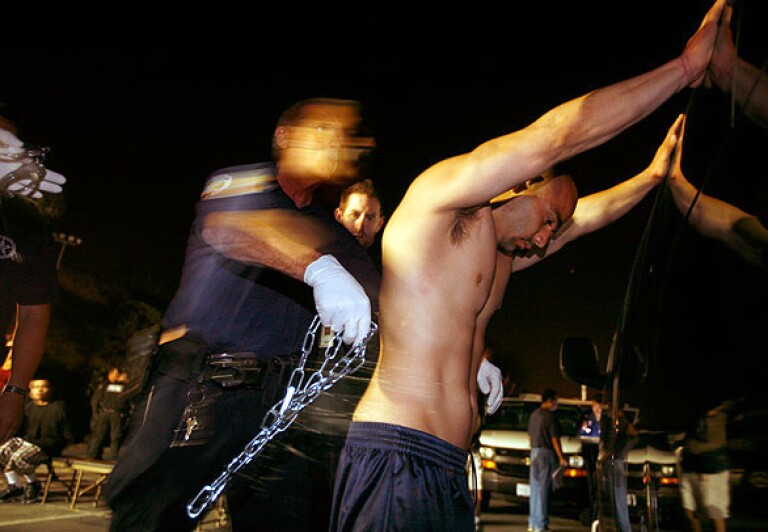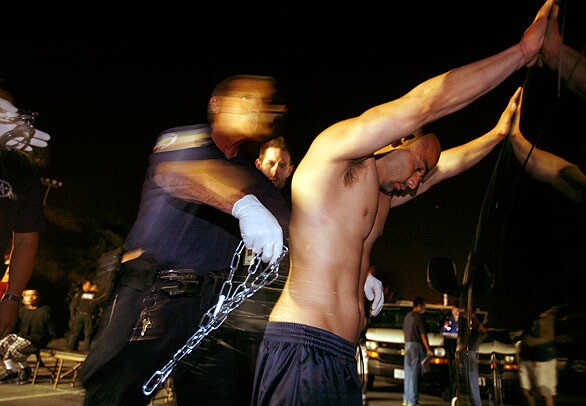 Law enforcement officers prepare to shackle a suspect arrested in a predawn raid that targeted the Avenues gang.
(Mark Boster / Los Angeles Times)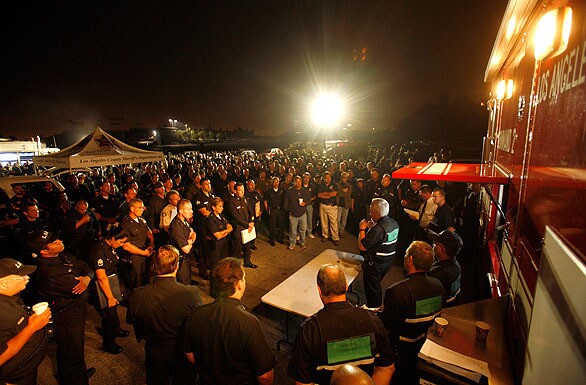 A force of 1,200 officers from various agencies gets a final briefing at about 2 a.m. before fanning out in a massive raid on alleged members of the Avenues gang.
(Mark Boster / Los Angeles Times)
<i>This post has been corrected, as indicated below.</i>
A high-ranking member of the northeast L.A.-based Avenues gang was sentenced Monday to 25 years in prison for murdering one man and ordering the killing of another, federal prosecutors said.
[For the record, 5:32 p.m. PDT Oct. 21: A previous version of this post identified the Avenues gang as being from northwest Los Angeles. The gang operates in Northeast L.A.]
U.S. District Judge George H. Wu sentenced Rudy Aguirre Jr., also known as "Lil Psycho," after Aguirre pleaded guilty to his role in the deaths, the U.S. attorney's office announced.
Prosecutors described the 32-year-old as a "high-ranking associate of the Mexican Mafia with strong family ties to the prison gang." Aguirre was authorized by the Mexican Mafia to "control the activities of the Avenues street gang on the street," they added.
VIDEO: 2009 police raid against L.A.'s Avenues gangs
Officials said Aguirre went to California prisons to get instructions from the Mexican Mafia, which he would relay to the Avenues. He also determined who within the Avenues territory would pay "taxes" to the street gang, which would then be given to the Mexican Mafia, prosecutors added.
Aguirre was charged with murder in connection with the 1999 death of a rival gang member in northeast Los Angeles, but the charges were dismissed because of pre-trial rulings. He was later charged with the murder under a federal racketeering case and pleaded guilty in July.
He also admitted authorizing a 2008 slaying of an Avenues member who was thought to be taking from the taxes collected by the gang, prosecutors said.
Aguirre was arrested in a massive 2009 raid centered on Glassell Park and other areas of northeast Los Angeles. Forty-four arrests were made in the multi-agency raid, the culmination of a yearlong investigation into the Avenues that began after Los Angeles County Sheriff's Deputy Juan Abel Escalante was gunned down outside his parents' Cypress Park home.
Prosecutors said Aguirre was one of the last of 88 defendants to be sentenced under the racketeering indictment from 2009.
ALSO:
Father responding to Craigslist ad fatally shot in front of son
Cee Lo Green expected to face drug charge but not sex assault
Giant oarfish carcass in Oceanside sliced up, removed for examination
Twitter: @katemather | Google+
---
Get breaking news, investigations, analysis and more signature journalism from the Los Angeles Times in your inbox.
You may occasionally receive promotional content from the Los Angeles Times.