Ex-L.A. County Sheriff Lee Baca withdraws his guilty plea, clearing the way for a high-profile trial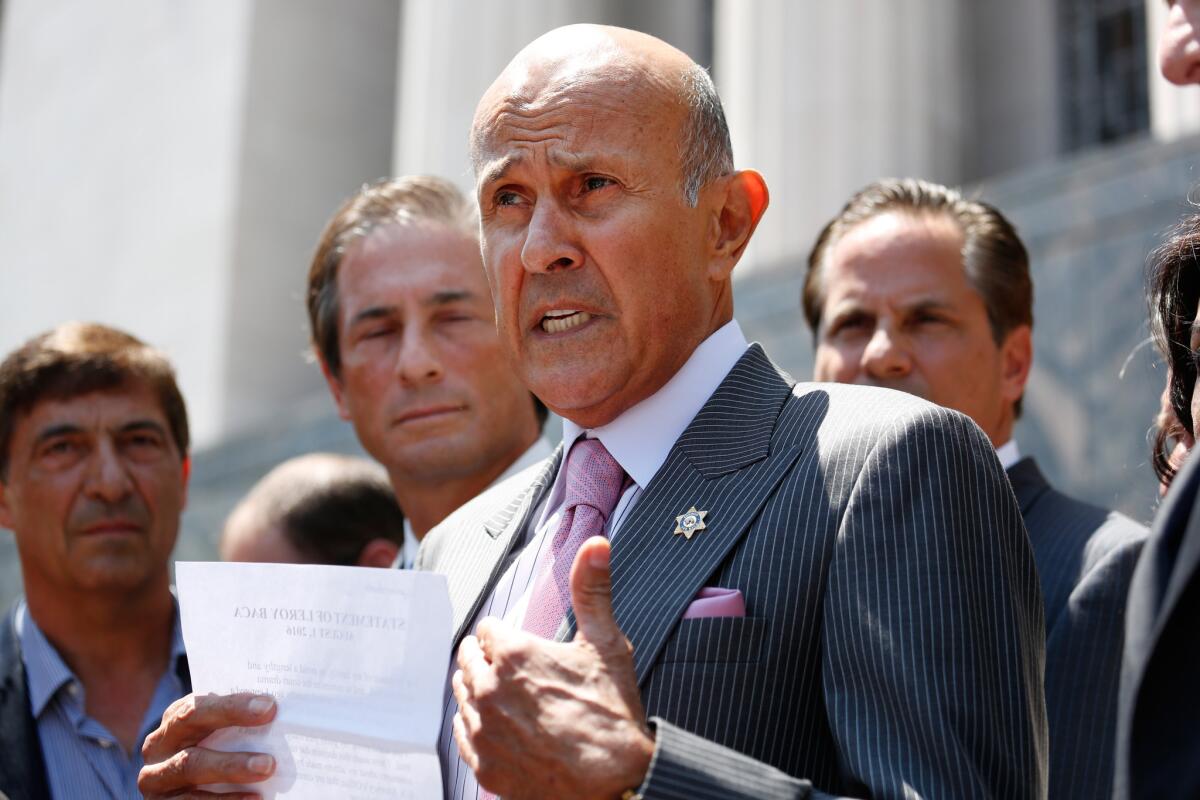 Former Los Angeles County Sheriff Lee Baca withdrew his guilty plea Monday to a charge of lying during an FBI investigation into the county's jails, opting instead to take his chances at a high-stakes trial.
In deciding to walk away from the agreement he struck with federal prosecutors, Baca opened the door to the government bringing a broader and more serious case against him that could include charges of obstruction of justice and conspiracy in addition to the lying allegation.
Michael Zweiback, one of Baca's attorneys, said he expected prosecutors to level the more serious charges, which mirror those brought against Baca's former second-in-command, Paul Tanaka, who was convicted earlier this year in an obstruction-of-justice case stemming from the same FBI investigation.
Baca's decision came after U.S. District Judge Percy Anderson said last month that he would reject the plea deal, which had limited the former sheriff's prison time to a maximum of six months. Anderson had sentenced Tanaka to five years in prison.
After withdrawing his plea, Baca told a horde of reporters on the steps of the downtown courthouse that he had done so because of "untruthful statements" made by the judge and prosecutors about his involvement in a scheme by sheriff's officials to thwart the FBI's jail probe.
He did not specify what was untruthful. Instead, reading from a prepared statement, Baca referenced his recent diagnosis with Alzheimer's disease and said the inevitable progression of the illness had injected an element of urgency into the case.
"I need to set the record straight about me and the Los Angeles County Sheriff's Department on the misleading aspects of the federal investigation while I am capable of doing so," said Baca, who retired in 2014.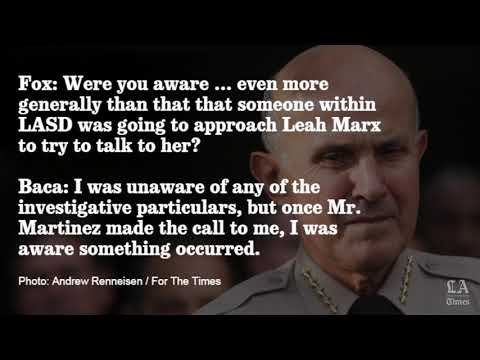 Former L.A. County Sheriff Lee Baca admitted lying to federal prosecutors who questioned him about whether he was involved in attempts to obstruct an FBI investigation into the county jails. In this audio, assembled from a nearly four-hour recording
Baca's Alzheimer's diagnosis may play a central role at trial.
Zweiback said medical records would show Baca's mental deterioration had already begun in April 2013, when he made the allegedly false statements to federal prosecutors about his knowledge of sheriff's officials' efforts to obstruct the FBI. Zweiback said he planned to argue to jurors that Baca's growing awareness of his illness led him increasingly to delegate more authority to Tanaka and others.
The U.S. attorney's office had argued in a sentencing memo that Baca's tone and demeanor during the 2013 interview "provided no indication that he was suffering from any cognitive defects at that time."
Baca's dementia has progressed since the initial diagnosis, and he suffers from, among other things, short-term memory loss, Zweiback said Monday.
Though Baca is lucid now, if his condition deteriorates rapidly and he becomes unable to understand the legal proceedings, he could be declared mentally incompetent to stand trial.
The former sheriff's gambit on Monday was the culmination of an extraordinary turn of events.
Zweiback had argued last month that Baca should serve no time in prison. But Anderson delivered a scathing rebuke at a July 18 hearing, saying even a prison term as short as six months "would not address the gross abuse of the public's trust … including the need to restore the public's trust in law enforcement and the criminal justice system."
The judge's hard-line approach left Baca and his attorneys with a tricky choice: Withdraw his guilty plea and go to trial, or allow Anderson to sentence him as he saw fit for a crime that carries a maximum sentence of five years. Besides Tanaka, Anderson has sentenced seven other lower-ranking sheriff's officials to terms ranging from a year and a half to more than three years in prison for their roles in obstructing the federal investigation.
In recent weeks, Zweiback and prosecutors tried unsuccessfully to hammer out a new plea deal that might have been acceptable to Anderson.
Those efforts continued into the 11th hour as Monday's hearing was sidetracked by a series of private sidebar discussions between Anderson and the attorneys. Zweiback said later that he and Nathan Hochman, another Baca attorney, tried to extract some indication from the judge as to what sentence he planned to hand down. Anderson demurred, only reiterating that he believed the sentence should be increased from six months based on Baca's role in the larger obstruction-of-justice case, using factors such as whether the former sheriff abused a position of trust, Hochman said.
Anderson gave the two sides a few extra hours to negotiate, but with Baca's team left in the dark by the judge, the former sheriff's decision was all but made.
"If he's not going to be in a situation where he has some understanding of what he's walking into, he may feel he has no alternative but to fight for his life and go to trial," Zweiback said.
Zweiback and Hochman vowed to mount an aggressive defense at trial, saying they planned to fight to exclude pieces of evidence the government used in its cases against Tanaka and other sheriff's officials who have been convicted for having a role in the obstruction scheme.
They also made clear that they would try to use the prosecutors' own words against them. Throughout Tanaka's trial and again in court filings in Baca's case, prosecutors argued that Tanaka, not Baca, was the ringleader of the group that tried to derail the FBI.
For example, in their sentencing memo, prosecutors downplayed Baca's role, writing, "He issued orders that, taken literally, may not have been corrupt, but were carried out in an obstructive manner by his subordinates and without his objection."
Hochman pounced on such statements, saying, "It'll be very interesting now, if they decide to add obstruction of justice charges, how they're going to get around their own concessions."
Tracy Webb, a spokeswoman for the U.S. attorney's office, declined to comment.
On Monday, Anderson set a trial date of Sept. 20. Zweiback said he planned to ask for more time to wade through the massive cache of documents the government recently handed over, as well as the testimony from the previous trials.
Asst. U.S. Atty. Brandon Fox countered to Anderson that, despite the large amount of paperwork to sift through, the case against Baca was relatively straightforward.
"It should not be a surprise what the evidence against Mr. Baca is at this point. It has all been out in the public light," he said.
The obstruction-of-justice case grew out of a secret FBI investigation launched in 2010 into corruption and brutality by jail deputies. After sheriff's officials discovered that an inmate, Anthony Brown, was an FBI informant, they booked him under false names and shuttled him to different locations. They also went to the home of an FBI agent and threatened her with arrest.
In his plea agreement, Baca admitted to lying in the April 2013 interview with investigators, when he stated that he was not aware of the plan to confront the FBI agent at her home. In fact, according to the agreement, Baca was at a meeting where officials came up with the plan, telling his subordinates that they "should do everything but put handcuffs" on her.
Baca was also involved in a conversation with subordinates about keeping Brown away from the FBI, though he denied knowledge in his interview with federal investigators, the agreement said. He was also aware that his subordinates had stopped FBI agents from questioning Brown, contrary to what he had said in the interview, according to the agreement.
In entering his guilty plea, Baca admitted only to lying about the visit to the FBI agent's home while agreeing not to contest the prosecutors' other allegations.
For more news on the Los Angeles County Sheriff's jail scandal, follow us on Twitter: @joelrubin and @cindychangLA
ALSO
After more than 80 years, the former Lincoln Heights Jail faces a makeover
My 'doppelganger' did it: Actor says it was a man who could be his double who blew red light
Married for more than six decades, couple dies after fire engulfs Sun Valley home
---
UPDATES:
6:35 p.m.: This article was updated with some minor rewriting.
4:02 p.m.: This article was updated with more details from Monday's hearing and comments from Baca's attorneys afterward.
1:45 p.m.: This article was updated to add that Baca withdrew his plea.
11:50 a.m.: This post was updated to add more details from Monday's hearing and comments from Baca's attorney.
10:15 a.m.: This article was updated to add details from Monday's hearing.
This article was originally published at 3 a.m.
Sign up for Essential California for news, features and recommendations from the L.A. Times and beyond in your inbox six days a week.
You may occasionally receive promotional content from the Los Angeles Times.