Christmas tamale drama: When the masa went bad, families had to improvise
Video by Gary Coronado / Los Angeles Times
At Amapola market in Downey, people stood in line for hours last week for the famous masa, the ground cornmeal for tamales — centerpiece of many a Christmas dinner.
Loyal customers came from miles around for 30- and 40-pound batches they would use in their elaborate holiday cooking ritual. But this year, they found themselves scrambling for doctors' numbers, sending guests home hungry and rummaging through cupboards for backup plans.

For the record:
8:46 p.m. June 29, 2019A previous version of this post said Esther Cervantes had bought tamales from Amapola stores for years. She bought masa from the stores.
At Maria Coronado's house, dozens of guests made do with a desperate meal of spaghetti and nachos. The tamales had turned out gloppy, and her husband felt so sick after a few bites he had to visit the doctor.
"We didn't have dinner for Christmas," said Coronado, 51, who has shopped at Amapola markets for 30 years and has always regarded their masa as excellent, well worth the drive from her home in Riverside.
She was back in line Monday, waiting for a refund of the $143 she spent, along with hundreds of others complaining of bad tamales, stomach cramps, fever, nauseated children — and ruined Christmases. Others were lining up at Amapola stores in Compton, Paramount and West Covina.
"We're devastated," said Carlos Galvan Jr., the company's vice president and chief financial officer. "We're not entirely sure yet what occurred."
Galvan, whose father and grandfather started the market chain in 1961, said the bad tamales seem to stem from a problem with a 120,000-pound supply of raw corn purchased from a longtime California vendor, though he refused to provide the name. He said Amapola has since switched vendors.
"We know that we lost a lot of customers," Galvan said. "The only way to confront this is head-on."
He said the company would refund customers not just the money they spent on masa but on other items they purchased for the meal.
The scene in Downey was semi-chaotic Monday morning, as the line for refunds stretched around the building and through the parking lot. Police had been summoned to keep order. By late morning, some said they had been waiting for three hours. A besieged-looking company representative fielded angry questions in Spanish.
Many of the people in line were loyal, longtime Amapola customers, and stories were common of people who drove from all over the Southland — and even bordering states — to buy the masa.
"Christmas was ruined. For Mexican culture, tamales is the main thing," said Kathy Moreno, 33, of Downey, who bought 35 pounds of masa last week and was frustrated by the disorganized system of dispensing refunds. "We've been coming here over 25 years." She said she does expect to return, but "it will take a while to regain trust."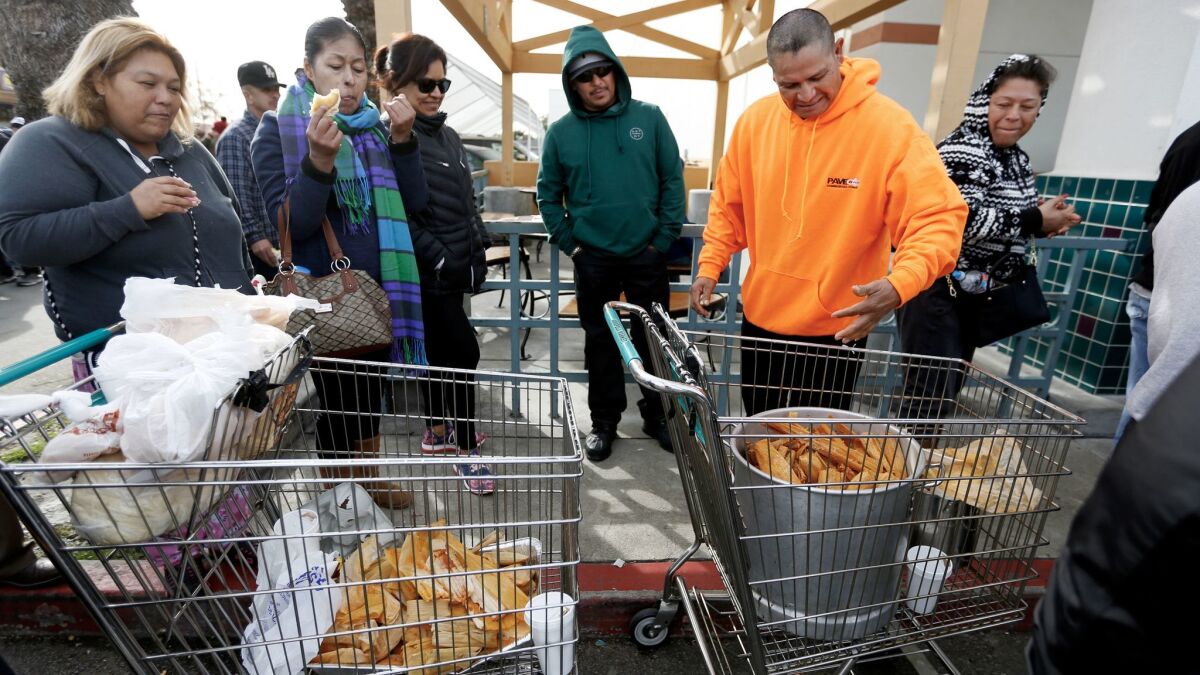 Janessa Sandoval, 28, of Bellflower, said her grandmother usually makes the Christmas tamales, but that at age 79 her health no longer permits it. So Sandoval inherited the job this year, but they turned out runny and terrible, and she spent all Christmas Day wondering if she was to blame. Monday morning, her grandfather turned on the news.
"He said, 'Janessa, it's not your fault,'" she said.
Esther Cervantes, 44, of Bell Gardens, said she's been buying her masa tamales here for years. This time, she said, her 8-year-old daughter threw up. And her nieces, visiting from Corona, left hungry.
"My nieces went home to Corona without eating dinner, and I felt miserable," she said. "I didn't have anything else to offer them. You can't go out and buy pizza."
Maria Quezada, 63, had bought 80 pounds of masa for a big Christmas Eve bash that doubled as her husband's 70th birthday party.
She cut her losses quickly when she noticed that the first batch — chili and cheese tamales — had the consistency of jelly after an hour and 20 minutes. She stashed the masa in the garage and scrambled for a replacement dinner. Luckily, she had a connection for chuck roast, which she turned into barbacoa.
"I have 37 nephews and nieces," Quezada said. "They all came."
Carlos Galvan, the company vice president, said the markets had temporarily run out of cash to give refunds and would be closed Tuesday. He said the refunds would resume Wednesday.
christopher.goffard@latimes.com
Twitter: @LATchrisgoffard
ALSO
Man killed in crash after high-speed pursuit in South L.A.
Suspect shot after attempting to ram car into Riverside officers, police say
'Brendon didn't have to die': Family of Venice man killed by LAPD says they're left grieving and wondering
---
The stories shaping California
Get up to speed with our Essential California newsletter, sent six days a week.
You may occasionally receive promotional content from the Los Angeles Times.