A call with his mom may have tipped police off to the 'AK-47 Bandit,' suspected in California bank robberies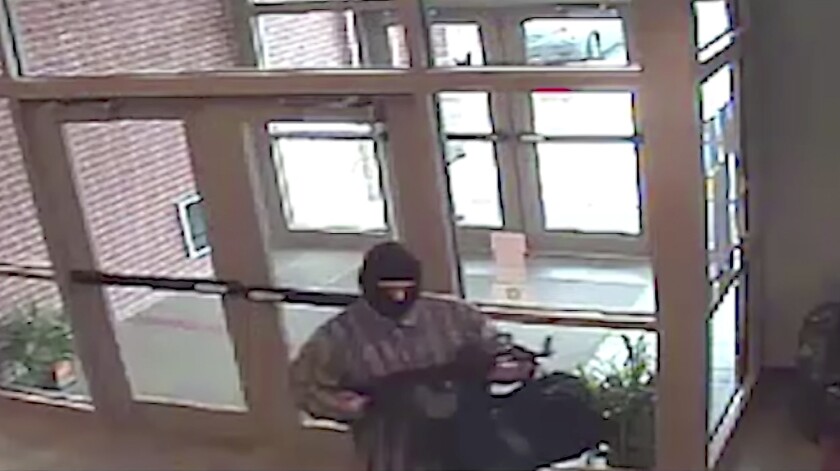 From jail in Nebraska, Richard Gathercole asked his mom: "Did you get all the guns out, too?"
The request tipped off federal agents to the trail of one of the country's most sought-after bank robbers, the "AK-47 Bandit," who is suspected of shooting and seriously wounding a Chino police officer and carrying out a string of heists in California, Washington, Iowa, Idaho and Nebraska.
Federal agents and police from Chino raided Gathercole's Montana home and found a trove of homemade bombs, according to authorities and court documents filed Monday.
Investigators believe Gathercole, 39, is the AK-47 Bandit, according to a law enforcement source who spoke on the condition of anonymity because the source was not authorized to speak publicly. Gathercole remains in custody in Nebraska and has not been formally charged. It's unclear whether he was being represented by an attorney.
Gathercole was arrested June 20 in the attempted shooting of a Kansas state trooper who was trying to stop him because of obscured registration on the vehicle along an interstate highway last week, according to a search warrant affidavit submitted Saturday in federal court.
During the call with his mother, Gathercole asked her to remove the guns "as soon as possible" from his home in Roundup, about 50 miles north of Billings, according to the transcript that was included with the search warrant.
"Um, this is recorded. You know that," she replied.
"Yeah, I know," he said.
The June 22 call led to the search of Gathercole's home, which the Musselshell County Sheriff's Office said had "numerous improvised explosive devices" that a bomb squad removed from the property.
FBI spokeswoman Laura Eimiller said the search was connected to the probe of the bank robberies.
"Multiple departments are investigating whether evidence found during the search in Montana may be linked to a series of bank robberies currently under investigation in California and other states," Eimiller said.
Federal agents have been on the hunt for the AK-47 Bandit since 2012, when the robber shot a police officer while fleeing the scene of California Bank & Trust in Chino. The officer was seriously wounded but survived.
Over the years, agents have identified some of his trademarks: a black ski mask; dark-colored body armor; a mesh vest with the word "sheriff" printed across the back; and his signature weapon, an AK-47 rifle with a drum magazine, according to the FBI.
They have linked the robber to numerous heists, including ones in Sacramento, Vacaville, North Bend, Wash., and Rexburg, Idaho, FBI officials said.
In the affidavit, FBI Special Agent Andrew R. Ubbelohde ties Gathercole to at least two bank robberies linked to the AK-47 Bandit. The agent said Gathercole was suspected of carrying out the Aug. 22, 2014, robbery of First Nebraska Bank in Nebraska City. More than $90,000 was stolen, according to court papers.
The affidavit also alleges that Gathercole stole $126,000 from a bank in Iowa, another theft linked to the bandit. The robber in the 2015 heist of Iowa Heartland Credit Union brought in a device with smokeless powder, metal pieces and a fuse, which he told bank tellers was a "pressure bomb," according to court papers. The robber fled in a black Toyota Camry.
On June 19, a Kansas state trooper tried to pull over a black Toyota Camry, but the driver refused to stop and fired a rifle at the pursuing officer, according to court papers. At some point, the driver abandoned the car.
The driver, later identified by authorities as Gathercole, eluded capture, and is suspected of stealing a Ford pickup at gunpoint. Police were notified to look out for the vehicle, and within hours, a Nebraska sheriff's deputy spotted the pickup at a Dawson County gas station.
He was arrested on suspicion of possession of stolen property and stolen firearms, according to court papers. Inside the black Camry, investigators found an AK-47 with a high-capacity magazine as well as a homemade bomb, and a black ski mask was inside the stolen pickup, authorities said.
Less than two days after his arrest, Gathercole made the call to his mother from the county lockup.
Twitter: @LACrimes
Twitter: @MattHjourno
ALSO
L.A. now has a new tallest building. How it will fit into the fabric of the city is still open to debate
Evacuation alerts mistakenly sent cause confusion as 5,000-acre fire burns in Riverside County
South Pasadena man charged with murdering his 5-year-old son was about to flee, officials say
---
Get breaking news, investigations, analysis and more signature journalism from the Los Angeles Times in your inbox.
You may occasionally receive promotional content from the Los Angeles Times.