Riverside County fire ignited by crash burns 5,000 acres
A car crash sparked a fire in Santa Clarita yesterday. (June 26, 2017)
A car crash ignited a fire Monday in a remote Inland Empire canyon, and the blaze quickly spread, triggering evacuation warnings.
By about 11:50 p.m., the fire was 10% contained as 5,000 acres burned in the dry hills between Beaumont and San Jacinto, about 80 miles east of Los Angeles, according to the Riverside County Fire Department.
The blaze, dubbed the Manzanita fire, was reported about 3 p.m. after the accident near Lamb Canyon ignited brush. Two people were taken to the hospital with unknown injuries, officials said.
Update: Wind-driven wildfire burning near Riverside County communities now beyond 5,000 acres >>
By 3:30 p.m., flames had burned 80 acres on both sides of Highway 79, which cuts through the hills and connects Beaumont and Gilman Hot Springs, an area famous for its sprawling Church of Scientology compound.
Fire officials shut down Highway 79 for hours before reopening the southbound lanes and one of the northbound lanes late Monday night. More than 350 firefighters from various agencies are at the scene.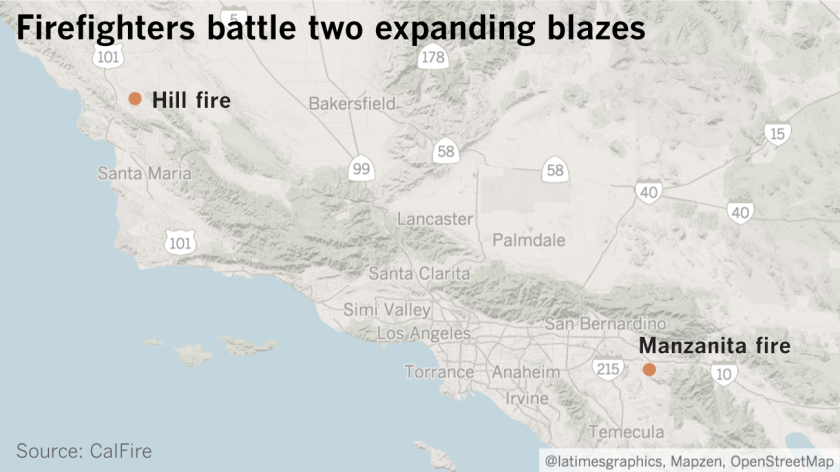 As the blaze spread at a "critical rate," officials issued an evacuation warning for communities east of the blaze, including Poppet Flats, Silent Valley and Highland Home Road east to Highway 243. A voluntary evacuation was also issued for Death Valley Road, Longhorn Road and Shirleon Drive.
But several communities in Riverside and San Bernardino counties appear to have mistakenly received alerts notifying them about fire evacuations. A Cal Fire spokeswoman said the cause of the mistaken alert was under investigation.
"Error in notification system. No evacuation orders," the Riverside County Fire Department said on Twitter.
The city of Riverside also issued a notice to residents: "Some cellphone users are receiving emergency evacuation alerts. This evacuation alert is not for the City of Riverside."
Meanwhile, firefighters from the California Department of Forestry and Fire Protection were battling a 900-acre blaze east of Santa Margarita, in San Luis Obispo County.
At least one structure, a mobile home, was destroyed by the blaze, fire officials told KCOY-TV Channel 12. The news station reported that several animals died in the charred home.
Evacuations were issued for the area of Huer Huero Road to Highway 58, and a shelter for evacuees was set up at Santa Margarita Elementary School, according to Cal Fire.
This story will be updated as more information becomes available.
Twitter: @MattHjourno
ALSO
South Pasadena man charged with murdering his 5-year-old son was about to flee, officials say
Suspect in California bank robberies, 'AK-47 Bandit,' believed under arrest in Nebraska
L.A. now has a new tallest building. How it will fit into the fabric of the city is still open to debate
---
UPDATES:
12:15 a.m., June 27: This article was updated to reflect a growth in the fire.
11:20 p.m.: This article was updated with details on a burned mobile home in the Hill fire.
10:50 p.m.: This article was updated with additional details on the size and growth of the fires.
This article was originally published at 7:50 p.m.
---
Get breaking news, investigations, analysis and more signature journalism from the Los Angeles Times in your inbox.
You may occasionally receive promotional content from the Los Angeles Times.