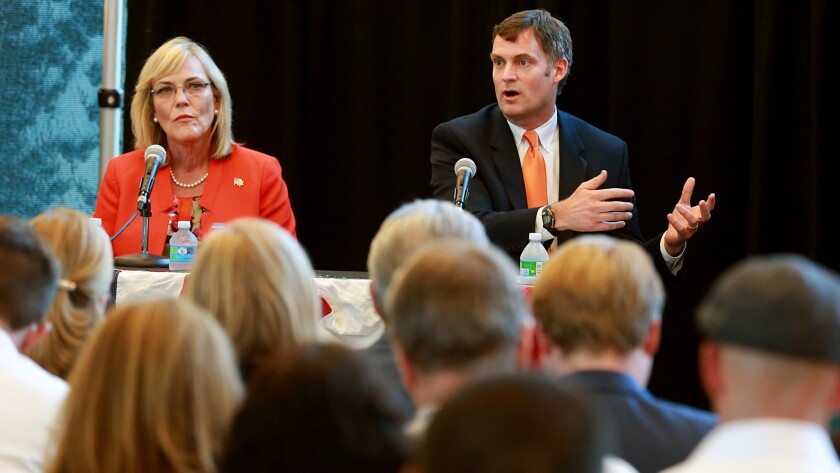 Kathryn Barger, a candidate running to replace retiring Los Angeles County Supervisor Michael D. Antonovich, won a legal challenge Thursday over a rival's candidate statement that implied Barger supports Donald Trump.
Barger, who is Antonovich's chief of staff, is in a runoff with Darrell Park, a former staffer with the White House Office of Management and Budget turned entrepreneur.
Although the race is nonpartisan, Park's strategy has largely centered around pointing out that he is a Democrat and Barger is a Republican.
Barger filed a challenge to Park's candidate statement that will be sent to voters. It said: "I am the only candidate endorsed by the Democratic Party." Barger argued that the California election code prohibits candidates from including party affiliation in their statements.
She also challenged another line in Park's statement: "Los Angeles County cannot afford to elect a supervisor who will support Donald Trump's extreme Republican agenda."
Barger's challenge called that a "false statement in a direct personal attack."
Superior Court Judge Mary Strobel ruled in Barger's favor on both counts Thursday, striking the language from Park's statement.
After the ruling, Barger's campaign said in a statement that she has "made clear on many occasions that she does not support Mr. Trump, she hasn't voted for Mr.Trump and will not vote for Mr. Trump in November, and she certainly does not support Mr. Trump's radical agenda."
In turn, Park's campaign consultant released a statement expressing disappointment that Barger had prevailed in court, adding, "It is more than a little ironic that Barger chose to file this superfluous lawsuit since it is exactly what Donald Trump would have done."
Twitter: @sewella
ALSO
'I'm just lost.' Voters find it hard to commit to Clinton or Trump
Mike Pence compares Trump's vision to Reagan's legacy at the late president's library
Asians are now the fastest-growing group in U.S. as Latino population slips, study finds
---