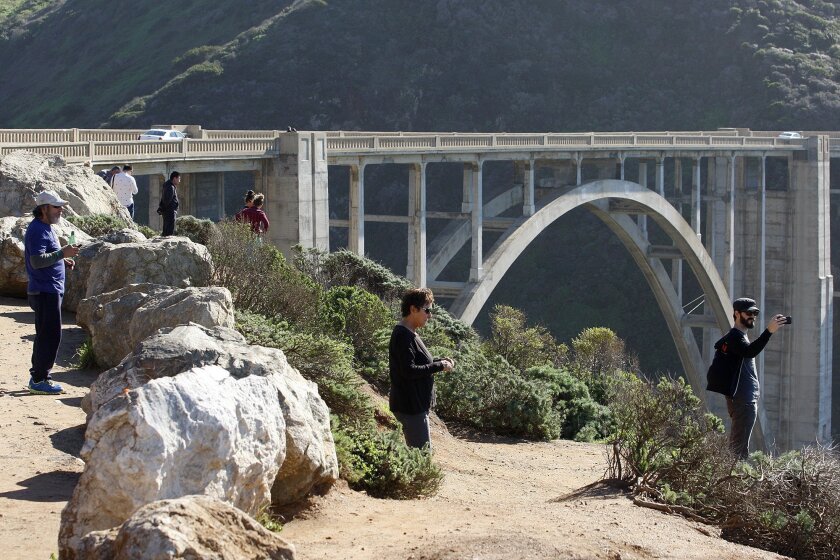 Two BASE jumpers are presumed to have drowned after leaping off the iconic Bixby Bridge in Big Sur last week, sheriff's officials said Tuesday.
Mary Katherine Connell of Ventura and an unidentified man from Finland remain missing, according to Cmdr. John Thornburg, spokesman for the Monterey County Sheriff's Office.
The pair are believed to have been overpowered by tumultuous surf shortly after landing on a small beach below Pacific Coast Highway on Wednesday.
See more of our top stories on Facebook >>
Authorities only learned of the jumpers' fate on Sunday, when they recovered a parachute and helmet camera on the beach, and then watched the recording.
The video, which authorities have not released, shows the pair discussing plans to jump off the scenic bridge along California State Route 1, Thornburg said.
The recording shows Connell leaping off the bridge first and cheering with excitement. She then lands safely 300 feet below, but is knocked over by a wave. As she struggles with her parachute in the surf, she is hit by two more sets of waves and pulled out to sea, according to authorities.
"We believe she has drowned," Thornburg said. "However, we have not recovered her body."
The man wearing the helmet cam did not speak as Connell fell into the water.
"I don't know he realized when she was in trouble," Thornburg said.
In the next sequence, the camera captures the man's view as he jumps off the bridge and barrels toward the beach below. After a five- to six-second flight, the jumper lands safely and quickly removes his helmet and parachute, Thornburg said.
The camera stops recording as the discarded helmet falls to the ground, according to Thornburg. Sheriff's deputies believe the man ran into the ocean to help Connell.
Investigators found the camera and its extraordinary recording some four days later, when callers reported seeing a parachute on the beach below.
Days earlier, the California Highway Patrol had tagged the man's vehicle for removal because it had been parked along Highway 1.
Deputies searched the car and found the man's passport, Thornburg said. His name has not been released because his family has not yet been notified, authorities said.
Search crews have been looking for the pair since Sunday, but poor visibility, powerful surf and king tides have hindered their efforts. Search efforts were expected to resume again Tuesday.
Built in 1932, the bridge stands 290 feet above Bixby Creek, a rushing river that spills into the Pacific Ocean, creating a turbulent current.
For inexperienced swimmers, the convergence could be difficult to navigate as the water pulls them under and toward the ocean, Thornburg said.
Thornburg said he could not recall another drowning or fall at the bridge involving a BASE jumper. The bridge is most known for the large number of people who leap off the tall concrete structure to commit suicide, he said.
Jumping off the bridge is illegal, the commander said.
For breaking news in California, follow @VeronicaRochaLA
ALSO
LAPD arrests 8 people at downtown L.A. immigration protest
This South L.A. corner is no place for ex-inmates to reenter society, critics say
As manhunt for escapees continues, questions arise about Orange County jail surveillance systems
---