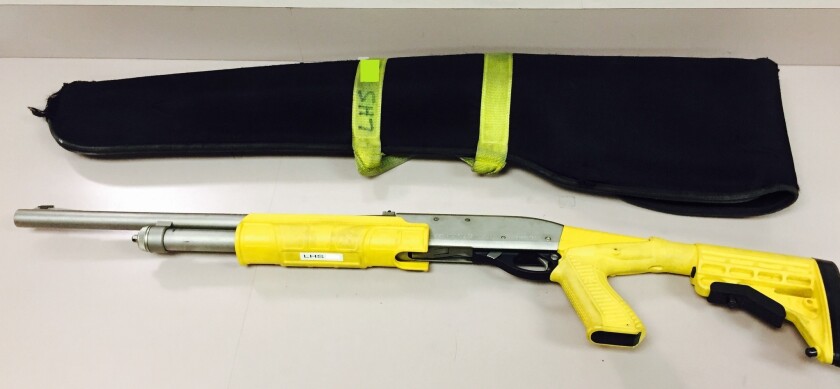 A shotgun loaded with beanbags but capable of firing lethal rounds went missing from a patrol car in Compton over the weekend, and the Los Angeles County Sheriff's Department is seeking the public's help to find it.
A deputy put the gun into the trunk of the car about 9 p.m. Friday at the Compton sheriff's station and drove around the city, then discovered it was no longer in the trunk at 7 a.m. Saturday when his shift ended, the department said. No other equipment was reported missing from the trunk.
More than three days later, the gun has not been found despite what officials called an extensive search.
The Compton station's search involved "every single radio car, our armories, just everything," Lt. Nabeel Mitry said. "Any and all surveillance cameras -- just, you name it."
Now the department is asking for tips from the public. Anyone with information about the gun is asked to call the Compton station at (310) 605-6500. Those who wish to remain anonymous can call (800) 222-8477 or submit the information online at lacrimestoppers.org.
The gun has a chrome-colored barrel and a yellow stock and is stamped with the words "Los Angeles County Sheriff's Department." It was loaded with four beanbag shells and placed in a black canvas carrying case, the department said.
This is not the first time this year that a beanbag shotgun has gone missing from the trunk of a sheriff's patrol car.
In January, two deputies lost a similar shotgun while driving 32 miles from Calabasas to Hollywood with their trunk slightly open. That gun was returned a few days later by construction workers who spotted it near a freeway offramp, the department said.
For more news, follow @raablauren on Twitter.
Interested in the stories shaping California? Sign up for the free Essential California newsletter >>
ALSO
Woman convicted in baby-selling case sentenced for running puppy mill
LAPD shooting: Officers feared ambush after seeing video, attorney says
---