Los Angeles' mayor, police chief meet with Obama in D.C.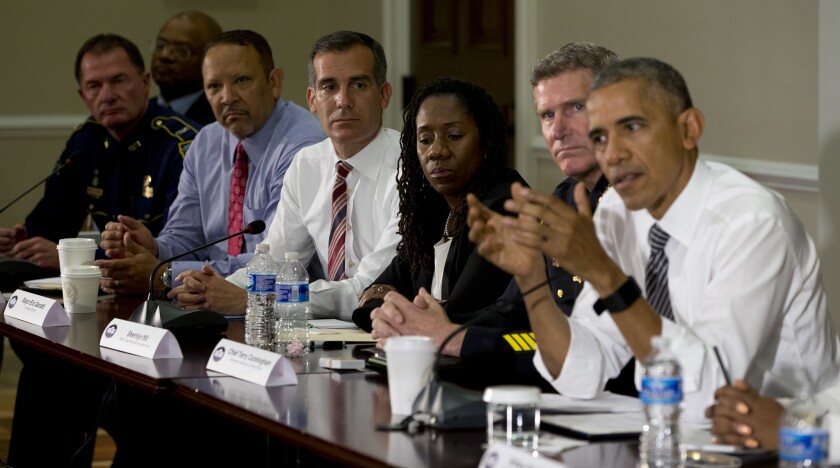 Los Angeles' police chief and mayor met with President Obama on Wednesday for a White House discussion on race, policing and ways to heal the tensions that have flared following the recent high-profile police shootings of black men and a sniper attack on officers.
LAPD Chief Charlie Beck and Mayor Eric Garcetti caught an overnight flight to Washington for the meeting, joining dozens of law enforcement officers, activists, academics and elected officials. The 4 1/2-hour meeting ran longer than expected – so long, Beck said, that he missed his flight back to L.A.
"We didn't agree on everything – that's for sure," Beck said. "But we all agreed that the discussion has become far too polarized, that people aren't listening to each other, people aren't showing empathy."
The often-heated national conversation about race and policing was refocused last week after the fatal police shootings of two black men – Alton Sterling in Baton Rouge, La., and Philando Castile in Falcon Heights, Minn. – and the deadly sniper attack on officers during an otherwise peaceful protest in Dallas.
"There are still deep divisions about how to solve these problems," the president told reporters after the meeting. "There's no doubt that police departments still feel embattled and unjustly accused. And there is no doubt that minority communities, communities of color still feel like it just takes too long to do what's right."
"The pace of change is going to feel too fast for some and too slow for others," he added.
See the most-read stories this hour >>
Garcetti said in a statement that the meeting underscored a lesson L.A. learned after its own unrest over race and policing: "Moving forward requires us all to go to places we don't normally go, talk to people we don't always see and take personal responsibility for being part of an ongoing solution."
Wednesday's meeting included discussions about shootings by officers and how police respond to demonstrations, Beck said. The group heard from both officials and activists in Louisiana and Minnesota about their experiences there in recent days.
They also discussed the need to bring different viewpoints to the same table, Beck said, noting the "huge cross-section of folks" at the meeting. Attendees included Atty. Gen. Loretta Lynch and Rev. Al Sharpton, along with prominent Black Lives Matter activist DeRay Mckesson.
"It was productive," Mckesson tweeted after the meeting, "and there's a lot to reflect on."
"We didn't agree on everything – that's for sure. But we all agreed that the discussion has become far too polarized."
LAPD Chief Charlie Beck
The D.C. trip by Beck and Garcetti came a day after hundreds of people gathered in downtown L.A. to protest killings by police as the city's Police Commission decided that an LAPD officer did not violate the department's deadly force policy last year when he fatally shot Redel Jones in a South L.A. alley.
Jones, who was black, was killed after police say she moved toward an officer while holding a knife. The LAPD said the 30-year-old matched the description of a woman who robbed a nearby pharmacy about 20 minutes earlier, prompting officers to pursue her into the alley.
Siding with Beck, the Police Commission determined that the shooting was justified because an officer could reasonably have believed that Jones' "actions while armed with a knife presented an imminent threat of death or serious bodily injury," according to a written summary of its findings.
News of the decision prompted an emotional response from the crowd gathered outside the LAPD's downtown headquarters. Many people wept. Others booed. The group quickly marched across the street to City Hall, pounding on the glass doors as they decried the ruling.
Dozens of activists stayed overnight and then spent Wednesday camped outside City Hall, promising to stay until they met with Garcetti or until Beck was fired.
"We're just holding this place, showing resistance and resilience," said Jasmine Richards, an activist affiliated with the local Black Lives Matter movement.
Beck said Wednesday that he believed "a lot of that criticism is sparked by a lack of dialogue." He urged those critical of the commission's decision to read the publicly available summaries of the review of the shooting – "then we can have a dialogue," he said.
The chief said the White House discussion mirrored conversations he and the mayor had in Los Angeles on Tuesday afternoon, which they spent meeting with local civil rights leaders, police officials and entertainers. The group talked about how police officers use force, but also how to reduce violence overall.
"I think we got a little head start on the president's discussion," Beck said. "And we're going to continue on that."
Times staff writer Christi Parsons and James Queally contributed to this report.
For more news on the LAPD, follow me on Twitter: @katemather
ALSO
It's not just Dallas — police officers have been killed across the country
Son of slain Louisiana man speaks out for first time
Analysis: Once again, President Obama tries to convince America that it is united
---
UPDATES:
7:56 p.m.: This story was updated with comments from after the meeting.
This story was originally published at 9:13 a.m.
---
For reporting and exclusive analysis from bureau chief John Myers, get our California Politics newsletter.
You may occasionally receive promotional content from the Los Angeles Times.