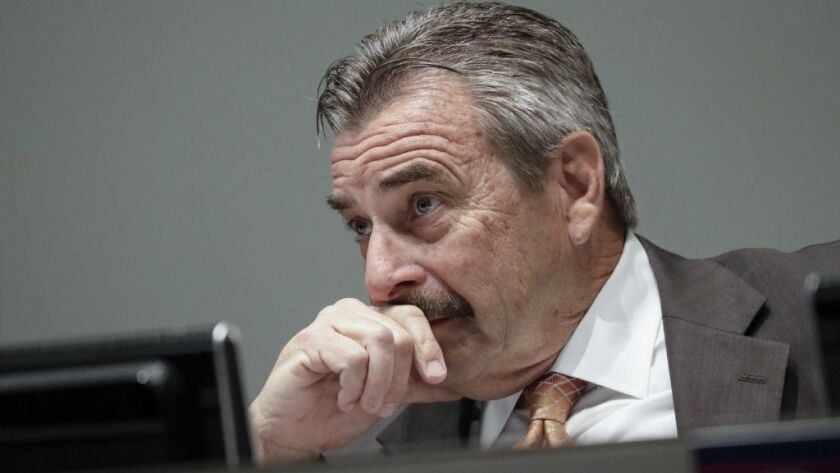 Los Angeles Police Chief Charlie Beck has obtained a temporary restraining order against a woman who threw a substance at him during a Police Commission meeting, court records show.
Sheila Hines-Brim was ordered to stay at least 100 yards away from Beck, his work and his home, according to the court order. Hines-Brim is allowed to attend Police Commission and other public meetings, but must stay at least five yards away from the chief.
Hines-Brim said she threw the ashes of her niece, who died in police custody in 2016.
Beck said he is "afraid for my safety," and the safety of his family, the commission members and police employees when Hines-Brim is near, according to a declaration attached to the order. In the document, Beck described his May 8 encounter with the woman.
Beck said he was sitting on the dais in front of Hines-Brim, a meeting regular who kept repeating that she had a retirement gift for the outgoing chief. He said he told her she could give it to one of the officers on the security detail.
As he read his report to the commission, he saw Hines-Brim approach. She tossed a gray substance, which he said went into his throat and landed on his face, glasses and coat.
"That's Wakiesha Wilson's ashes," she shouted, walking toward the exit.
Beck ordered her to be arrested and the meeting ended early. Hines-Brim was booked on suspicion of battery on a police officer and released on bail.
Some activists have rejected the finding that Wilson committed suicide in a jail cell, saying she died as a result of a confrontation with detention officers.
Police officials have said that there were no signs of an altercation and that the officers did not use force against Wilson. Her death, however, prompted internal reviews of some LAPD practices, including when jail staff should contact a mental health unit about an inmate, and how police and coroner's officials notify families about deaths.
The city paid nearly $300,000 last year to settle legal claims brought by Wilson's relatives.
Hines-Brim did not attend Tuesday's commission meeting, where Black Lives Matter activists wore ashes on their foreheads to honor her niece a week after the confrontation.
But Wilson's mother, Lisa Hines, held a cellphone to the microphone so the woman could speak.
"Those ashes will stay with you for the rest of your life," Hines-Brim said over the phone. "The curse is on you. It will be with you. That is Wakiesha. That's the message I sent."
The Black Lives Matter activists broke into a chant: "No justice, no peace."
Later in the meeting, Hines mentioned a news article published last month reporting that an LAPD jailer was fired for not rendering medical aid to Wilson. She said Beck knew about the firing and did not notify her or the commission. The Police Department on Wednesday declined to comment.
"This is my baby I'm talking about," Hines screamed into the microphone. "I have always been soft-spoken with you guys, but every time you say something, Charlie Beck says something, it's a lie."
Hines continued yelling after the two-minute limit for speakers expired. She said 22 minutes were missing from videotapes of the jail the day of Wilson's death. Police Commission President Steve Soboroff adjourned the meeting early.
Hines-Brim has since been served with the temporary restraining order. A hearing on the restraining order request is scheduled for next month.
Times staff writer James Queally contributed to this report.
alene.tchekmedyian@latimes.com | Twitter: @AleneTchek
cindy.chang@latimes.com | Twitter: @cindychangLA
---