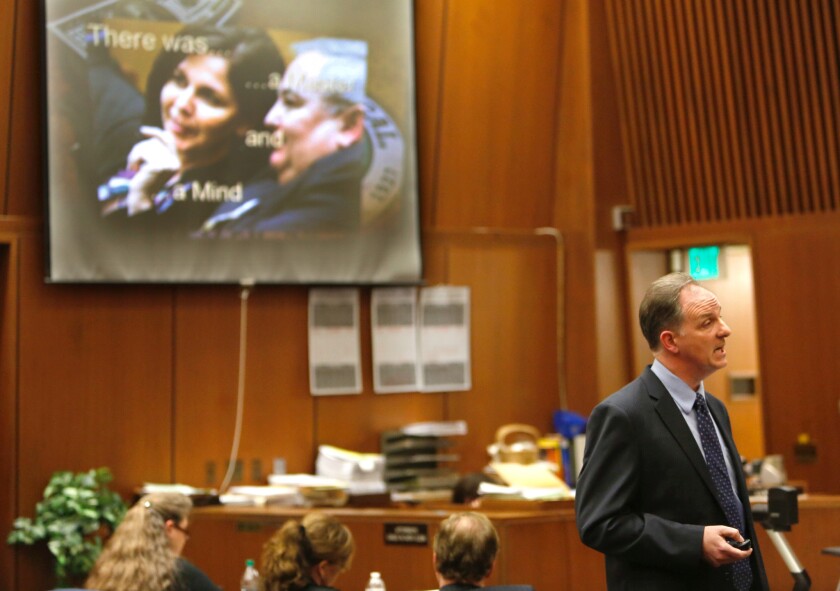 Using a slide presentation that began with a stack of $100 bills atop the city seal, a prosecutor Wednesday said that the widespread corruption in Bell was the work of the city's top administrators -- Robert Rizzo and Angela Spaccia.
"There wasn't a mastermind in this case," Deputy Dist. Atty. Max Huntsman said. "There was a master and a mind. Mr. Rizzo was in charge. He was the boss, he had the power … but Ms. Spaccia made what he wanted to happen, happen."
After a month of testimony, but no appearance by Rizzo, who quietly pleaded no contest to 69 felonies last month, Spaccia's trial began winding down as the prosecution began its closing argument in a case that has its roots in the 2010 Bell corruption scandal. The case is expected to go to the jury by week's end.
Spaccia is charged with a total of 13 counts of conflict of interest, misappropriation of public funds, secretion of public records, receiving unauthorized compensation and conspiracy.
Huntsman said that before Spaccia arrived in Bell in 2003, Rizzo was making about $200,000 a year.
"After she was done, Mr. Rizzo was making more than $1 million," he said. "It wasn't Mr. Rizzo doing that, it was Ms. Spaccia doing that."
The prosecutor again showed jurors the emails that have come to symbolize the greed of Bell's top officials and that provide some of the most damning evidence against the city's former second in command.
"well you can take your share of the pie ... just like us!!!" she wrote Randy Adams during negotiations over his contract as police chief. "We all will get fat together ... Bob has an expression he likes to use on occasion ...
"Pigs get Fat ... Hogs get slaughtered!!! So long as we're not Hogs ... all is well!!"
"That's exactly what happened in this case," Huntsman said, "pigs getting fat."
Huntsman mocked Spaccia at times, calling her "a liar" and saying she was trying to "suck" money from Bell.
The prosecutor also took a shot at city council members, five of whom were found guilty earlier this year of corruption, calling them "fat, dumb and happy from their $100,000-a-year" salaries.
Huntsman made sure jurors realized that Bell was one of the poorer cities in Los Angeles County. "This isn't Beverly Hills," he said. "These people don't have trust funds.... These are ordinary working people who could have used the money."
Spaccia, he said, had extensive experience working in public agencies in Southern California and Idaho. "While she knew right from wrong," the prosecutor said, "she chose to do wrong."
The prosecutor said Spaccia was not just the typist she portrayed herself to be when she went through the contracts that boosted her salary to $564,000 and Rizzo's to $1.18 million a year without council approval.
There was not a single email from Rizzo telling her what to write, Huntsman said.
"Spaccia says she just typed what she was told, but her emails say otherwise," he said, showing jurors another message she wrote to Adams that demonstrated how she and Rizzo worked to keep their salaries secret.
"We have crafted our agreements carefully so we do not draw attention to our pay," she wrote him.
Huntsman said that in September 2008, Spaccia drew up contracts that gave her a 20% raise and Rizzo 5%.
Rizzo, he said, would be "an odd criminal mastermind" to allow that to happen. "You give me 5% and you take 20%," Huntsman said. "That's not going to happen. Please."
"It's good to be the king," Huntsman told jurors, "but it's also good to be the scribe."
Huntsman attacked Spaccia for her role in drawing up a supplemental pension plan that would have cost the city $7.5 million to fund it for Rizzo and another $8 million for herself. The plan, according to documents, was crafted so Spaccia and Rizzo were the only two people covered.
He called the plan "perhaps the greediest" by any public official in the history of the country.
"They got an insane amount of pay," Huntsman said, "but what was really insane was they were guaranteed that money for the rest of their lives."
ALSO:
Costco in Simi Valley labels Bibles as fiction; pastor disagrees
Relative arrested in beating death of 84-year-old Glendale man
McStay family mystery: Crosses, remembrance planned at desert site
---