UC Berkeley law school dean facing sexual harassment suit takes 'indefinite leave'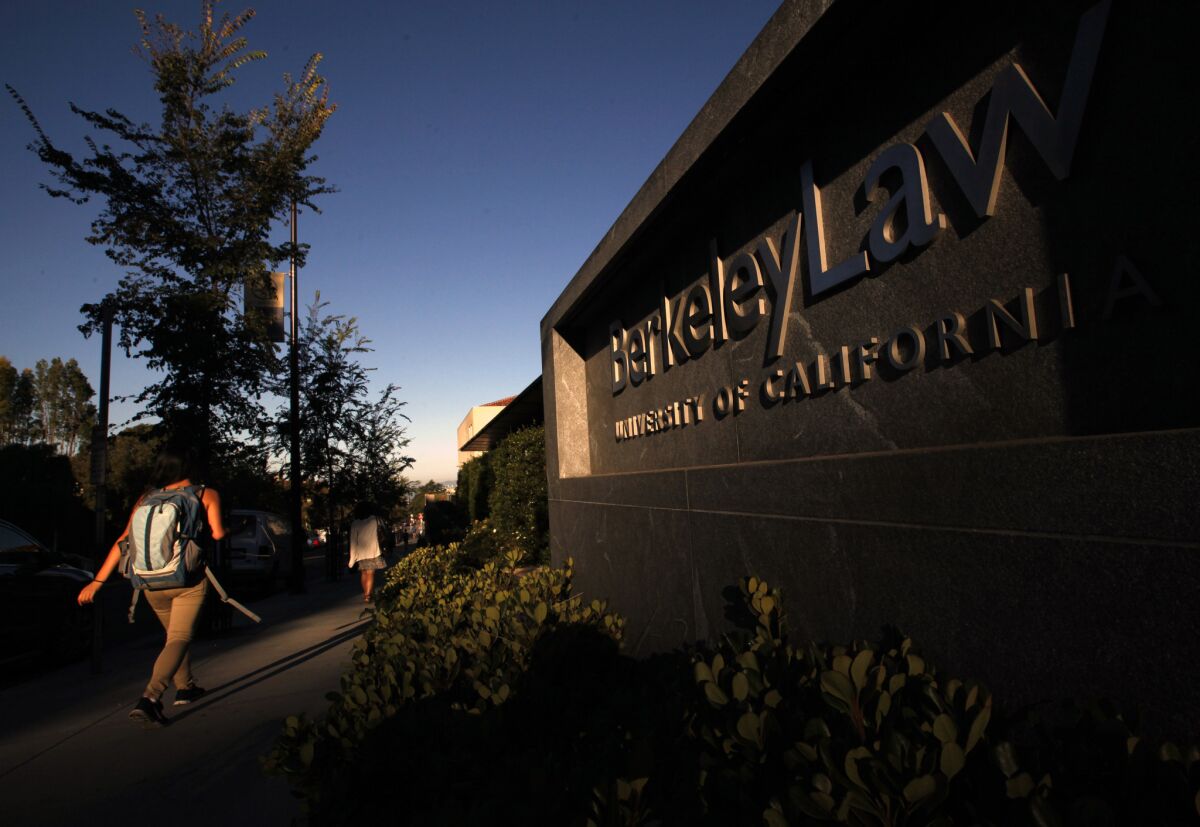 UC Berkeley officials said Wednesday that the university's law school dean, Sujit Choudhry, will be taking an "indefinite leave of absence" after he was sued for sexual harassment by his former executive assistant.
Choudhry will "step down to his faculty position and salary," according to a statement by the university's provost, Claude M. Steele.
An announcement about an interim replacement would be made soon, he added.
UPDATE: UC Berkeley Law School dean resigns amid sexual harassment allegation >>
The complaint was filed Tuesday against Choudhry and the University of California Board of Regents, according to the Daily Californian.
Tyann Sorrell alleges in the lawsuit that from September 2014 to March 2015, Choudhry made unwanted sexual advances, including kisses and bear hugs that pressed her body against his.
Choudhry could not be reached for comment.
He was appointed dean of Berkeley's law school, one of the nation's most prestigious, in July 2014.
Choudhry's conduct was reported to the university's Office for the Prevention of Harassment and Discrimination, which found in July 2015 that he had violated sexual harassment policies.
The university released a redacted version of the report Wednesday.
"The Respondent admitted to the following conduct towards the Complainant: hugged her; kissed her on the cheek; touched her shoulders and arms from behind while she sat at her desk; squeezed her arms while he passed by her desk and held her hands to his waist," according to the document.
In his statement, Steele said that after the investigation he docked Choudhry's salary as dean by 10%, required him to engage in counseling at his own expense and instructed him to apologize. He also granted Sorrell a fully paid administrative leave.
"I believed that a combination of disciplinary actions, monitoring of his behavior and formal training would be an appropriate and effective response, and would produce the necessary changes in his behavior," Steele said.
Choudhry previously was a professor of law at New York University and the University of Toronto. He holds law degrees from Oxford, Harvard and Toronto and was a Rhodes Scholar, according to his university biography.
In a case last year, UC Berkeley was criticized and accused of being too lenient in its handling of sexual harassment allegations brought against pioneering astronomer Geoffrey Marcy.
Marcy later resigned from the university.
Last week, students and faculty members urged UCLA to take stronger action against history professor Gabriel Piterberg over his alleged sexual harassment of two female graduate students. University officials imposed a $3,000 fine and Piterberg was suspended for one quarter without pay.
Follow me on Twitter @CarlaRiveralat
ALSO
Lawyer and D.A. investigator have bloody brawl in O.C. courthouse
'Hot Felon' Jeremy Meeks released from federal prison and gets job offers
Complaint over loud 'boom box' music leads to 5-woman brawl on Spirit Airlines flight
The stories shaping California
Get up to speed with our Essential California newsletter, sent six days a week.
You may occasionally receive promotional content from the Los Angeles Times.