Mourning in Ireland after balcony collapse in Berkeley kills Irish students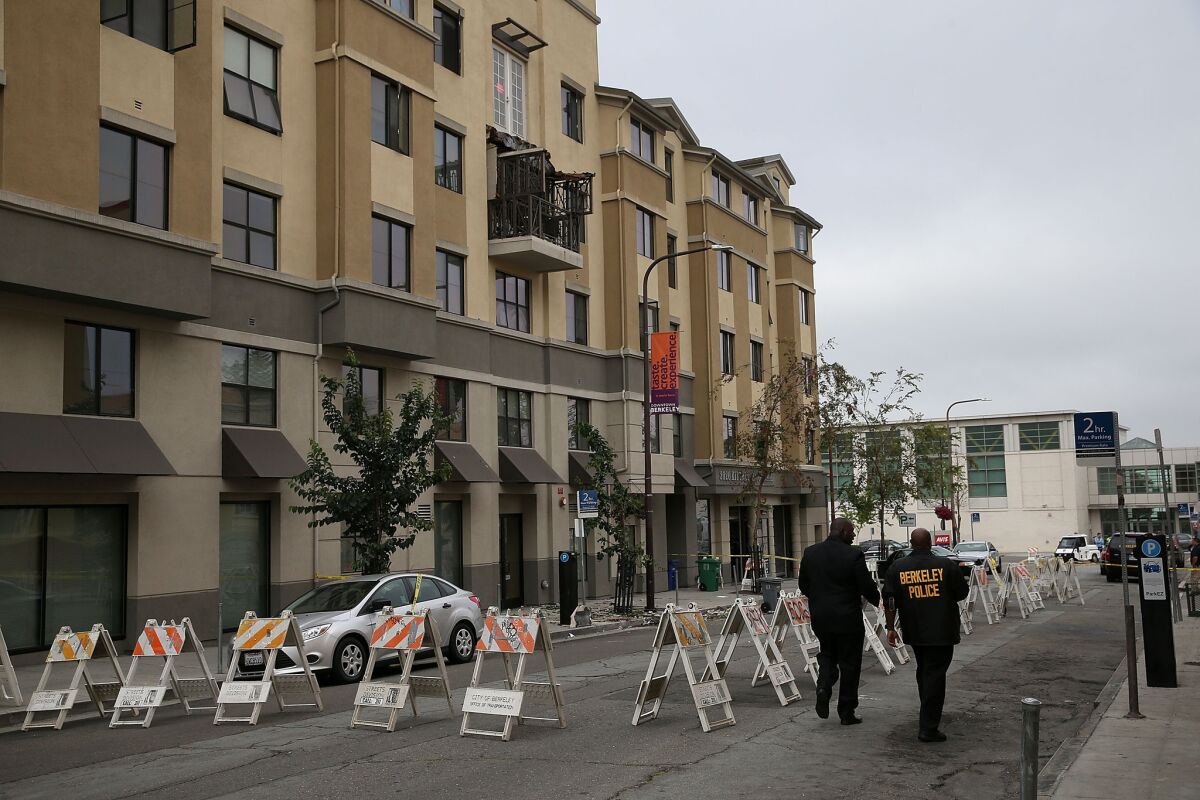 For hundreds of college students in Ireland, flocking to California for the summer has become a rite of passage.
They arrive in Berkeley each year, not to fill UC lecture halls, but to work on temporary J-1 visas. The federal Work Travel Program, which allows students to live and work in the U.S. for up to four months, has become increasingly popular, according to the U.S. Dept. of State.
At a press conference Tuesday afternoon, officials said five of the six students who died in a balcony collapse just after midnight near UC Berkeley were Irish students in the U.S. on J-1 visas for the summer: Oliva Burke, 21; Eoghan Culligan, 21; Niccolai Schuster, 21; Lorcan Miller, 21; and Eimear Walsh, 21. The sixth victim was identified as Ashley Donohoe, 22, of Rohnert Park in Sonoma County, north of San Francisco.
The students, most of which were from South Dublin, were supposed to be having a wonderful time, said Philip Grant, Consul General of Ireland to the Western U.S. They would have landed summer jobs such as working at Fisherman's Wharf in San Francisco, hoping to get a feel of what's like to live in the U.S. and to learn the value of work, he said.
"There isn't a family that hasn't had children come to the U.S. on the program," Grant told reporters, adding that the tragedy has left Ireland frozen with disbelief. "Very few of us have been left untouched by this tragedy."
About 8,000 Irish students applied for the J-1 Visa in 2014, officials said. To qualify for the visa, students have to be currently enrolled in, and actively pursuing, a degree or a full-time course of study at an accredited academic institution. Seniors can apply to the program as well but must apply prior to graduation. Officials said as many as 35% of Ireland's J-1 students come to California for the program.
"A lot of that is because a previous generation of immigrants who relocated from Ireland have been coming to the Bay Area for many years," said Ivan Harrow, president of Irish Network Bay Area. "When these students come, it's comforting to have someone local."
Harrow called the summer exchange program a "long-running tradition." The Bay Area has become a desirable location because of its ties to the Irish community, young population and good weather, he said.
Come June, the Irish brogue permeates cafes, bars and apartments around Berkeley.
"They come to work, to study, to party," former Berkeley City Councilman Gordon Wozniak said. "They certainly add an international flavor."
Many Irish students come to California because "Ireland is kind of fascinated by the States," said Sinéad Loftus, a 21-year-old student at Trinity College in Dublin who is currently in Berkeley on a J-1 visa.
"The fact is it's quite expensive to go over to the U.S. on holiday. A J-1 is so popular because you're there for longer and get to experience the culture. That is a central part of the program," she said. "It's usually full of Irish."
Loftus said many flock to San Francisco because of its laid-back vibe.
"Irish tend to go where other Irish have had good experiences," she said.
Loftus, who came to California about three weeks ago, is waiting for the final confirmation that she can work at Zara, a clothing retailer.
"The likes of us work at Old Navy, Chipotle, Clarks, Macy's," she said.
Loftus' roommate is also an Irish student on a visa. Neither heard the balcony collapse early Tuesday, she said, but the pair woke up to messages and phone calls asking if they were OK.
"We're still in shock, trying to sift through messages from family and friends," she said. "It's like a nightmare. It could have been us."
Outside the apartment complex Tuesday morning, a handful of Irish students huddled together to mourn the loss of their friends. Authorities did not release the names of the victims.
A bunch of irises and a box of tissue with a card reading, "Dear Irish students....we are so sorry to hear of your loss," was left outside the complex. It was signed, "A Berkeley Irish-American mom."
Loftus' roommate, Yvonne Corcoran, said the Irish student community in Berkeley is close-knit.
"People look out for each other because we are so far away from home, so we'd recognize a familiar accent and say hi," Corcoran, 21, said.
Corcoran said many of the injured students where her age and came "from the same area as me in Dublin."
"Honestly, everyone is just so upset and in shock," she said. "J-1s are very popular in Ireland so everyone feels like they can relate."
Conor Maguire, a 21-year-old film student and native of Ireland, told Belfast Live two of victims were female students from the University College Dublin. Most of the students, he said, were from Dublin, and several were living in the same apartments to save money on rent.
They likely attended a J-1 visa orientation, by the Irish Immigration Pastoral Center San Francisco, held for students visiting California from Ireland.
Some topics covered at the orientation were "staying safe over the summer," employment options, accommodation options and visa issues.
Irish Minister for the Diaspora Jimmy Deenihan had recently launched a new guide, including details on insurance, legal issues, anti-social behavior and personal safety, for students using a J1 visa to work aboard this summer.
"The J-1 visa specifically is a wonderful opportunity for you to participate in a cultural exchange in which you can experience all that the United States has to offer, while acting in an ambassadorial role yourself to show the best of Ireland to your hosts," he said in a statement.
The guide advised students to stay "out of bother" as well as to be safe.
"You won't know the lay of the land in a new city, but you can compensate for lack of local knowledge by not taking unnecessary chances," the guide said.
In a statement, the Union of Students in Ireland said it was "shocked and devastated" at the news.
"The thoughts of the whole student movement are today with the families and friends of those students caught up in this terrible event," said the organization's president, Laura Harmon. "We urge students overseas to take care today wherever they are, and to take the time to phone home and check in."
Times staff writer Javier Panzar contributed to this report.
For more local and breaking news, follow @sarahparvini on Twitter
The stories shaping California
Get up to speed with our Essential California newsletter, sent six days a week.
You may occasionally receive promotional content from the Los Angeles Times.