3 Northern California men convicted in massive bid-rigging scheme to buy foreclosed properties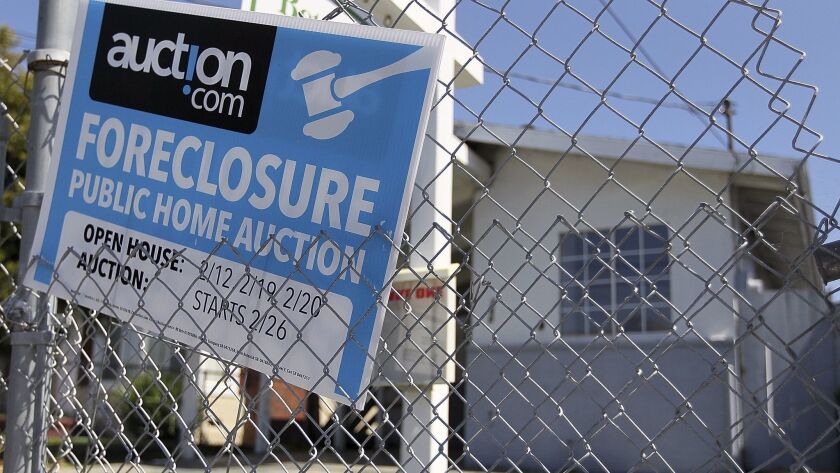 Three Northern California men, including one of Oakland's largest landlords, were convicted Friday of creating a massive bid-rigging scheme to scoop up hundreds of foreclosed properties at suppressed prices, U.S. Department of Justice officials said.
A federal jury convicted Michael Marr, Javier Sanchez and Gregory Casorso of conspiring to rig bids at public real estate foreclosure auctions in Alameda County between June 2008 and January 2011 — at the height of the subprime mortgage crisis.
Marr and Sanchez also were convicted of similar charges in Contra Costa County.
Under the scheme, the men and other conspirators predetermined the winning bidders for selected properties and agreed not to compete with them at public auctions in return for payoffs. Then, officials said, they would hold a second, private round of auctions to award the properties to conspirators who submitted the highest bid.
Such collusion created an unfair playing field where conspirators pocketed illegal payoffs at the expense of lenders, taxpayers and distressed homeowners, federal officials said.
Marr's trial last month drew several angry tenants who said the landlord, after acquiring the foreclosed properties, had jacked up rents and sent eviction notices to those who could not afford the increases — including an 84-year-old woman who had lived in her home for 30 years.
The bid-rigging investigation was conducted by the San Francisco offices of the FBI and the antitrust division of the Department of Justice. So far, the investigation has resulted in 68 people pleading guilty or being convicted after trial.
Each violation of the federal Sherman Antitrust Act carries a maximum penalty of 10 years in prison and a $1-million fine for individuals.
---
The stories shaping California
Get up to speed with our Essential California newsletter, sent six days a week.
You may occasionally receive promotional content from the Los Angeles Times.