Portions of Metro Blue Line to close for eight months starting Saturday
Major portions of the Metro Blue Line will close for eight months starting this weekend, inconveniencing tens of thousands of daily riders as the Metropolitan Transportation Authority launches a $350-million overhaul of the system's oldest line.
Rail service to 12 stations along the southern half of the Blue Line — through Long Beach, Compton, Watts and unincorporated areas of Los Angeles County — will stop Saturday at 4 a.m., and will resume in mid-May.
When those stations reopen, the closures will then move north, shutting off rail service to 11 stops along the Blue Line between the 105 Freeway and downtown Los Angeles. Those closures will continue through this summer and into September, officials said. During track work downtown, rail service also will be suspended for 45 days at two Expo Line stations.
During the overhaul, dubbed the "New Blue," Metro will add four crossover tracks, which can reduce delays by providing more places for trains to pass each other. Crews also will upgrade the signal system, portions of worn-out track and the overhead wires that power the trains. Stations will get new lighting and paint.
With all of the improvements, Metro hopes to shave about 10 minutes off the 58-minute ride between Long Beach and downtown Los Angeles, officials said.
"We promise you, it will be worth it," said Los Angeles County Supervisor Janice Hahn, whose district includes Long Beach, at a news conference Tuesday. "You'll have a more reliable, better experience."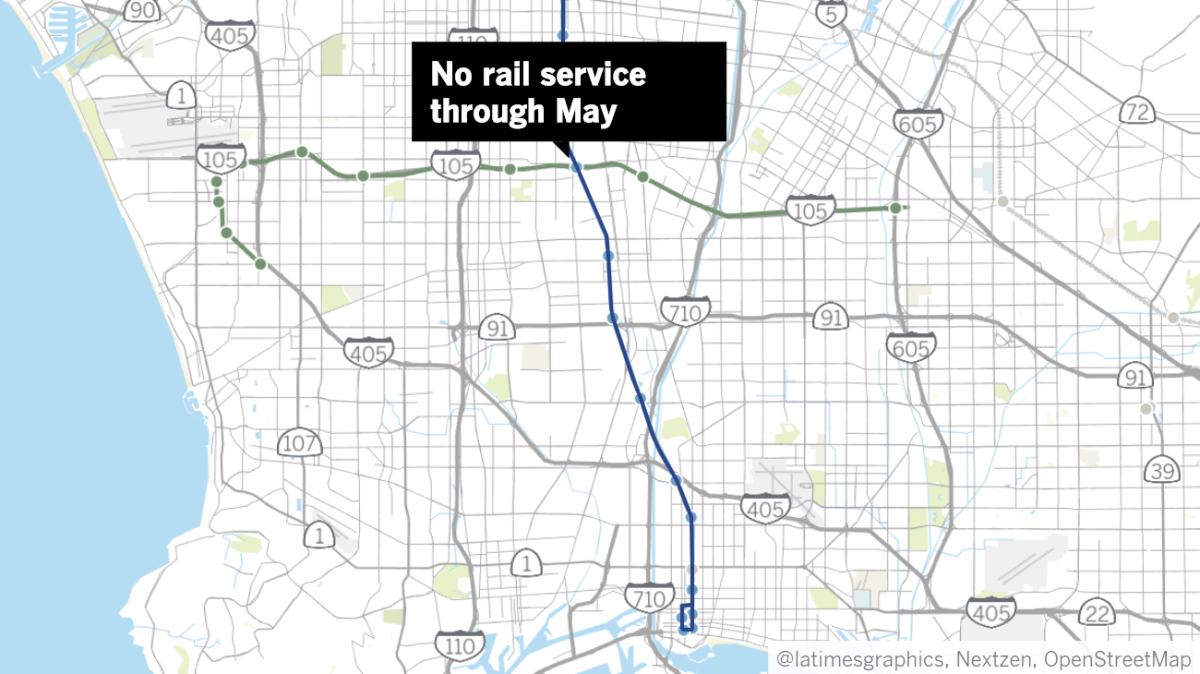 Nearly 30 years of heavy use on the Blue Line, Metro's most popular light-rail line, meant that a major rebuild was inevitable, officials said.
"All of us need those kinds of repairs and upgrades after 30 years," Hahn said.
The only part of the Blue Line that will close for the full eight-month period is the Rosa Parks-Willowbrook Station, which will receive a $120-million makeover. Green Line service will continue as usual there while crews extend the Blue Line's platforms, build a community plaza and customer service center, and improve spaces for local buses.
When the Blue Line reopens, it will have a newly youthful look and a new name: the A Line. It is the first in the Metro system to be renamed under a new policy that assigns a letter, rather than a color, to each rail and rapid-bus line.
Metro had considered leaving the Blue Line open during construction to spare its 62,500 daily riders from the short-term pain of the shutdown, officials said. But crews would still need to shut off the power regularly to perform track and electrical work, creating unreliable service for up to three years.
And after watching Washington, D.C., subway riders suffer through poor service and long waits during years of safety upgrades, Metro officials decided to rip off the Band-Aid and finish the work as fast as possible.
The southern closure that begins Saturday will affect about 53% of Blue Line riders who board a train, get off, or both, at one of the 12 closed stations, said Conan Cheung, a Metro senior executive officer. About 15% of Blue Line riders board in the Long Beach area and ride all the way to downtown Los Angeles.
Metro plans to run three shuttle options during the closure: a $1.75, peak-hour express bus line from downtown Long Beach to downtown Los Angeles; a $1.75 bus with limited stops along the closed portion of the line; and a free local bus that stops at all 12 stations.
Officials urged riders to plan ahead, saying all three shuttle options will take longer than the train. Metro will have ambassadors in blue hats at all stations, helping riders find the right bus.
As he waited for a Los Angeles-bound train at the Willow Street station in Long Beach, software engineer Laurence Seo, 33, said he was willing to give the shuttles a try, but was worried that the trip will take too long. The express bus will be his best option, he predicted, but it's scheduled to stop running at 9 a.m., before he starts his morning commute.
If the shuttles take too long, Seo said, he might start driving to work again. After 12 years of transit commuting, he said, "that's not a happy thought."
It's not clear what effect the shutdown will have on Blue Line ridership, said Tim Lindholm, Metro's executive officer for project management. Officials will be monitoring it and will adjust shuttle service in real time, including adding more buses later in the morning, he said.
"We recognize that the first couple of days can be nightmarish," Lindholm said.
During the recent Green Line shutdown, Metro officials noticed an earlier rush-hour period than on other lines as workers tried to reach shifts that started before 7 a.m. So the agency added more bus service early in the morning, said Anthony Crump, Metro's community relations manager. Shuttles along the Blue Line could be similarly tweaked, he said.
For LaToya Brown, 33, the Blue Line is the last leg of her commute and the deciding factor in whether she picks up her children on time. The added time to transfer to a shuttle and to sit in traffic will mean she's cutting it close to get to their daycare center, she said.
"Every minute you're late, it costs you," Brown said. "This can't be over soon enough."
For more transportation news, follow @laura_nelson on Twitter.
---
The stories shaping California
Get up to speed with our Essential California newsletter, sent six days a week.
You may occasionally receive promotional content from the Los Angeles Times.