180 bodies are stacked up in L.A. County morgue, coroner says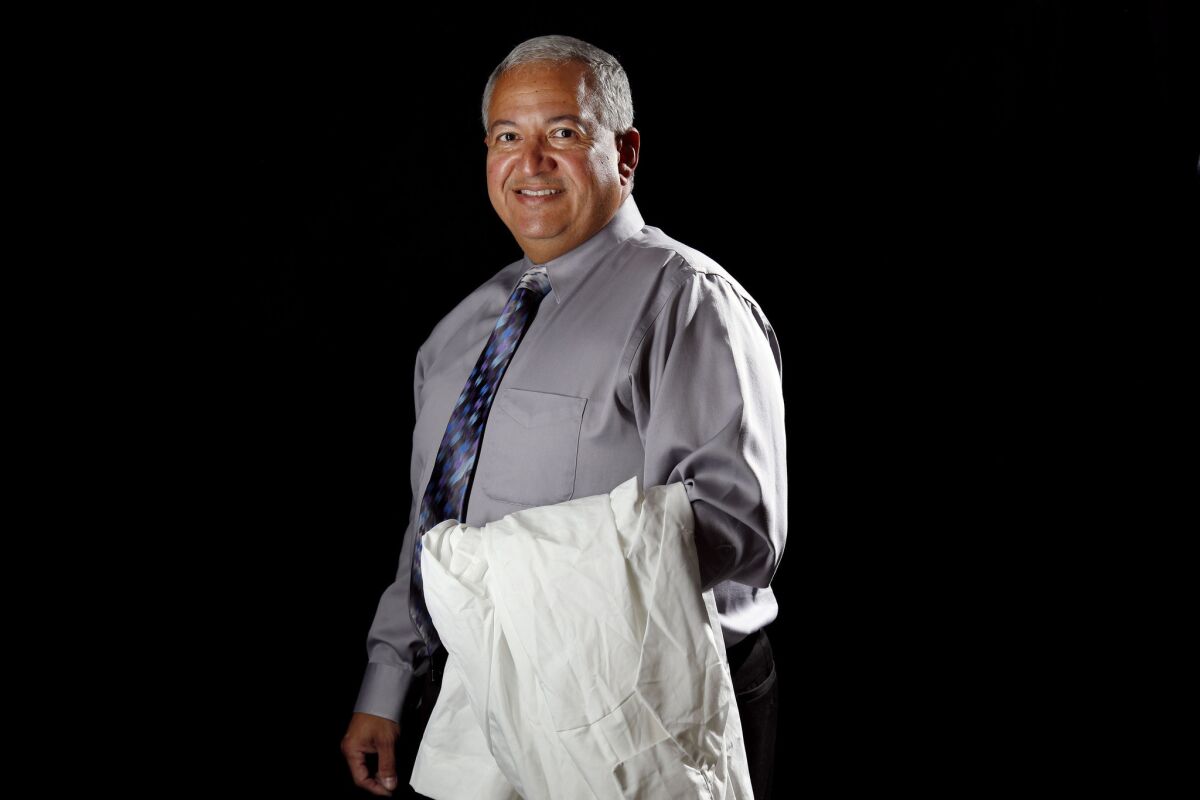 After Herneisha Thomas' 35-year-old brother was shot to death off West Vernon Avenue last June, her grief was compounded by delays.
Thomas said she had to wait weeks before the Los Angeles County coroner's office released the body of Deontra LaJohn Gant. Meanwhile, she said, her family was in limbo and couldn't set a date for the services. When the funeral did happen, Gant's body had slightly decomposed.
"He had an open casket, but he was darker than what he should have been because he sat there for so long," she said.
Other families have had even longer delays from the coroner's office, which handles more than 8,500 cases a year. Currently, about 180 bodies are stacked up at the Los Angeles County morgue because of delays in processing. Toxicology tests are taking more than six months to complete, with a backlog of about several hundred. Staff members are quitting for better positions elsewhere.
And after just two years on the job, the top medical examiner, Mark Fajardo, is walking away from an office in crisis. Fajardo said he submitted his letter of resignation to county supervisors Friday. Fajardo will return to his former position as the chief forensic pathologist in Riverside County, officials said.
"Ultimately, I wasn't supplied the resources I need to perform my job duties," Fajardo said. "Every year we made requests for positions that needed to be filled ... Each year we were not supplied the personnel we need."
When Fajardo came to L.A. County in August 2013, he said he was promised more resources. Understaffing, Fajardo said, had contributed to a "huge backlog."
"It's hard to quantify," he said of the backlog. Typically, he said, there are about "50 or 60" bodies in storage, waiting to be processed. He said his office usually tries to complete autopsies within 60 days.
But the delays have been getting worse, particularly in cases that require toxicology tests. One such case is the death of 19-year-old Katie Dix, who went into respiratory and cardiac distress seven months ago at a music festival. Although the Cal State Channel Islands student's body has been released to her family, the cause of her death still hasn't been determined.
From the start of his tenure, Fajardo signaled that he didn't think his department's budget was large enough to meet its demands. In an interview with The Times shortly after he took the job, he said the budget, which was $32 million in 2013, was not nearly enough, but said the service the office provided on such a budget is "amazing." For this financial year, the budget is $35.5 million in net costs to the county.
"We are the premiere coroner's office in the United States, especially in light of -- I don't mind reiterating -- the budget we have," Fajardo said. "I think we serve the people of Los Angeles County very well."
David Sommers, spokesman for the county chief executive, declined to comment on Fajardo's statements, citing an "ongoing personnel matter." County supervisors Sheila Kuehl, Hilda Solis and Mark Ridley-Thomas also declined to comment. Supervisor Don Knabe could not be reached for comment.
Supervisor Michael D. Antonovich said in a statement that "the Board is committed to ensuring that the coroner has and continues to have the resources necessary to fulfill its obligation to the residents of Los Angeles County."
Last month, the supervisors asked the coroner's office to work with the chief executive's office to conduct a countywide assessment of the workload and response times and report back.
About 60,000 people die each year in Los Angeles County, and the majority of those deaths are handled by hospitals and mortuaries. The county coroner physically examines about 8,500 cases per year, county officials said.
A 2010 county audit of the coroner's office projected it could run into physician shortages in the coming years that would result in autopsy backlogs, caused by expected retirements and the slow rate of filling positions.
"By the year 2014, the agency is likely to experience a severe shortage of physicians, which could threaten the agency's ability to meet the [National Association of Medical Examiners] standard of 250 autopsies per physician per year and may result in autopsy backlogs and loss of the ... accreditation," the auditors wrote.
Sommers declined to address the agency's current accreditation status. A county source with knowledge of the situation who asked not to be named said there had been recent concerns about the department's accreditation status. Officials with the national association could not be reached for comment.
Craig Harvey, the former chief of investigations, said the demands of the office in the modern era of medicine and public expectations from shows such as "CSI: Crime Scene Investigation" mean each death takes more work. Yet, the resources have remained the same.
Today, fatal shootings involving law enforcement, the deaths of babies and medical-related deaths all involve complex levels of testing and, more importantly, analysis, said Harvey, who retired last year.
"The workload is relentless," he said. Often, staffers get trained in L.A. County and eventually move elsewhere for easier work conditions and equal or sometimes better pay, he added.
In a recent interview, Ed Winter, the assistant chief of operations, attributed the six-month toxicology delay to a shortage of criminalists. Several have left for lucrative positions elsewhere, and others went to the county crime lab with the Sheriff's Department, he said. Winter said several hundred cases are awaiting final conclusions.
Winter said on Friday that the department is striving to reduce the backlog, but he has no new numbers. Winter praised Fajardo "as a good man who really cared about the families."
As Thomas has grieved the loss of her brother, another tragedy struck her family. Her son's father, Virgil Kennerly, 34, was shot in Compton last month. Again, there were delays with the coroner's office, she said, but not as long.
Hoy: Léa esta historia en español
ALSO
L.A. County animal control to "dog whisperer" Cesar Millan: Show us the pig
LAPD policy needs to be revamped to further limit deadly force, commissioners say
The stories shaping California
Get up to speed with our Essential California newsletter, sent six days a week.
You may occasionally receive promotional content from the Los Angeles Times.