Garcetti's budget would spend more money on street repairs and homelessness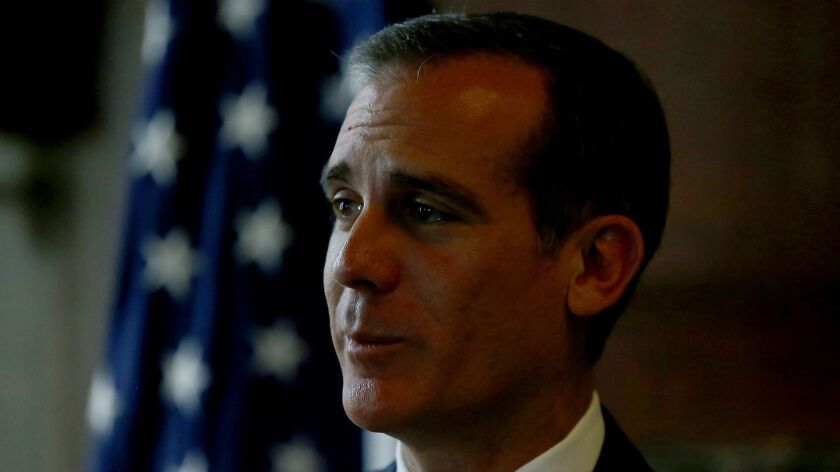 Anticipating a rise in business and property tax revenue, Los Angeles Mayor Eric Garcetti is looking to spend more money on homelessness, street repairs and police overtime next fiscal year.
Garcetti on Thursday unveiled his $10.6-billion proposed budget for the city, a spending plan that relies on increased cannabis sales in Los Angeles and state money to help the city's homeless population.
In a sign of the ongoing crisis, the mayor told reporters his budget makes "another year of record investment" to help the tens of thousands of people who live on the city's streets.
Spending on homelessness would reach $457 million, up from $429 million, according to Garcetti and his aides. Those figures include revenue from Proposition HHH, the 2016 voter-backed initiative to build affordable housing, as well as the value of city properties set aside for new housing or sold to raise money.
Garcetti has acknowledged the public's frustration with the slow pace of progress on ending homelessness and suggested Thursday that turning the crisis around will take time. The first project funded with money from Proposition HHH is expected to open this year.
"I do expect that things will continue to be flat or even get a little bit worse before they get better, but the investments are now beginning to pay off," Garcetti said.
Still, the mayor remained upbeat about the city's job growth rate and its "fiscal strength."
Property tax revenues are projected to have risen nearly 26% since 2015-16, according to city estimates. Garcetti's aides also said they expect the city will receive $64.4 million in taxes paid by cannabis businesses, up from $40 million in the current year.
Buoyed by a strong economy, the city plans to set aside 8% of its budget for an emergency or other urgent needs.
The mayor said he wants to spend $348 million on fixing streets during the fiscal year that starts July 1, up from $312 million. That money would be used for pavement preservation, alley repairs and more.
"This year's historic rainy season damaged our roads, as you know," Garcetti said. "We've all seen and felt the potholes."
Garcetti's budget, which now heads to the City Council for review, provides funds to operate a new jail near the Port of Los Angeles that was built years ago but lacked money to open. The plan also allocates $165.5 million for police overtime, a 5% increase over what the city is expected to spend this fiscal year.
Craig Lally, president of the Los Angeles Police Protective League, said the rank-and-file officers union is pleased after its initial review of the budget.
"The mayor's proposal should expand our ability to address crime in neighborhoods, and his commitment to open the Harbor Jail will free up police officers to spend more time patrolling our streets and less time doing paperwork and transporting arrestees," Lally said.
Despite the mayor's rosy financial outlook, pensions and retiree healthcare are expected to consume 19.4% of the city's general fund, which pays for police patrols, fire protection and other basic services.
Jack Humphreville, who belongs to the Neighborhood Council Budget Advocates, said he remains concerned with the city's pension projections. Budget analysts, he said, are relying on overly rosy assumptions for how much their retirement systems will make off their investments.
Two city pension funds — one for sworn public safety employees, the other for civilian city workers — are projected to earn 7.25% annually in each of the next five years, according to the budget. If those earnings are not achieved, taxpayers will have to make up the difference, Humphreville said.
"I'm worried the next generation of Angelenos will have to pay for this," he added.
There are also unanswered questions about a new salary agreement with the Coalition of L.A. City Unions, which represents civilian city workers. The mayor's aides declined Thursday to talk about the terms of the proposed contract, which is being reviewed by the unions.
Meanwhile, Garcetti's budget anticipates the continued growth of the city's recreational marijuana industry. His plan sets aside $12.5 million for the targeting of illegal cannabis businesses — a move that the mayor said will hopefully increase revenue for legal shops — and boosts the city's Department of Cannabis Regulation budget.
The mayor's budget also includes $117 million for traffic and safety improvements, up from $91 million. Those figures include money set aside under the mayor's Vision Zero program to eliminate traffic deaths on city streets by 2025, an initiative that has fallen short of its early goals.
Times staff writer David Zahniser contributed to this report.
Twitter: @dakotacdsmith
---
The stories shaping California
Get up to speed with our Essential California newsletter, sent six days a week.
You may occasionally receive promotional content from the Los Angeles Times.