Bus crash victim remembered: 'My mother was legendary'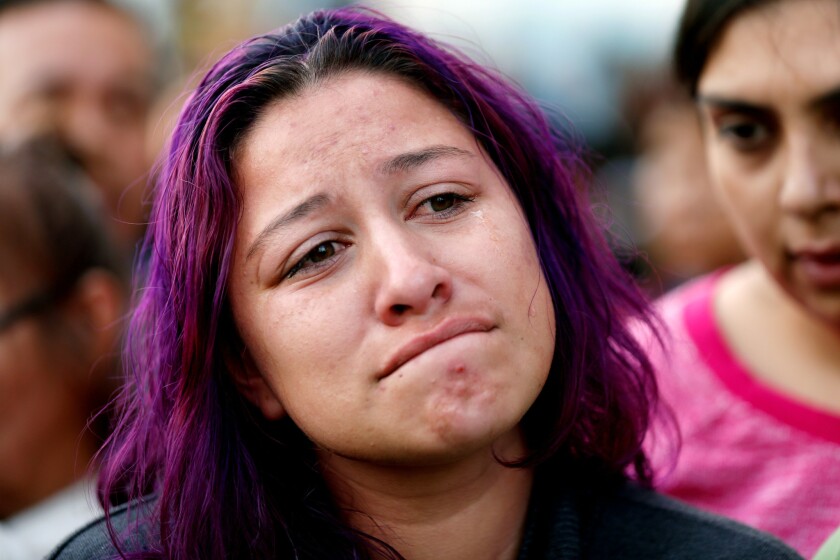 As the day wore on at the Koreatown memorial, the palm tree decked with roses and candles became a place of storytelling Monday as people gathered to remember the 13 people killed a day earlier when a tour bus crashed into a big rig truck near Palm Springs.
Passengers who once traveled with bus driver Teodulo Elias Vides, who was among those killed in the crash, shared tales of their travels. Most of the mourners were women, struggling to find comfort in a time of tragedy. They fondly remembered their adventures and the friends they had made on their casino road trips.
There was one name, in particular, that the passengers mentioned time and time again: Rosalba.
Vigil grows in Koreatown for bus crash victims. Video by Gary Coronado / Los Angels Times
She was the dancer. The singer. The silly one on the bus always making people laugh. Always willing to give you a few dollars, even if she was running low.
Her name was Rosa Ruiz, a 53-year-old mother of three and grandmother of five from West Adams.
As the sun began to set, her daughter, Jennifer Ruiz, showed up at the memorial, cradled by her mom's friends. She sobbed and carried a photo of Ruiz as the women caressed her purple hair.
"My mother was legendary," Jennifer Ruiz said. "She was life, she was the meaning of life."
The morning of the accident, Jennifer Ruiz said she tried to reach her mother about 3 a.m., but her phone had apparently stopped working. Later, her father told her the bad news.
Going to casinos was her mother's favorite thing, she said. It's what made her happy.
"The last time I saw her," Jennifer Ruiz said, "she twirled and laughed and told me, 'Look at me. Don't I look beautiful?' "
Jennifer Ruiz said she looked at her mother and said, "Yes, Mama. You do."
"In almost 35 years, I've never been to a crash where there's been 13 confirmed fatals," said California Highway Patrol Border Division Chief Jim Abele. "It's tough … you never get used to this." (Gina Ferazzi / Los Angeles Times)
esmeralda.bermudez@latimes.com
Twitter: @LATBermudez
ALSO
Some of America's deadliest bus crashes
Surgeons, chaplains and social workers swing into action to help crash victims
Driver in tour bus crash that killed 13 found fans among gamblers but amassed checkered safety record
---
The stories shaping California
Get up to speed with our Essential California newsletter, sent six days a week.
You may occasionally receive promotional content from the Los Angeles Times.