Red flag conditions threaten to stoke large wildfires burning in Northern California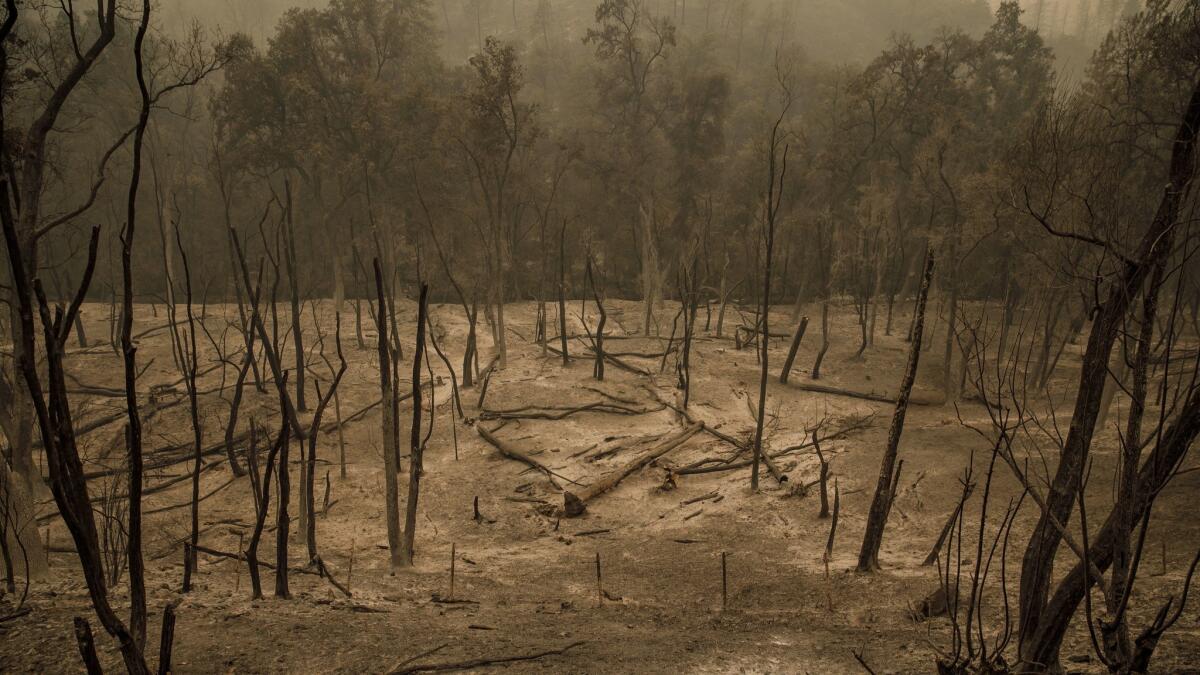 Reporting from YOSEMITE NATIONAL PARK —
Firefighters throughout the state were bracing for strengthening winds forecast this weekend that threaten to fan the flames of multiple Northern California wildfires, including the deadly Carr fire.
As of Thursday, there were 18 wildfires burning across the state. Although a number of them had scorched less than 100 acres, those smaller fires are contributing to the drain on critical resources, especially as firefighters from around the state and nation are being called to battle the big blazes.
A red flag warning was issued Thursday for parts of Northern California, including Redding, which has already been devastated by the massive Carr fire. The warning, covering the fire's entire burn area, begins at 8 p.m. Thursday and will be in effect until 11 p.m. Saturday, according to the National Weather Service. Red flag conditions are declared when sustained winds are predicted to reach around 15 to 20 miles per hour, combined with high heat and low humidity.
The Carr fire, the largest fire now burning in California, grew to 126,913 acres and was 37% contained as of Thursday evening. The fire has killed six people in Shasta County, including two firefighters, and destroyed 1,555 structures.
The Shasta County Sheriff's Office on Thursday identified one of the civilians who died as Daniel Edward Bush, 62, of Keswick. Crews found his body Sunday morning inside a structure on Market Street that had major fire damage. It's unclear whether coroner's officials have determined a cause of death.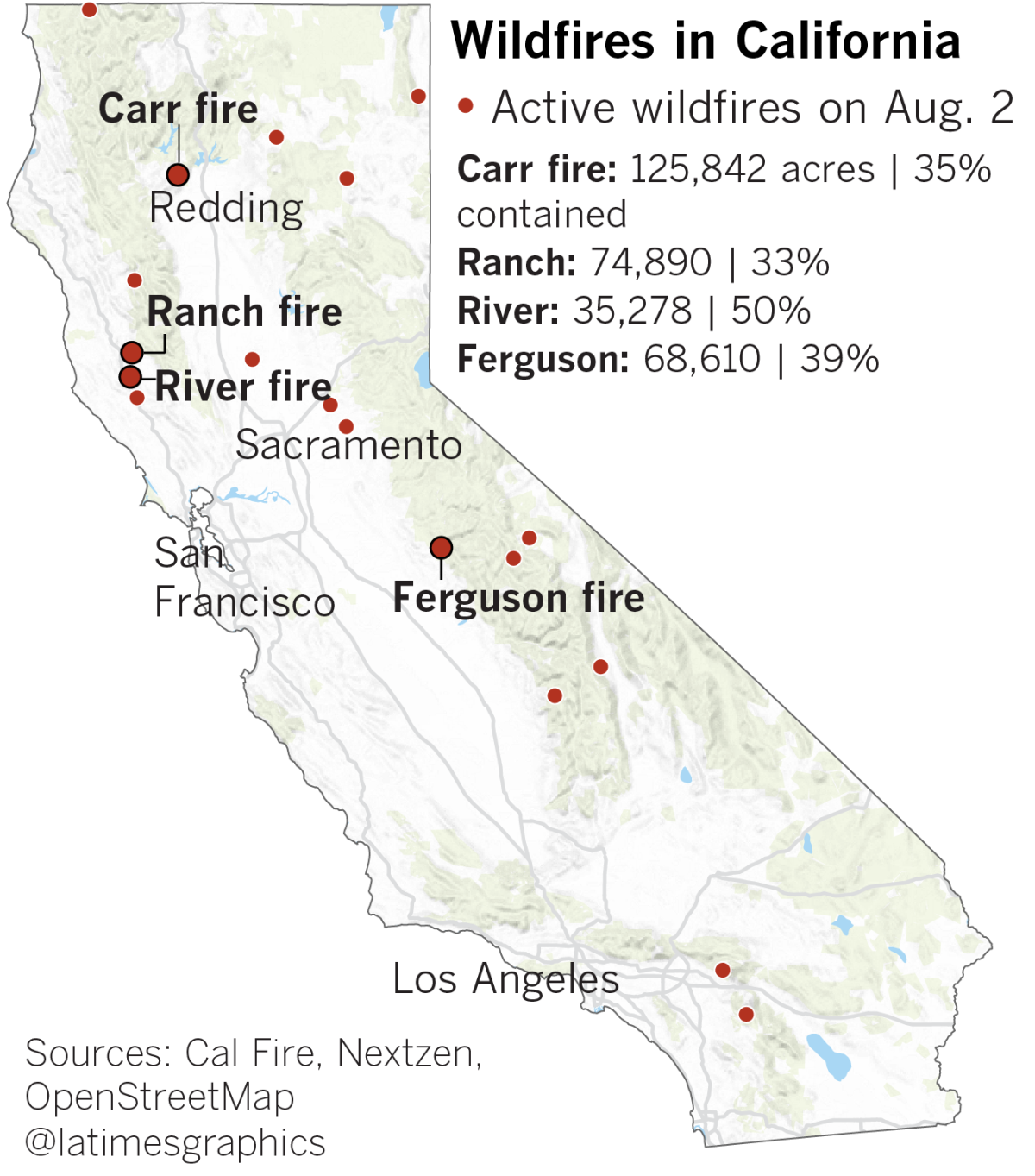 The blaze is growing toward the northwest, mostly in hard-to-access, forested areas with dry brush and timber that burn intensely and quickly, said Scott McLean, deputy chief for the California Department of Forestry and Fire Protection, or Cal Fire.
But that could change with a low pressure system that's expected to move through the area from the north, officials warn. It could create wind gusts of up to 30 miles per hour Saturday in valleys where the fire is burning, said weather service meteorologist Mike Kochasic.
Such winds could push flames to the south or southeast, toward more populated areas.
"That's a different wind pattern … so it could turn the fire around and come in a different direction," McLean said.
Firefighters are preparing for that potential shift by strengthening their containment lines on the southern end of the fire, fighting the flames directly where they can, and adding contingency lines, said Cal Fire spokesman Daniel Potter.
As the low pressure system moves south, gusty winds could also affect the two largest fires in Mendocino County, where a red flag warning will be in effect from 11 a.m. Friday until 11 p.m. Saturday, Kochasic said. A red flag warning is also set for Saturday for northern Sierra Nevada ridge tops, where gusts could reach 35 miles per hour.
The River and Ranch fires in southern Mendocino County have scorched a combined 115,168 acres and were 50% and 33% contained, respectively, as of Thursday evening, according to Cal Fire. In those fires, 14,600 residents have been evacuated and 14 homes have been destroyed, according to Cal Fire.
Four new fires ignited Wednesday and blazed through a rough total of 940 acres in Northern California, McLean said.
By Thursday evening those fires were at least 80% contained. The Eel fire, which started Wednesday in northern Mendocino County, had burned 1,000 acres and was 25% contained.
"Very steep terrain and fire intensity on the fire front make it difficult to insert crews in certain areas of the fire," according to a Cal Fire report.
The Ferguson fire, which started three weeks ago near Yosemite National Park, is expected to burn more intensely as an inversion layer that has hovered over the central Sierra Nevada lifts this weekend.
RELATED: Did you evacuate for a California wildfire? Tell us what you took with you »
The northern tip of the 69,440-acre fire grew overnight toward Moss Creek, nearing the Merced Grove. That area contains the smallest of Yosemite's giant sequoia groves, and is located near Yosemite's Big Oak Flat entrance, according to authorities.
Spot fires have sprung up in that area, fueled by dead trees. Bulldozer operators had surveyed the area Wednesday night and determined it wasn't safe for them to start building a fire line until daylight. Because of smoke in the area, officials closed Highway 120.
Although the western flank of the Ferguson fire is largely dormant, the fire remains active on its eastern side, near Yosemite West. Officials chose to evacuate the small community of Wawona on Tuesday when the southern end of the fire grew as well.
A forecast of wind gusts of up to 40 miles per hour this weekend could continue pushing the fire east toward the park, Kochasic said.
Hand crews have labored with chain saws, axes and shovels for the last several days to clear brush and remove low limbs from trees. They have also conducted back burns in an attempt to build strong fire lines near homes and communities.
Those fire lines will be especially important in the next few days as the weather shifts.
During daily briefings, incident leaders have emphasized to firefighters that, when the inversion system lifts, the Ferguson fire will probably start burning hotter and faster.
"[The inversion] keeps the fire from burning aggressively, and if you all of a sudden take that off, it takes an hour or two, but the fuels respond to changes in their environment and start to dry out rapidly, and then the fire is in a free-burn stage, and then it burns like the other fires you've seen in other parts of the state," said fire behavior analyst Robert Scott, with California Interagency Incident Management Team 4.
The terrain of the Sierra — high ridges, canyons and large, steep cliffs — poses significant and dangerous challenges to fire crews.
Officials are asking residents not to start recreational fires and to practice fire safety.
"We just can't get complacent," McLean said. "We've got a long way to go."
Times staff writer Alene Tchekmedyian contributed to this report.
Reach Sonali Kohli at Sonali.Kohli@latimes.com or on Twitter @Sonali_Kohli.
---
UPDATES:
9:10 p.m.: This article was updated with new fire figures.
4:55 p.m.: This article was updated with the identity of a civilian killed in the Carr fire.
This article was originally published at 11:55 a.m.
Sign up for Essential California for news, features and recommendations from the L.A. Times and beyond in your inbox six days a week.
You may occasionally receive promotional content from the Los Angeles Times.