'She killed her own sister': Family reeling after California teen livestreamed deadly DUI crash
A California father opened up Monday about losing two teenage daughters — one who was killed in a car crash and the other who was taken into custody after she livestreamed the incident on Instagram while driving.
"I think she don't know what's happened," Nicandro Sanchez told KFSN-TV. "What I think, she knows she's done something wrong."
Sitting beside his wife, Gloria, Nicandro Sanchez spoke with the news station, saying his older daughter, Obdulia Sanchez, is trying to make sense of Friday's crash. Authorities said alcohol was a factor in the incident.
"She feels bad, but she still killed her own sister," he told the television news station.
The Stockton parents told the news station they watched the alarming video, which was recorded live on Instagram.
"It was an accident. It happened that way. Who knows why," the grieving father said.
According to the California Highway Patrol, Obdulia Sanchez, 18, was driving north of Los Banos when she swerved off the road and overcorrected her turn. She then veered across the road and crashed into a wire fence, and her car rolled into a field.
Her 14-year-old sister, Jacqueline Sanchez, and another girl were ejected from the vehicle, the CHP said. The two girls were not wearing seat belts.
The second girl, a 14-year-old Fresno resident, was hospitalized after she suffered major trauma to her right leg.
After the crash, Sanchez was taken into custody on suspicion of gross vehicular manslaughter while intoxicated, along with the driving drunk charge, according to the Merced County Sheriff's Office jail records. She remains in custody on $300,000 bail.
CHP Officer Wyatt Foster said investigators were reviewing the graphic video that shows the moments before, during and after the crash.
Clad in a red baseball cap, Sanchez is seen recording on Instagram Live while behind the wheel of a 2003 Buick.
As music blasts in the background, Sanchez sings and looks into the camera.
As she makes a hand gesture for the camera, the video suddenly becomes shaky, and screams can be heard.
Moments after the crash, Sanchez started recording again, this time, she was outside the vehicle. As she looks into the camera, she says, "Everybody, if I go to ... jail for life you already know why."
She then panned the camera to her sister, who was lying in the grassy field and appeared to be suffering major head trauma. In the background, a girl in a teal shirt could be seen waving her arms for help.
Sanchez inched closer to her sister's face and said in an expletive-laden commentary: "My sister is … dying. Look ... I ... love my sister to death."
Sanchez kissed her sister's face, shook her several times and said, "Jacqueline, please wake up."
"I … killed my sister, OK. I know I am going to jail for life, all right?" Sanchez said. "This is last thing that I wanted to happen, OK? I don't … care, though, I am holding it down. I love you. Rest in peace sweetie. If you don't survive, I am so ... sorry."
Mary Hernandez was one of the first people to spot the Instagram Live video, which can be shared for up to 24 hours before it disappears. The 25-year-old Stockton resident told The Times she quickly recorded the video, saved it and shared it on Facebook before it vanished.
The video was up on Sanchez's Instagram account for 19 hours and had a few comments on it before Hernandez said she noticed it.
"It was just so wild," she said. "I couldn't believe that was on her social media."
Hernandez said she was stunned by how quickly the video was circulated on social media and the response that she got after posting it. Some commentators were angry and thought she was the driver of the car. Others accused her of exploiting the incident.
Still others were grateful that she posted it and said they would share the video with loved ones as a cautionary tale.
Hernandez said she also has used Snapchat while driving. When she posted the video of the incident, she said she had that on her mind.
"This is real. This is what happens," she said. "That could have been me. It could have been my friends."
Moments before the crash, Sanchez had recorded another short video taken while she was driving on city streets with her sister, said Hernandez, who saved a copy of that video as well. The video showed Sanchez's car coming perilously close to hitting a minivan that turned left in front of her. As music played, her sister, who was in the front passenger's seat, could be heard yelling and moving her hands dramatically.
Hernandez said she's heartbroken for the girls' family.
"I am deeply sorry for the family's loss," she said. "I meant no disrespect by posting it. They technically lost two daughters."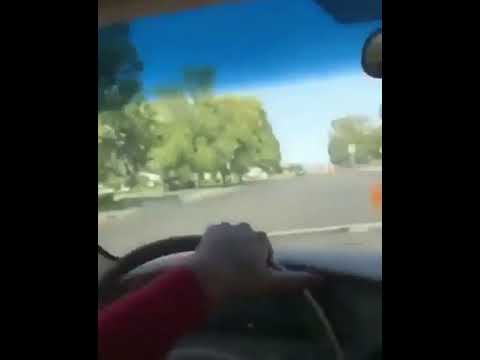 This video was record Friday sometime before the fatal crash, Mary Hernandez said. It shows Obdulia Sanchez driving with her sister and nearly hitting a minivan.
In an interview with KFSN-TV, Manuela Seja, the surviving passenger who was seen waving for help in the video, said she and Jacqueline were in a dating relationship for about seven months, even though they lived nearly 130 miles apart.
Obdulia Sanchez had picked her up from her home in Fresno the day of the crash, she told the news station. As they drove to Stockton, Manuela and Jacqueline sat in the back seat.
Manuela told KSEE24-TV that moments before the crash, the couple recorded a playful video in the back seat of the car.
The teenage girl told the news station she is not mad and doesn't blame anybody for the crash.
"It's all affected by social media, and that's what life is now and it's gonna advance more and more. That's what it's all gonna be about," she said.
The sisters' cousin, Francisco Sanchez, said the entire family was shocked and hurt by the video.
"It's an eye-opener," he said. "It's disturbing to see those images."
The 35-year-old Stockton resident said Obdulia Sanchez was "always out and about."
"She was kind of disconnected," he said.
Jacqueline was one of four siblings and maintained a close relationship with her parents, Francisco Sanchez said.
"Jackie played a big-sister role in the family," he said.
The quiet teenager often helped care for her younger brother and sister, her cousin said.
"She was more family-oriented," Francisco Sanchez said. "Jackie was just a sweetheart, quiet and never disrespected anybody. She is a real loss to the family. She is a real loss to my aunt and uncle."
Relatives created a GoFundMe page to help pay for Jacqueline's funeral expenses.
Twitter: VeronicaRochaLA
ALSO
Caught on video: Man flips over street vendor's cart in Hollywood, unleashing public anger
Man dies, 9-year-old girl injured in high-speed pursuit crash in Santa Ana
Father of boy found wandering streets in North Hills steps forward; no arrests made, police say
---
UPDATES:
1:20 p.m.: This article was updated with comments from Francisco Sanchez and Mary Hernandez.
10:45 a.m.: This article was updated with a statement from Manuela Seja.
This article was originally published at 8:10 a.m.
Sign up for Essential California for news, features and recommendations from the L.A. Times and beyond in your inbox six days a week.
You may occasionally receive promotional content from the Los Angeles Times.